No player has taken more criticism in Pittsburgh lately than forward Chris Kunitz.  In November, the two-time Stanley Cup winner, Olympic gold medalist and, most notably, Robin to Sidney Crosby's Batman, played an unknown amount of games with a sore foot.  By December, Kunitz finally sought medical assistance, and found that the soreness was caused by a fracture.  Since his return from injury on Dec. 20, the 35-year-old has accumulated only 19 points in 42 games.  Even more alarming, he scored only one goal in the last 24 games, and has been held pointless in all but five of those.
On the other hand, it's difficult to envision an NHL forward performing worse than Kunitz at the moment. In every imaginable facet.

— Dejan Kovacevic (@Dejan_Kovacevic) March 25, 2015
After Tuesday night's loss against St. Louis, Head Coach Mike Johnston explained that Kunitz played too many minutes, which caused fatigue…a telltale sign of iron deficiency.  With injuries and ailments plaguing the aging winger, a reduced role makes sense.  While he has the heart and talent of a top-6 forward, he simply lacks the stamina.  Here are five reasons why Chris Kunitz should take a bottom-6 role: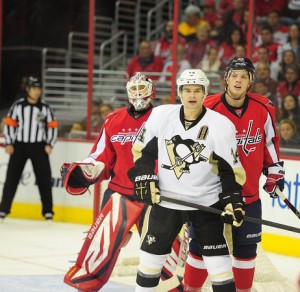 5. Kunitz Move Makes Penguins Deeper
Yes, I know he already secures a regular line-up spot, but limiting his minutes from 19 to 15 could increase his value in a seven-game series.  Since Dec. 23, Kunitz has put up 12 points in the 13 games in which he played less than 17 minutes.  This includes a 3-point effort in just 13:53 against Calgary on Feb. 6.   A line comprised of Brandon Sutter, Daniel Winnik and Chris Kunitz would be dangerous in a playoff series.  Kunitz plays a physical brand of hockey, and he can score.  Remember the Jordan Staal, Matt Cooke and Tyler Kennedy line?  Not exactly the same, but a similar build.  Kunitz could rejuvenate his game, and improve Sutter's in the process.   This also gives Pittsburgh the chance to move Steve Downie to a top-6 role.  He's got a hot head, but he also has some amazing hands and finds open ice.  Perhaps getting him comfortable with Crosby or Evgeni Malkin makes him a scoring pest, instead of a talented liability.  As you may recall, other similar players played huge roles on Stanley Cup teams (i.e: Brad Marchand, Andrew Shaw). Potential Forward Lines: Hornqvist – Crosby – Perron; Comeau – Malkin – Downie; Kunitz – Sutter – Winnik; Spaling – Lapierre – Bennett
4. It Helps the Power Play
Kunitz dominated on the power play in past years.  In fact, over the last three years, he tallied 30 power-play goals, including two in this four-goal outburst against Washington in 2013.
While he has eight with the extra man this season, five came in his first eleven games.  The power-play regular has not netted a goal with the man-advantage since Jan. 30 against New Jersey.  When Patric Hornqvist returns from injury, Kunitz should be reduced to a second-line power play role as he cannot make or accept passes cleanly in the offensive zone right now.  Further, his signature one-time snipes from the slot no longer look crisp.  Instead, he whiffs, and oftentimes it either creates puck possession for the nearest penalty killer or leaves the zone completely.  Now, the horrific performances by the Penguins' power play cannot all be blamed on Kunitz's mishaps, but they're certainly points of contention.  With Kunitz on the second-line power play, again, he could fuel the resurgence of Sutter and add more secondary scoring. Potential Power Play Lines: Malkin – Crosby – Hornqvist – Letang – Martin; Kunitz (Downie) – Sutter – Perron – Pouliot – Cole
3. Scoring Increases
Pittsburgh has been shutout eight times this year…five of those have come since Kunitz's return from injury.  He can't seem to buy a goal lately.  Even when he creates beautiful chances, and the goalie is completely out of position, the puck does not make it into the 6X4 frame.  A move to a bottom-6 role takes some pressure off of Kunitz, and most likely adds scoring to the third/fourth line.  Take, for example, Sutter's goal against Arizona Saturday night.  He simply skated at Mike Smith, and earned a goal without taking a shot.  In the same game, Winnik caught a somewhat lucky deflection from Kris Letang's point blast, and it found its way into the net.  Kunitz needs a few of those breaks.  His play will forever be scrutinized so long as he plays beside Crosby and/or Malkin.  He needs to get back to basics, and drive to the net on a line not known for scoring.  His work ethic, which is still in full force, will be rewarded.  Moreover, Downie's soft hands may drive home some of those pucks that elude the net for Kunitz.  Though, Downie might not be as good at mid-air shots.
2. Turnovers Decrease
The Penguins will turn the puck over…a lot.  It's just part of their style, because they look for the perfect pass or prettiest play.  Though, when a player has trouble keeping up with the play, turnovers increase and become more costly, especially when that player whiffs on shots.  Kunitz has made blatant mistakes while stick-handling of late, which led to him coughing up the puck.  His fatigue, and perhaps his nagging injury, keep him from winning footraces and puck battles.  By limiting his time and altering his role, he can dump the puck in lieu of deking and forcing east-west passes.  Sutter and Winnik are skilled at getting the puck deep, and chasing it.  While those two chase and create havoc on the boards, Kunitz can drive to the net — his area of expertise — and finish plays.  As long as he plays with Crosby and/or Malkin, he will be expected to out-skate/out-skill his opponents with knee-buckling moves and tape-to-tape passes.  As of now, he does not have the ability to do either.  By inserting a player of Downie's caliber into the top-6 role, turnovers will decrease because he is in his prime, and healthy.  He has tortured defenses all season by getting to the dirty areas and connecting on chances…sort of like Chris Kunitz at the top of his game.  
GOAL GIF: Winnik feeds it to Downie for the goal. pic.twitter.com/3GpeVw3zpM

— Pittsburgh Penguins (@penguins) March 2, 2015
1. It Gives Pittsburgh a Chance to Win
Look, I support Chris Kunitz as a player and a person.  He's charitable, and he's one hell of a hockey player.   Unfortunately, he's not capable of fulfilling the duties of a top-tier player at this time.  All of the major complaints around Pittsburgh since 2010 have been focused on finding Crosby a top-line winger.  General Manager Jim Rutherford did just that when he traded for Perron earlier in the season, and it worked very well.  With a healthy compliment of forwards, the Penguins are a force, as long as those players are put into the correct roles. Albert Einstein defined insanity as doing the same thing over and over again, and expecting the different results.  If Johnston continues to put Kunitz in a top-6 role, and expects different results…well, refer back to Mr. Einstein.  Crosby and Malkin are in their prime, and time is not on Pittsburgh's side.  Management clearly wants to win now, and the best way to do that is to put four solid lines together before the playoffs begin on April 15.  If the Penguins head into battle with the Islanders or Capitals, and expect to win with Kunitz flanking Crosby or Malkin for the duration of the series, then Pittsburgh is one-and-done.
 Kunitz can be a difference maker in the post-season, or a goat.  In the bottom-6 is where he belongs; and, hopefully, that is where we will find him come playoff time.  
I am a seasoned journalist with an incredible love for hockey. I grew up near Pittsburgh, Pa., thus my childhood revolved around Ron Francis, Kevin Stevens, Jaromir Jagr and, of course, Mario Lemieux. I aim to inform readers with my insight and analysis, and give a little more than just stats.