Wait, What?
Yes, you read the headline correctly. John Scott. And Praise. In the same sentence.
An NHL roster needs to be looked holistically. It is not simply the best players, but the best combination of players. When an organization views its lower line forwards, it makes sense to look for specialized skills and abilities. Perhaps no one fits this better than Manny Malhotra. If you need to win a face-off, Malhotra is among the best in the business.
Likewise, if you need to hit someone with a fist, well, John Scott is among the best in the business. If players on the other team don't want to get hit by a John Scott fist, they best avoid attempting to harm John Scott's teammates. His reputation precedes him.
The Reason John Scott Matters
Last season, the San Jose Sharks infamously flamed out of the playoffs versus the Los Angeles Kings. Lots of ink has been spilled and lots of pixels been lit up in an attempt to explain it. To me, it was injuries. Losing Marc-Edouard Vlasic early in game 5 for the remainder of the series to a dirty hit was highly problematic. Largely forgotten were the two other dirty hits from earlier in the year that made a huge difference: those on Dan Boyle and Tomas Hertl. Both players played in the series against the Kings, both were a shell of themselves.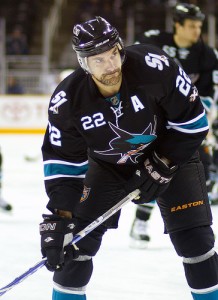 The hit on Boyle, courtesy of Maxim Lapierre, was sickening. The veteran defenseman lay immobile on the ice before being strapped to a stretcher to get taken off the ice. The hit was season-changing, perhaps career-altering. Boyle had been a plus player every season in teal, and was +2 prior to the dirty hit. He was -10 after that and the only Shark d-man to finish the year as a minus player. Following the season, Boyle spoke more openly about some of the longer-term effects of the concussions, including sleepless nights and feeling like a 'zombie', even months after the hit.  One can not be sure what effects may still be with Boyle. He admitted to not being completely open with the Sharks about the trauma at the time, you can imagine he would not be completely open during the period where he was looking for his next deal.
Tomas Hertl was on his way to a landslide win of the Calder Trophy as the league's top rookie. He had netted 15 goals in just 35 games before Dustin Brown went knee on knee with him. It took Hertl off the ice and placed him onto the operating table to repair multiple knee ligaments. The league had already gotten wind of the talented youngster when he scored a highlight reel goal early in the season. But Hertl was proving much more than a one highlight wonder. His game had substance. He returned to the line-up just prior to the playoffs, but the explosiveness he had earlier in the year was not there. Even a full year after the hit, he still was not back to form.
Take away a key player, a great team can become merely a very good team. Take away 3 key players – 2 Olympic gold medal winning defensemen plus the league's best rookie – and you are looking at a different team.
John Scott was brought in to protect the Shark players. Whether Scott's presence has made the difference is impossible to determine. What is clear, none of the Shark's notable injuries this year have come from dirty hits. That alone is significant.
The Arguments Against John Scott Fall Flat
The biggest argument against Scott is that a better player could be playing in his stead. That argument is problematic. By my count, the Sharks have had 22(!) different forwards on the roster this season, 16 have played in double digit games. Ben Smith projects to join that group to make it 17. Mike Brown, should he return from the IR in time, could make it 18. There has not been a shortage of players getting opportunities and experiences to prove they belong on the roster ahead of John Scott. This dovetails to the related argument that promising younger players, perhaps not yet better players, could have used that playing time to develop their game at the NHL level. It is the better argument, but it is also countered. Younger players have gotten substantial playing time, exactly 3 rookies have emerged as NHL ready: Barclay Goodrow, Melker Karlsson and Chris Tierney. Scott has taken away very little playing time from any of these 3.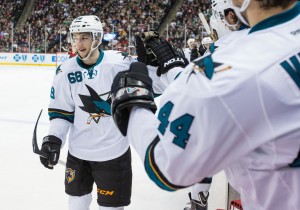 Further evidence of the 'John Scott is wasting a roster spot' myth comes when you consider the number of forwards the Sharks parted with during the season: Tyler Kennedy (traded), Adam Burish (demoted), James Sheppard (traded), Andrew Desjardins (traded), Freddie Hamilton (traded) and Tye McGinn (released). Clearly John Scott wasn't the reason the Sharks let go of 6 forwards who played on this season's team while only getting one roster forward, Ben Smith, in return. Scott wasn't keeping anyone from having a roster spot. Even now, the Sharks are only carrying 12 forwards, not the more typical 14. There is room on the roster.
Another argument is that Scott makes the fourth line less reliable, forcing more ice time onto other players, tiring them out so they have less to give at the end of games.  A reasonable theory, good luck finding proof. Scott has played in less than half the games and when he plays, he is playing modestly less time than a normal fourth liner — and much of that difference is because of concurrent penalties such as fighting majors, with both teams having a player in the box. Further weakening that argument is the coach. While I'm a fan of rolling four lines, coach Todd McLellan is not. With or without Scott in the game, McLellan rolls a top-heavy line-up where the top lines get a lot more ice time than the lower lines. The coach is the key factor here, far more than the player.
Getting It Right
What impact Scott has had on the ice?  He isn't a highly skilled player. He also isn't a major liability. Faint praise? Perhaps. Scott has only 3 points, is a -2 in 30 games, with a bit over 200 minutes of ice time. On those numbers alone, it is hard to suggest much of an impact either way.
Time to go to the bottom line and let the record speak for itself. The Sharks are a strong 18-8-4 with Scott in the line-up. Without Scott, the record is weak, just 16-17-5.  40 points in 30 games with Scott in the line-up, 37 points in 38 games without him. Scott has played against quality teams. Scott has played in 11 games against teams among the top 10 in point total.  4 games versus Anaheim, 2 games versus the Blues plus single games against the Blackhawks, Canadiens, Islanders, Predators and Penguins. In those 11 games, the Sharks are 8-1-2.
Scott may have a mere 3 points on the year, but 2 of those 3 have come in games the Sharks won by a single goal.
Any suggestion that Scott is the reason for the team's success in the games he has played is huge stretch. However, the opposite also applies. His presence is clearly not the major liability others have fretted about.
 Getting Serious
Any serious discussion of John Scott needs to eventually get to player safety. Many have posited that need for enforcers is rapidly diminishing. I'd like to agree. Last year's reality told me otherwise. To end the need for enforcers like John Scott, one will need to depend on the NHL's Department of Player Safety (DPS) effectively stepping into the breach. There is a better chance of getting the Bushes and Clintons to quit politics.
Let me offer some suggestions. I would like to see many more fines for the numerous cheap shots that occur. Stop with the benefit of the doubt. Punch or elbow someone in the face when they aren't expecting it, get a fine. Even modest fines, used with frequency, will get players attention.
As for suspensions, I'd like to see them served against the player/team that was harmed if there was an injury. I'll use the Lapierre hit on Boyle as an example. Each time Lapierre would be slated to face either Dan Boyle's team (now the Rangers) or the Sharks – the player and the team that were harmed — Lapierre should serve a suspension for that game until his suspension runs out. That type of suspension hits the player twice, once for the lost game, and later on when the player wants a new contract. Lapierre is now in Pittsburgh. But if the Pens knew he would be forced to sit for games versus Boyle and the Rangers, especially potential playoff games, it is doubtful the Pens would want him.  That sort of suspension would have a longer term impact and help discourage dangerous plays.
Increased use of fines and changing the manor in which suspensions are implemented would be two good steps. As of now, though, it remains hard to take the DPS seriously. Which leaves a role for players such as John Scott.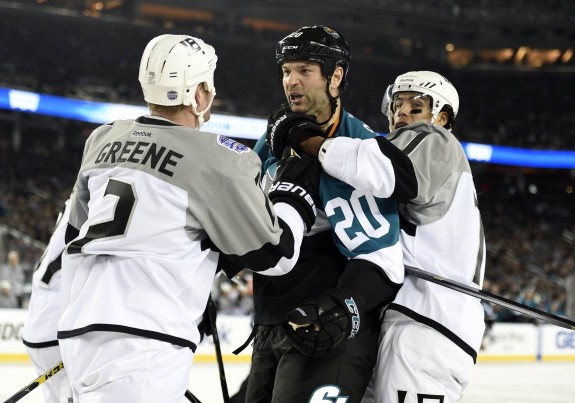 John Scott is a Hit
In my recent column on Patrick Marleau, I discussed the concept of 'less is more'. With John Scott, I think McLellan's use has been just right. He is a part time player on a fourth line with a limited skill set beyond one (unfortunately) important skill. He plays very modest minutes.  He seems to be 12th on the Sharks forward depth chart, moving up largely because of all the departures at the trade deadline. He is better suited to be the 13th or 14th forward, meaning he plays occasionally. Reports say he's been a positive locker room presence. The team has had success with him on the ice. He hasn't hindered player development, and the Sharks have not suffered the sort of crushing injuries due to dirty plays that hugely impacted them last season. I'm good with all of that.
A long time ago, I learned that when someone thinks the cheapest person on the payroll is a problem, they are almost always wrong. Scott isn't quite the cheapest, but he is darn close to it. He's been worth every penny, right down to his holiday sweater. That too, is worthy of praise.