Big news hitting San Jose Sharks land this afternoon. Courtesy of the ever awesome Mercury news beat guy David Pollak:
Simmering issues boiling over in SJ. #SJSharks Thornton on latest from GM Wilson on taking away the 'C': "Doug needs to shut his mouth."

— David Pollak (@PollakOnSharks) March 13, 2015
As a staunch defender of Joe Thornton, this only makes me smile. The best player ever to wear a Sharks sweater is telling off his boss GM Doug Wilson, and rightfully so. His boss has not only stripped him of the captaincy, taken away his right winger to use him at a position where he brings less value, and tried to get him to waive his no trade clause. In an recent report from Thursday's GM meeting with season ticket holders, Wilson said that Thornton lashed out at people under pressure of wearing the captain's "C". To which Thornton responded with the above quote tweeted out by Pollak.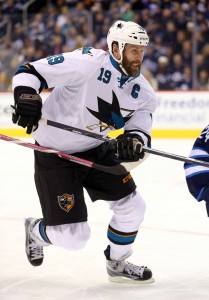 OK, let me be perfectly clear, in technical terms, Wilson has never actually asked Thornton to waive his no trade clause. That is because Wilson wants to appear to be the good guy by not "asking" Thornton to leave, so he doesn't upset the fans. However, this is pretty much the worst kept secret in the league. Everyone knows from the end of last season that Wilson has wanted to move Thornton. After the playoff collapse a year ago, Wilson said "with all due respect to the Matty Irwins and the James Sheppards, they can't be your only goal scorers the last three games." We can all read between the lines, those comments were focused on the top stars, and the most high profile top stars are Thornton and Marleau. Wilson went on to say "status quo is not an option."
Three games is sure a small sample size to criticize top players who historically have actually performed quite well in the postseason.  Thornton, with a full no movement clause, is now speaking up and you would be hard pressed to find any Sharks fan not supporting him for his comments. He saved the Sharks from irrelevancy upon being traded to San Jose in 2005, and is still a top-10 center in the league, and a dominant possession player. The Sharks' best weapon, their power-play, was miserable without him during a four game injury stint earlier this year.
Organization in Complete Disarray
It is no surprise something like this is finally blowing up in San Jose. This is an organization that not only caved to add ice girls this offseason but they also let go of beloved television commentator Drew Remenda and did nothing to upgrade their talent pool in the offseason. They instead made a head scratching move in switching Burns to defense and signed two enforcers despite the role of enforcer clearly dying out in the NHL. Reports of friction between Wilson and head coach Todd McLellan from earlier this year seem more and more like they were accurate in recent weeks. Overall the team has lacked any cohesive direction. Stay tuned Sharks fans, stuff just got interesting.
Andrew has been credentialed to cover the Sharks since 2010 and the 49ers since 2012. He graduated with his BA in Broadcast Electronic Communication Arts in 2013 from San Francisco State University.