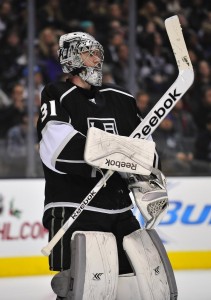 Martin Ain't No Indiana Jones
Let me start off by clarifying a couple of points here. Martin Jones is very capable of becoming a terrific NHL goaltender. Plus the symmetry of the Kings trading him to Boston to keep him out of the Western Conference, only for the Sharks to immediately bring him back to the Pacific division is awesome.
It will be great to see Jones stick it to his former team four or five times each season. He may very well end up a big reason for the Sharks breaking through and winning a Stanley Cup in the next few years. However, goalies are not worth first round picks.
The Sharks gave Boston their 2016 first round pick and the underrated college prospect Sean Kuraly. This is simply poor asset management. Goaltenders are extremely unpredictable and are therefore rarely drafted in the first round. Had the Sharks spent any of their recent first round picks on goaltenders, it would have not gone over well with fans and media. Yet this deal seems to have many people ecstatic.
Had the Sharks actually put some real effort into developing their own goalies, instead of drafting just one goaltender from the 2009 through 2014 drafts, they wouldn't have been desperate for a goaltender. Even with the lack of investing in young goaltenders (a huge mistake), the Sharks really shouldn't have been desperate for goaltending. Jones isn't much more proven than the guy San Jose already has in Alex Stalock.
No Track Record for Being a Hero
While a twitter follower did note that Jones posted a .921 AHL save percentage compared to just .909 for Stalock, the latter was a fourth round draft pick. Jones on the other hand, went undrafted altogether. Do I believe Jones is the better goaltender? Definitely.
That said, both these goalies have appeared in just two NHL seasons. They both posted lame save percentages of .902 and .906 last season. In 2013-14 they both kicked major butt with nearly identical save percentages of .932 and .934. At the NHL level then, these two are basically exactly the same.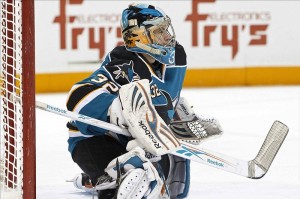 Stalock has never been given a real chance in the NHL but Jones fetches a first round pick and a prospect? In terms of track records and assets, this doesn't make a whole lot of sense. Jones has started just 29 NHL games and Stalock has started just 37.
Again, as Sharks director of scouting Tim Burke mentioned recently, you have to get lucky when it comes to goaltending. The failure rate is high. Can Jones become an elite goaltender? Possibly. But there are only a handful of NHL starting goaltenders that separate themselves from the rest of the pack. Outside the top five or so elite goaltenders, most other big name "star" netminders actually post average numbers.
Asset Management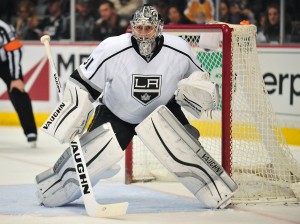 Only one goaltender was drafted in the first round of the 2015 NHL Entry Draft and that was one more than was predicted in most mock drafts. It really doesn't make sense that teams shy away from selecting goaltenders in the first round but then trade away first round picks for unproven ones (Sharks with Jones, Sabres with Robin Lehner).
Of the five elite goaltenders (Tuukka Rask, Pekka Rinne, Braden Holtby, Henrik Lundqvist, and Carey Price) only two were first round selections (Rask, Price). The others three were fourth, seventh, and eighth rounders.
In this day and age, it is less and less likely to see goaltenders taken in the first round. It's not that the position isn't important. Teams need good goaltending and usually need their netminder to get hot in the playoffs to win a Stanley Cup. However, all goaltenders are so close in skill these days, there is little separation from good goalies to average goalies. Jones may be a big part of the Sharks success moving forward but it was a significant overpay for a goalie, especially one with no track record.