After Benning shocked the Canuck Nation and shipped out fan favorite goaltender Eddie Lack for a pair of draft picks, he followed suit today by resigning Jacob Markstrom to a two-year deal, Linden Vey and sending out qualifying offers to Sven Baertschi, Adam Clendening, Frank Corrado and Alexandre Grenier. The surprising omission from the list of RFA's who were offered a contract was Yannick Weber who had a breakout season recording 21 points including 11 goals from the blueline, the highest of any defender on the team. Regardless, other than Benning's longtime friend and old draft pick-Ryan Miller, it is clear that the Canucks brass have decided to accept a youth movement as the solution moving forward. With the signings today (and the expectation that the other four will accept their offers as none would fetch any significant offers from other clubs) the depth chart going into free agent frenzy would look something like this:
Depth Chart (As of June 29th, 2015)
| | | |
| --- | --- | --- |
| LW | C | RW |
| D. Sedin | H. Sedin | A. Burrows |
| C. Higgins | B. Horvat | R. Vrbata |
| Z. Kassian | N. Bonino | J. Hansen |
| R. Kenins | L. Vey | D. Dorsett |
| | |
| --- | --- |
| LD | RD |
| C. Tanev | A. Edler |
| D. Hamhuis | F. Corrado |
| K. Bieksa | L. Sbisa |
R. Miller
J. Markstrom
Extras: Sven Baertschi, Adam Clendening and Alexandre Grenier
There is a bevy of subtle issues with this roster that Benning is either planning to solve internally with youth (and therefore essentially foregoing any possibility at being playoff competitive in 2015-2016) or with free agents come July 1st.
Bo Horvat vs. Nick Bonino: Who is more likely to be the second line guy come October?
Does Frank Corrado solve the Canucks defensive woes of 2014-2015? If Bieksa goes for prospects (which seems highly likely according to CSN BayArea) and Adam Clendening jumps into his spot, the Canucks management has to be smart enough to know that the inexperience on that blueline will cost them countless games and most likely a spot in the playoffs.
With Benning having decidedly claimed Markstrom's readiness for NHL play, are the fans as convinced as he? If Miller continues his lackluster play from his first year with the club, is Jacob Markstrom really the guy to step in and carry the team?
What to do with Zack Kassian, who is misplaced on this roster and hurting because of it.
The Breakdown
It's no secret that Nick Bonino underwhelmed his expectations and Bo Horvat overwhelmed his. If Benning is making a serious move towards youth on the Canucks roster, it would only make sense if Bo Horvat unseated Bonino as the second line guy. The reality is that Horvat played a much better two-way game last year anyways, and when the games were more important towards the end of the season, produced at vital moments. Something Bonino can't claim. Nothing too serious here though, Bonino would be a great third line option, with the potential for 20+ goals and 40+ points he could help keep Jannik Hansen on pace and maybe pull Kassian out of his rut. Horvat would have Vrbata and Higgins to play with, both would help Horvat learn the ropes of being a second line guy.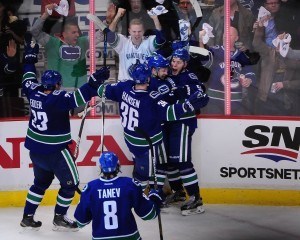 Secondly, we have the defensive core of Vancouver. Oh how the defense struggled at times last season. It was clear that the flow that Vancouver's defense once had (when Sami Salo, Matthias Ohlund and Ed Jovanovski were in town) was all but gone last year. Offense was hard to come by, and the only player, Yannick Weber, who consistently contributed in that category has been given his walking papers toward free agency. Can Frank Corrado come in really walk into the hotbed of Vancouver and pick up the pieces of the Canucks disheveled defense? Not to mention, if Benning finds a suitor for Bieksa (which it looks as if San Jose is still an option even after the deal at the draft fell through) is Adam Clendening ready physically to battle players like Lucic, Perry, Benn etc..
Canucks fans can breathe a bit easier now that Benning has signed Jacob Markstrom to a two year deal…maybe. The kid has been an AHL superstar but has struggled in every NHL stint he has had. Benning seems sold on Markstrom's ability to succeed in the NHL now as said on the Sekeres and Price Show in early June. Benning was quoted saying "Jacob Markstrom is ready now to play in the NHL". If stats can speak at all, Miller is on the downside of an impressive career and just doesn't have the wherewithal to compete at a playoff level in the West. Meaning this- Markstrom's time is imminent and he'd better be ready because Vancouver has no other options at that position. Vancouver has officially solidified itself as the league's biggest goalie graveyard. It should be noted, that pending Cam Ward's trade in Carolina (or demotion from bonafide starter) there will be three previous Canucks starters who are now the go-to guy for another NHL club.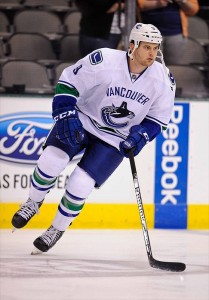 Lastly we have the mysterious downfall of Zack Kassian's stock with the Canucks. For a player who was once touted as being the next Todd Bertuzzi (in all his positive facets), Kassian has struggled to build himself a foundation as an impact player in the NHL. In Vancouver, it seems as if he hasn't ever been given the chance to succeed at that level for more than a month at a time, whether it be due to coaching decisions or injuries. If the Canucks keep Kassian going into next season, which would definitely compliment their youth movement, here is to hoping he stays healthy enough to display his true attributes.
The Reality in Vancouver
Even if the Canucks make some moves on free agent day by grabbing a few extra veterans, moving out a player like Bieksa or even confirming some of the RFA's they have qualified after the draft, the team is in dire straits, and is poised for one thing- a full blown rebuild. If youth is what Benning wants moving forward, so be it, but thus far his decisions on that front have been fairly contradictory. Ryan Miller stays in town, but young and promising tender Eddie Lack is shipped out for chump change? Interestingly enough, Benning said he believed he had captured "at least three or four NHL players out of this group." A bold statement coming from a general manager who has just traded away the fan favorite goaltender.
Although the specifics of the deal weren't disclosed as is often the case in Vancouver, it would seem quite likely that Markstrom's two-year deal is worth in the $1-2 million dollars per year range. Meaning Canucks General Manager Jim Benning did get some bargain out of a goalie that still has raw potential. Kudos for that work as it probably opens up some other space in the cap. The hope, of course, is that Jacob Markstrom can unseat Ryan Miller for the Canucks soiled goaltending throne in the next few years while highly touted prospect Thatcher Demko is developing via US College hockey at Boston College.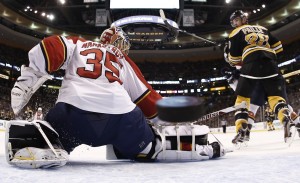 Not to mention that if Sven Baertschi, Adam Clendening, Frank Corrado and Alexandre Grenier all accept their offers, they will surely see significant NHL time next season. None of these young players have real NHL experience. The four of them combine for just 118 regular season NHL games. Great for development's sake, but for the sake of Vancouver remaining a competitive team in the Western Conference? Doubtful at best.
Even if some changes are made, the depth chart won't look drastically different come training camp due to salary cap restrictions and what is available on the market. It is clear that in complete contradiction of General Manager Jim Benning and Team President Trevor Linden's spiel in the summer of 2014 about keeping the team competitive and bringing back their jump, that the Canucks have submitted into a rebuild. The youth movement in Vancouver has officially begun. Prepare yourselves accordingly.