The price of success in the NHL unfolds in many ways. It starts with later draft picks; gone are the selections that are sure-fire, can't miss prospects and more often than not, the players taken later have longer developmental time.
Another result of team success is related to contracts in the salary cap era. Franchises have the mentality at times that they need to keep the band together. That giving the player they know and has possibly come through for them a little bit more than the going rate, builds loyalty and breeds more success.
Team Depth
Take the Tampa Bay Lightning, they have achieved some modicum of success over the past couple of seasons. Built primarily through the draft, they have a young team that now has some playoff experience. Although the bulk of the team is signed through next season, for Vice President and General Manager, Steve Yzerman, the off-season brings some challenges.
With approximately $3.5 million in cap space, the room for maneuvers is limited. The Lightning had 10 restricted free agents and have made qualifying offers to five of them. The most notable RFA that did not receive an offer thereby becoming an unrestricted free agent on July 1st was defenseman, Mark Barberio.
For Barberio, it was simply a numbers game. The top four defensemen for the Lightning are set in stone, Victor Hedman and Anton Stralman are the #1 pair. Jason Garrison and Braydon Coburn seem entrenched as the #2 pairing. With young players like Andrej Sustr, Nikita Nesterov and a wily veteran like Matt Carle all ahead of Barberio, the writing was on the wall.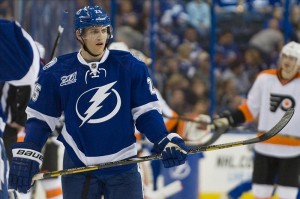 To add to that, young blue liners in the organization like Anthony DeAngelo, Luke Witkowski and Slater Koekkoek coming along in their development who could all see time in Tampa in the upcoming season and it's bon voyage to Barberio.
Salary Cap
The $3.5 million in cap space could and most probably will grow by another $3.6 million once Yzerman puts Mattias Ohlund on the long-term injured reserve. If done prior to the beginning of the season, this could make it a little easier for Yzerman to target a veteran free agent.
Yzerman has already told local Tampa media that he is attempting to contact Brenden Morrow to determine if the 36 year-old Morrow has any interest in returning for one more season. The price tag for Morrow would be approximately $1.6 million. Well within Yzerman's budget.
The roster as it stands today includes 11 forwards plus Vladislav Namestinikov, one of the aforementioned RFA's who received a qualifying offer. Assuming that Namestinikov accepts the offer, the Lightning have 12 forwards.
The roster includes eight defensemen but those numbers include two RFA's in Witkowski and Sustr. Let's also make the same assumption that these two accept the pending offers. With Ben Bishop and Andre Vasilevskiy in net, the roster is at 22. Room for one more free agent.
Free Agent Pool
The advantage that Morrow has is that he played in the Lightning's system. He is known and respected in the locker room. Both Yzerman and Coach Jon Cooper lauded Morrow for the leadership qualities he has especially with such a young team.
But let's look at this one roster spot a little longer. There was no question that at times, Morrow looked every bit of his 36 years. On a team known for its speed, Morrow appeared to be standing still when skating. In fact, last season was Morrow's lowest production in goals and assists in his entire career. That includes an injury plagued 2008-2009 season with Dallas in which he tallied more goals and more assists in 18 games than he did in 70 for Tampa last year.
The argument will be made that Morrow isn't on the team to score and that's understood but isn't the G.M.'s job to continually make the team better? This is where I will offer the following suggestion: Forget Brenden Morrow and sign Eric Fehr.
Fehr and Balanced
As an unrestricted free agent, Fehr can be had for a little less than Morrow's $1.6 million. At 29, he is six years younger than Morrow. As a third line center for Washington last season, Fehr scored 19 goals and added 14 assists. He was also a plus eight.
The added bonus with signing Fehr is in the faceoff circle. Last season, Fehr won 52% of his faceoffs. Of all the Lightning players that took over 100 faceoffs, only Valtteri Filppula was better than Fehr in the circle and he won 52.4% of his faceoffs.
Steven Stamkos, Tyler Johnson and Cedric Paquette were all under 50% and Brian Boyle was exactly at the breakeven point of 50% for the year. Anyone who saw the Stanley Cup Final, knows that winning faceoffs is one area needing improvement on the Lightning and Fehr would help tremendously with this weakness.
Signing Fehr also would give Cooper some room for line changes. Coop can have Filppula center the top line and move Stamkos to the wing. Boyle and Fehr could move between centering the third and fourth lines.
Re-signing Morrow would seem to slow down the development of Jonathan Drouin. As he did in the playoffs, Coop seemed to favor the veteran over the rookie last year. To the point where some rumors began to float around that Cooper had an issue with young Drouin. To his credit, Drouin silenced this talk by declaring there was no issue with him and Cooper.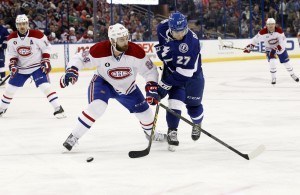 Speaking of Drouin, imagine if he were to play alongside of a guy like Fehr who will win the puck on a faceoff more often than not. It would mean that Drouin can play to his strength of possessing the puck. Meanwhile, Fehr who can put the biscuit in the basket would benefit from playing with a playmaker with the skills Drouin has. This is what you call a win-win.
Frankly, the Lightning have enough depth in the organization that they could avoid signing either Morrow or Fehr or any other free agent for that matter. With young wingers such as Jonathan Marchessault and Adam Erne knocking on the door of an NHL career. Not to mention Namestnikov, J.T. Brown and Cedric Paquette, it shouldn't surprise anyone if Yzerman stands pat without dipping into the free agency pool.
But if he does test the water, if he does want to take a peek at what is out there, here's hoping that he takes a good long look at Eric Fehr. He could be what this team needs and is extremely cap-friendly.
Born in Chicago, Illinois. Grew up playing and loving sports. Spent most of my formative years playing, debating, arguing and talking sports. for the last couple of years I have written about hockey. I am currently a Tampa Bay Lightning contributor for The Hockey Writers. I know that I may not always be right, but I am passionate about hockey and it is damn hard to hide that passion in my writing.