On Tuesday, the Winnipeg Jets re-signed pending free agent Drew Stafford to a two-year deal, according to ESPN's Craig Custance. Elliotte Friedman has the deal as being worth $8.7 million, for a cap hit of $4.35 per year, which is a slight raise over the $4 million AAV his previous contract carried.
Two year deal for Stafford and Jets.

— Craig Custance (@CraigCustance) June 30, 2015
Part of that raise is likely his willingness to take a short-term deal that is friendly to the Jets as they look to the future and a nice prospect pool that will be developing over the coming seasons. It also pads the Jets against any potential decline, with Stafford entering his 30-year-old season.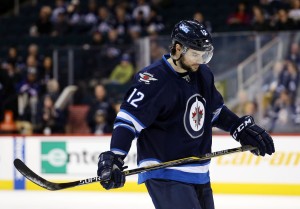 Stafford was acquired by the Jets in a February 11 trade with the Buffalo Sabres that also brought Tyler Myers, Joel Armia and Brendan Lemieux to Winnipeg in exchange for Evander Kane and Zach Bogosian.
There were questions about Stafford's ongoing production after a couple of down years. That continued into the start of last season when Stafford posted nine goals and 15 assists through 50 games with Buffalo.
He seemed to undergo a bit of a turnaround after the trade, scoring another nine goals and 10 assists with Winnipeg through 20 games.
He finished the year with a 1.8 P/60, up over the two years of decline he'd seen previously, but not quite at the level of his peak years. However, if you can accept the limited sample size of his time in Winnipeg, he was posting a P/60 of 2.2, a nice increase from the 1.8 he'd posted with Buffalo up to that point.
There are lots of opinions about how the veteran players were performing in Buffalo — at least as far as the reasons they were playing so terribly — but there's some credence to the notion that veteran players were struggling through the tank because of a difficulty finding motivation to play for a team that was actively trying to lose and who was likely going to trade them away for assets. Myers, Stafford, Torrey Mitchell, and Chris Stewart all performed better after leaving Buffalo. Winnipeg is gambling that it wasn't smoke and mirrors.
RELATED: The Jets Should Say Goodbye to Their Free Agents
[catlist categorypage="yes" numberposts=3 excludeposts=this]
Dustin Nelson writes about news and the Minnesota Wild for The Hockey Writers.