The Pacific division will be a whole lot tougher for the Canucks next season.
After the draft weekend, it looks like the Canucks will be in tough to match their second-place finish in the division from last season. General manager Jim Benning didn't pull off anything spectacular on the trade front, and they watched idly as many of their division rivals improved around them. They missed out on making any impactful additions to their roster.
Fan favourite and arguably their best goalie on the roster, Eddie Lack was traded to the Carolina Hurricanes for a 2015 3rd and 2016 7th round pick. It felt like the Canucks should have gotten more considering what Ottawa and New York fetched for Robin Lehner and Cam Talbot.
They also tried and failed to ship Kevin Bieksa off to San Jose, which now leaves them in a position of weakness when it comes to dealing Bieksa. Benning obviously doesn't have Bieksa in his plans for next season, and he will have to be moved in order to clear up cap space.
With Linden Vey and Jacob Markstrom signing new contracts on Monday, the Canucks are inching even closer to the cap ceiling with roster sports to fill. Restricted free agents Baertschi, Corrado, Clendening, along with unrestricted free agent Yannick Weber all need new deals.
https://twitter.com/ryanbiech/status/615663525306839040
Almost Every Pacific Rival Improved
The Canucks lackluster weekend at the draft was exemplified when almost all of their Pacific division rivals improved.
The Oilers will surely be better just by the addition of Connor McDavid alone, but they also improved their chances of keeping the puck out of the net as well. After allowing the most goals in the NHL last season, general manager Peter Chiarelli addressed the issue by trading for goalie Cam Talbot, along with defenceman Eric Gryba and former Edmonton Oil King Griffin Reinhart. The verdict is out on whether those three will have a huge impact on the roster, but at first glance Edmonton looks much more competitive than last season.
The Kings bolstered their forward group by adding Vancouver native Milan Lucic to their roster. Lucic said that he would accept a trade to Vancouver, but it never materialized.
Milan Lucic on #Canucks interest on #TSN1040 "it made me really excited at possibility of playing in hometown, I kinda wanted it to happen"

— TSN Radio Vancouver (@TSN1040) June 26, 2015
The Kings paid a hefty price to get Lucic by giving up a first-round selection, Martin Jones, and AHL defensive standout Colin Miller, but regardless they improved their roster. The added size that Lucic brings is no welcoming sight for the Canucks, who have struggled against the Kings over the past couple of seasons.
The other marquee Bruin who was traded was Dougie Hamilton. The Calgary Flames got away with highway robbery by adding the 22-year-old defenceman for three draft picks. Their defence corps is now one of the best in the league with Giordano, Russell, Brodie, and Wideman already a part of that ilustrious group.
The Bruins have lost Dougie Hamilton, Carl Soderberg and Milan Lucic off of their NHL roster and added Martin Jones and Zac Rinaldo. 0_o

— Adam Gretz (@AGretz) June 29, 2015
The Flames were able to beat the Canucks in the playoffs with three of those five defenders, and it won't get any easier. While Calgary could face some regression due to their lack of possession, the reality is that they are a young team on the rise, and adding Hamilton without giving anyone up from their roster just made them a whole lot better.
Anaheim's best move during the draft was adding Carl Hagelin to their roster in exchange for Emerson Etem. Hagelin will add some offensive prowess to an already dangerous forward group. He regressed a bit last season after posting the worst points-per-game totals of his career, but Hagelin could breakout if he plays on a line with Ryan Kesler. This trade might not look so great is Etem hits his stride with the Rangers, but as of now this looks like a smart addition by the Ducks.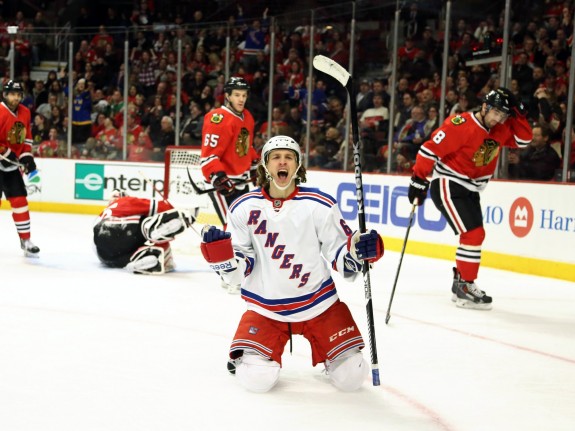 The Coyotes…well they made one of the most bizarre trades of the draft with Philadelphia by landing Nicklas Grossman and Chris Pronger. They also added Dylan Strome with the third overall pick. In terms of next year it's more likely that this team battles to stay in Glendale rather than battling for a playoff spot. Youngsters Max Domi and Anthony Duclair should be exciting to watch in the desert.
The only team in the Pacific that didn't make any improvements was the San Jose Sharks. They tried to improve their blueline by adding Kevin Bieksa, but the trade never consummated. They also traded away Antti Niemi to the Dallas Stars and now have a gaping hole in their crease. They already missed the playoffs last year for the first time in nine years and didn't improve their team for next season during the draft.
Despite the Sharks incapability to improve, the Canucks are still in tough, perhaps even tougher than last season, to make the playoffs next year. They are unlikely to make any more big moves during free agency, so they will be banking on their new goaltending tandem along with improved performances from certain roster players if they want to make the playoffs next season.