On June 27th, Vancouver shipped goalie Eddie Lack to the Carolina Hurricanes for their 3rd round pick in this year's draft (Guillaume Brisebois), as well as Carolina's 7th round pick in 2016. While the Lack trade was expected, this move by Jim Benning and the Canucks caught many by surprise. The Canucks made one other trade that day as well with the Sharks, dealing Patrick McNally (who?) in exchange for a seventh rounder next year – not the trade they should've made with San Jose.
Vancouver's goal this offseason has been to get younger and make room for the next wave of players who will be competing for spots in the lineup. The NHL draft presented a golden opportunity for the Canucks to move some veteran players with big contracts and acquire substantial draft picks, but Jim Benning and the Canucks essentially failed to do so completely.
Gallagher: Lack of vision from #Canucks management as team trades away popular goalie for lower-round picks http://t.co/XcDedv1hfy

— Province Sports (@provincesports) June 27, 2015
The trades Vancouver couldn't pull off, combined with the trading of Lack and getting less in return than most people would've expected has left a lot question marks heading into free agency. Not to mention with the Flames, Oilers, Ducks, Kings and Coyotes improving on paper over the draft weekend, the Canucks future in the Pacific division doesn't look promising at this point. The only thing certain in Vancouver after the draft weekend is that the Canucks still have lots of work to do this summer.
Lack Trade A Let-Down For Canucks
The Canucks used the 3rd round pick they acquired from the Hurricanes to draft 17-year-old Brisebois, who captained an Acadie-Bathurst Titan team that finished last in the QMJHL with 42 points in 2014-15. Brisebois does, however, have a lot of upside to his game, and you have to give Benning credit on acquiring this third round pick. The Canucks were looking for a second or third round pick and needed a two-way defender like Brisebois to help bulk up their core of defensive prospects.
However, from a Canucks perspective, there's not much else to applaud in trading away Lack.
Getting a 7th round pick in next year's draft isn't much more than just filler in this trade; it's not often a team's seventh round pick turns out to be the caliber player of Henrik Zetterberg, Henrik Lundqvist or Radim Vrbata.  And to compare the Lack trade to trades involving similarly skilled goalies, the Rangers' acquired 2nd, 3rd, and 7th round draft picks for Cam Talbot and their 7th rounder, while the Senators picked up Buffalo's late first round pick for Robin Lehner and a less-than-valuable David Legwand.
Eddie Lack trade to Carolina looks even worse when you realize it's a 3rd round pick this year and 7th rounder NEXT YEAR #Canucks #that'sit? — JAY JANOWER (@DOUBLEJGLOBALBC) June 27, 2015
While the Canucks may not be prospering from the results of this trade, Lack on paper hasn't exactly lucked out either.
In Carolina, the 27-year-old Swede will be second on their goalie depth chart behind Cam Ward for at least this season. There's a number of teams where had Lack been traded to, he would've all but been guaranteed a starting goalie spot, and despite being deserving, he now has no guarantees with the Hurricanes. Lack will be the projected backup on a Hurricanes team that has missed the playoffs for six straight years, and eight of the last nine years since being Stanley Cup winners in 2006. With the team's lack of depth still in their system, Carolina doesn't appear to be trending towards long term success anytime soon.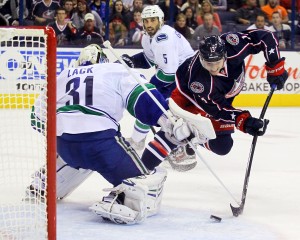 Canucks Missed Out On Deals During Draft
It was clear heading into the 2015 NHL draft that the Canucks organization was hoping to acquire at least a second or third round pick. They accomplished this, but could've likely done so for a lesser cost. Even after trading Lack, the Canucks still only had $6.1 million in cap space to work with. Vancouver had hoped to move Kevin Bieksa, and after a lot of speculation of a trade with the Sharks, they couldn't finalize a deal. Chris Higgins and Alex Burrows are two more veteran players, each with two years left on their contracts, that Vancouver could've swung a deal with to acquire draft picks and free up roster spots and cap space. The return Vancouver got on Lack is a return Vancouver could've easily been able to get on Bieksa, Burrows or Higgins instead.
Acquiring a third round draft pick came at a great cost, as rushing to get rid of the fan favorite and always loyal Lack leaves the organization with even more questions than answers. The Canucks still have a number of aging players whose value will only decrease, leaving little-to-no room for younger players. They have very limited cap space to work with to help improve their roster this summer (if that's what Vancouver is really trying to do). In the last three seasons, the Canucks have cycled through Cory Schneider, Roberto Luongo and now Eddie Lack, and after disposing of these goalies are now left with Ryan Miller and Jacob Markstrom. If Miller soon declines and Markstrom falters, then Vancouver will have undoubtedly dug their own grave.
Say what you want about the management's vision for the Canucks, because at this point no one is entirely certain.
My takeaway from draft is that #Canucks roster that wasn't good enough last season remains intact through a weekend of change — Jeff Paterson (@patersonjeff) June 27, 2015
Most of the Pacific division seems to have made it clear after NHL draft weekend where they are headed. It won't be long before the Canucks fall behind if they don't make the changes they say they plan on making very soon.
Canucks contributor for The Hockey Writers. Maple Ridge, BC native. Contact: coltondavies95@gmail.com or @ColtonnDavies on Twitter.