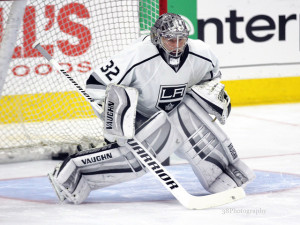 The San Jose Sharks sit without an established NHL goaltender going into Wednesday's start of free agency. If you choose to listen to many mainstream media members, this means the Sharks are having an "inauspicious" start to their offseason. This however, couldn't be further from the truth.
Overrated Position
There is no doubt that Stanley Cup-winning teams often feature dominant playoff goaltending. However, not every Cup-winning goaltender finishes the playoffs with a studly save percentage. Need I point out Antti Niemi's .910 playoff percentage in 2010 or Jonathan Quick's .911 in 2014?
Furthermore, while Quick's 2012 and Corey Crawford's 2013 Cup-winning playoff performances were out of this world (.942 and .932 save percentages, respectively), these two guys aren't elite regular season goaltenders. Quick's career regular season save percentage sits at .915 and Crawford's stands only slightly higher at .917 — Basically league average numbers.
None of the top five goaltenders in the league (Carey Price, Henrik Lundqvist, Tuukka Rask, Pekka Rinne, nor Braden Holtby) have won Cups as starting netminders. Not that they can't win (obviously they are good enough) but facts are facts. The elite goaltenders haven't won just yet. And if your team doesn't have one of these top five guys, well, most goalies ranked behind them are more or less unpredictable.
Extremely Difficult to Predict/Project
As Sharks director of scouting Tim Burke told the media recently, you basically have to get lucky when it comes to developing goaltenders. They have a higher rate of failure since only one goaltender plays at a time for each team. Rather surprisingly, the Sharks only drafted one goaltender in the previous six  years before drafting two goaltenders last week.
There is a reason the Sharks waited until Rds. 3 and 7 to take their two goaltenders. Goaltending is extremely difficult to predict and is largely tied to the performance of the players in front of them. Goaltenders like Marc-Andre Fleury and Carey Price taken high in the first round are incredibly rare.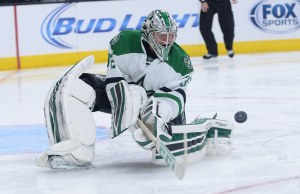 Not to mention, many big-name goaltenders are up and down. Household names like Antti Niemi, Mike Smith, Kari Lehtonen, Niklas Backstrom, Ryan Miller, Cam Ward and Jimmy Howard have all been really good some years and then fallen flat on their faces in others. They are mostly league average but get paid big money despite not being much better than the current crop of journeymen free-agent goaltenders like Thomas Greiss, Kari Ramo, Michal Neuvirth and Viktor Fasth.
Thomas Greiss
Of that group, former Shark Thomas Greiss is the most interesting option. The German goaltender has gotten the short-end of the stick most of his career. San Jose never gave him a chance despite the fact he posted average save percentages of .912 behind Nabokov in 2009-10, and twice finishing at .915 behind Niemi.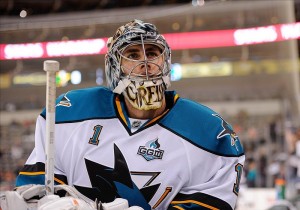 The 29-year old played this past season for just $1 million with Pittsburgh. He posted a career low .908 save percentage, starting just 18 games. In the three prior years, Greiss finished with .920, .915, and .915 save percentages, starting no more than 20 games each season. Having started only 70 games over his career, Greiss is an unknown in terms of what he could do playing 40 or more contests in a season.
Cam Talbot/Robin Lehner
Another unknown is the recently traded Cam Talbot. One of the newest members of the Oilers organization has an amazing .931 career save percentage but in only 53 career starts. It is possible that Talbot becomes a No. 1 goaltender that consistently posts well above average save percentages (more than .920 each season) but it is also likely that Talbot turns into another Niemi-, Miller- or Quick-type regular season goalie that averages around .915 each season.
Simply put, an average regular season goalie is not worth giving up a second and third round selection. The Oilers gave up picks 57, 79, and 184 for Talbot and pick 209 in the draft. Talbot himself, went undrafted altogether. Goalies are often found out of nowhere and jump onto the scene for short flashes.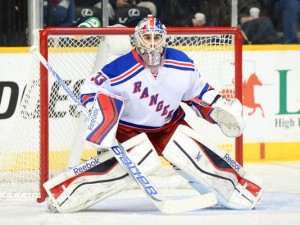 Talbot is not worth what the Oilers traded away. The Rangers got tremendous value for a backup they picked up off the scrap heap. Furthermore, Ottawa Senators goaltender Robin Lehner is certainly not worth the first round pick the Buffalo Sabres gave up for him. Lehner's career save percentage is a league average .914 and that has dropped the last two seasons with save percentages of .913 and .905.
Based on track record, it is really a toss up between Lehner and Greiss on who will have a better 2015-16 season. They have nearly identical career numbers. If I'm the Sharks, I would much rather sign Greiss for pennies than have given up an incredibly valuable first round draft pick for Lehner.
Alex Stalock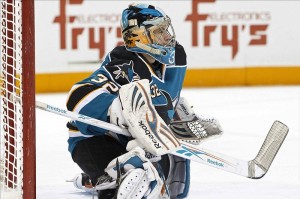 Greiss has a career .913, Neuvirth .912, and current Sharks backup Alex Stalock owns a .917 mark. These types of goalies aren't considered worth significant money but their performances to date are far closer to big-money goalies like Quick, Crawford, Niemi, Miller and Howard, than these "star" goaltenders are to the top five goaltenders. Talbot and Lehner could turn into stars but the Sharks were wise to stay away from spending valuable assets to acquire them. In fact, the only difference between Stalock and Talbot (both turning 28 soon with limited experience) is one strong half season.
Andrew has been credentialed to cover the Sharks since 2010 and the 49ers since 2012. He graduated with his BA in Broadcast Electronic Communication Arts in 2013 from San Francisco State University.