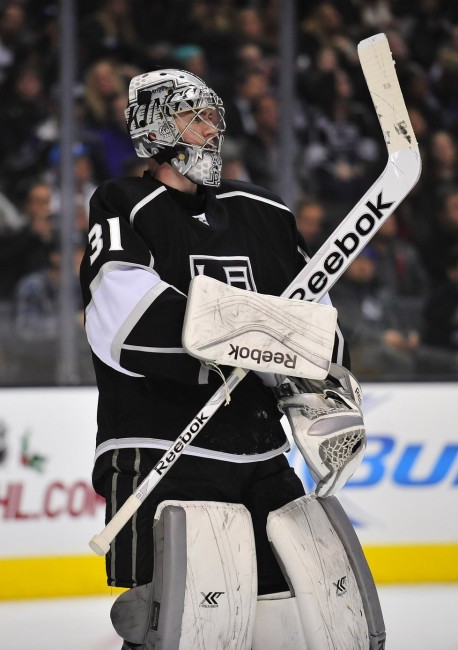 Fellow writer Andrew Bensch and I wrote contrasting articles about the recent Martin Jones trade. My spin is more positive while his is more negative. For his well-written article, click here.
The Start of the Jones Era
News broke earlier today that the San Jose Sharks acquired goaltender Martin Jones from the Los Angeles Kings Boston Bruins in exchange for a 2016 first-round pick and prospect Sean Kuraly.
Sharks give up a 2016 first-round draft pick plus unsigned prospect Sean Kuraly for Martin Jones

— Pierre LeBrun (@PierreVLeBrun) June 30, 2015
This should theoretically end San Jose's search for a goaltender. Jones, a restricted free agent, is not under a contract, though giving up so much for someone's rights surely implies that the Sharks intend to sign him.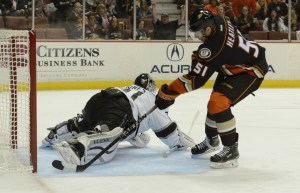 The Canadian netminder is relatively inexperienced, with just 34 games played at the NHL level. However, he has recorded a .923 SV% and a 1.99 GAA in that span. A short sample size, yes, but a promising one.
To show that his numbers with the Los Angeles Kings could indicate his potential skill level, we will take a look at his play in with the Manchester Monarchs, the Kings AHL affiliate club.
In 158 games, Jones posted a .921 SV% and a 2.42 GAA while earning 12 shutouts. These marks only improved when it came time for the playoffs, as he earned a save percentage north of .930 in his last two playoff runs with the Monarchs.
What San Jose is Looking For
Jones almost fits the exact description of the Sharks' ideal goaltender. At 25-years-of-age, he is one of the youngest netminders on the market, thus fitting in with San Jose's plan to make the team younger. He also shows the potential to become a starter in the NHL based off of his previous performances both in the minors and in the big league.
If Doug Wilson can improve the defensive corp in front of his new netminder, then there is little doubt that Jones can become a respectable starter in the game. He possesses the skill, the youth, and the will to develop into a top goaltender. He probably won't be the next Carey Price or Pekka Rinne, but he could turn into one of the better goalies in the league.
Here is a highlight video of some of his work with the Kings' organization:
In addition to all of this, his cap hit will likely be pretty friendly. Jones made just $550,000 last season as Quick's backup, so his contract with the Sharks should be relatively cheap considering they just traded away a goaltender that was making over $3 million per year. This will leave Wilson with quite a bit of money to play with in the free agency market.
High Risk, High Reward
I will admit that the assets given up to obtain the unsigned netminder were probably more than what was warranted. A first rounder and a prospect is a steep price to pay for a goaltender who is neither proven nor under contract.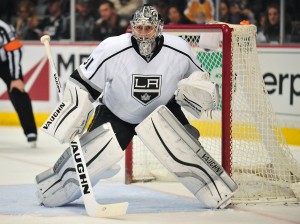 However, it is the potential that really sells this deal. If Jones can turn into a solid, first-string man, then this move is well worth it for San Jose. It will be like Miikka Kiprusoff all over again.
The Sharks already have a pool of spectacular young talent in their system. Chris Tierney, Matt Nieto, Melker Karlsson, Mirco Mueller, and Tomas Hertl are all looking to become dominant players in the NHL. Meanwhile, there are many more developing in other leagues–like Nikolay Goldobin, Rorke Chartier, and Jeremy Roy–that are projected to make a huge impact when they break into the NHL.
So yes, the Sharks gave up a first rounder and a prospect drafted 133rd overall. But that may be well worth it depending on how Jones performs in a starting role. Besides, it's not like San Jose drafts well in the first round anyway. It is a situation of high risk, high reward, with San Jose hoping for a huge payoff for their gamble.
I think most fans of the Bay Area franchise would have preferred a cheaper price for Jones, but he has the drive and skill to be great. It was a risk, but it was also the right move for the Sharks' organization.