With thoughts of regression floating through their heads, the Calgary Flames made a big move prior to the onset of the 2015 NHL Entry Draft, acquiring defenseman Dougie Hamilton from the Boston Bruins. Going back to Beantown are Calgary's first and second round picks, along with the second round pick the Flames acquired at the trade deadline from Washington for Curtis Glencross.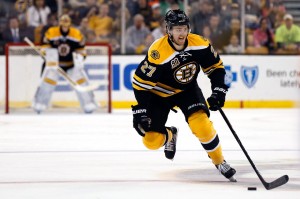 The Hamilton addition improves the Flames immensely right away.
First and foremost, it gives them depth. The Flames relied heavily upon Mark Giordano and T.J. Brodie last season – and to a lesser extent Kris Russell and Dennis Wideman – and the ice-time balance was thrown way of whack when Giordano was injured with 21 games left in the regular season. The team managed to survive the ordeal, and even won a playoff round, but the team's defensive group was playing over its' head for the majority of that stretch.
Now? The Flames have another strong right-handed defender to give them some options.
ADDED FLEXIBILITY
If Bob Hartley wants to keep things simple and loads up his top pairings, he can return Mark Giordano to his old spot alongside T.J. Brodie, which would likely see Hamilton play the right side with Kris Russell, and some combination of Wideman, Deryk Engelland and a left-handed blueliner (likely Tyler Wotherspoon or David Schlemko) would play on the third pairing.
If Hartley instead decides on balance, much like the Anaheim Ducks club that beat his Flames in the post-season: Giordano plays with Hamilton on his right side, Brodie stays with Deryk Engelland and Kris Russell stays with Dennis Wideman. Suddenly Calgary can roll three pairings without really having to shelter any of them much in regards to match-ups or zone starts.
I suspect much of the pre-season will involve Hartley and his coaching staff mixing and matching to see which of these two approaches work the best for his club. Either way, that's a huge amount of flexibility that the Flames suddenly gave themselves.
A LOGICAL COST
Arguably the most interesting here is the price the Flames paid for Hamilton.
The Flames needed to upgrade their defense. The three best defenders in the NHL Draft – Noah Hanifin, Ivan Provorov and Zach Werenski – were all likely gone in the top 8 or 10 picks. The cost to trade up to that range? Likely it would be some combination of a first round pick, one or two second round picks, and/or a prospect or good roster player. And that's for an 18-year-old who may not pan out.
If the Flames truly targeted Hamilton early-on, let's consider the cost of an offer sheet.
One source has Hamilton's ask at $5.5 million per.

— Kevin Paul Dupont (@GlobeKPD) June 26, 2015
Per the CBA, the cost of an offer sheet to Dougie Hamilton in that price range would be a first round, a second round, and a third round pick. The Flames gave Boston slightly over that amount, likely in an effort to get the deal consummated.
ADDING TO THEIR CORE
Hamilton just turned 22 years old. He has 83 points over his first 178 NHL games. He's 6'5″, 210 lbs and, most importantly, right-handed. Calgary gained a big body who can move the puck and play the right side. And Hamilton has established himself as a strong possession player; his Corsi For percentage last season was 55%, and teammates who played regularly with him saw their possession numbers improve rapidly compared to when he was off the ice.
When you look at Calgary's young core, the Flames quietly have amassed an impressive group: 19-year-old Sam Bennett, 20-year-old Sean Monahan, 21-year-old Johnny Gaudreau, and the 22-year-old Hamilton.
It's no guarantee of a contending team, but it's a good start.
Ryan Pike has covered the Calgary Flames and the NHL Draft extensively since 2010 as a Senior Writer for The Hockey Writers and Senior Contributing Editor of FlamesNation.ca. A member of the Professional Hockey Writers Association, he lives in Calgary.