On Friday, just hours before the start of the 2015 NHL Draft, the Los Angeles Kings made a splash by putting together a package to acquire Bruins forward Milan Lucic.
Lucic is an LA King

— Elliotte Friedman (@FriedgeHNIC) June 26, 2015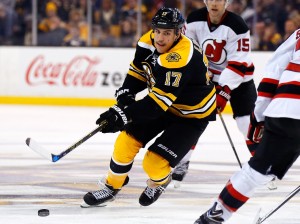 In return the Boston Bruins acquire the Kings' first round draft pick, number 13, which, in addition to the first round pick they acquired from the Calgary Flames and their own pick, gives them picks number 13, 14 and 15. The Bruins also acquire Kings back-up goaltender Martin Jones and prospect Colin Miller in the exchange.
Lucic has one year remaining on his contract with a cap hit of $6 million. That leaves the Kings with just $2,202,273 of remaining cap space after they re-signed Tyler Toffoli earlier in the day.
Lucic seems like the perfect player for coach Darryl Sutter's system and will allow writers to continue using the phrase "heavy hockey" every time they would rather use shorthand to describe the Kings' style.
Milan Lucic trade call with LA is done. BOS gets a player, a prospect and the 13th pick in today's draft. #TSN

— Bob McKenzie (@TSNBobMcKenzie) June 26, 2015
Jones is a RFA and solves the Bruins problem of finding a goaltender to be behind Tuuka Rask after Niklas Svedberg decided to go to the KHL next season. The Bruins will have to negotiate a new contract for Jones, but that shouldn't be a problem for the team with Joens' RFA status.
The prospect in the trade will be Colin Miller, according to Elliotte Friedman.
Is it just me or did the Kings pay more for one year of Milan Lucic than the Flames paid for four years of Dougie Hamilton?
UPDATE:
Lisa Dillman tweeted out that the Bruins will be retaining some of Lucic's cap hit.
RELATED: What Should the Kings Pay Anze Kopitar?
[catlist categorypage="yes" numberposts=3 excludeposts=this]