The final part of this series of four articles evaluates San Jose Sharks general manager Doug Wilson's handling of player contracts.
Wilson has largely operated with a philosophy that avoids major risk. He does not want to be hampered by lengthy and expensive contracts that hold the risk of going bad. Instead of locking up a player long-term, Wilson prefers to retain players at the market rate, but with shorter term deals.
It is hard to argue with Wilson's results. While perhaps he may have saved some money by going with long-term deals, the reality is that when he has decided not to retain a player, the player has rarely gone on to offer great value to the next team. Sure, there have been a few, but they represent a small portion of those players which Wilson has moved on from. Wilson didn't retain and overpay players like Torrey Mitchell, Devin Setoguchi, Ryane Clowe, Douglas Murray, Evgeni Nabakov and Dan Boyle. All good players in San Jose who provided questionable value in their subsequent stops.
http://gty.im/475138494
Wilson has made plenty of mistakes over the years. Head-scratching deals for players like Tyler Kennedy and Adam Burish come to mind. Still, it is hard to ruin your team with mistakes at the bottom of the roster. This season, Wilson had to jettison Raffi Torres, Alex Stalock, Ben Smith and Mike Brown. Because these players were on smaller and shorter deals, Wilson was able to exit these contracts with only modest pain.
The longest contract for any Sharks player is five years (of which there are several). The largest total value is $30 million. By NHL standards, these are very modest. This conservative approach has minimized a key downside risk associated with longer contracts, tying up a large amount of money and cap space with an underperforming player for a long term. The risk with shorter contracts is one can lose valuable and overachieving players when these contracts come to an end. Wilson has had success retaining these sorts of players (Joe Pavelski, Joe Thornton, Marc-Edouard Vlasic and Brent Burns among them). He has succeeded at limiting risk without losing out on the reward.
The Cap Space Breakdown
In the first part of this series, every veteran contract was given a grade. The chart below shows the portion of cap space Wilson has tied up in each grade. These veteran contracts comprise over 80% of the salary cap space for the Sharks. In the analysis, I excluded 'rental players' deals (those acquired for a only few months in recent trades), players on their initial deals and players occasionally called up from their minor league team. These excluded deals make up roughly 19% of the cap.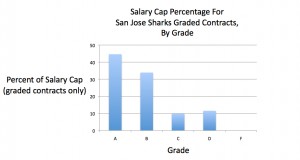 Among the 'A' contracts are those for Joe Thornton and Joe Pavelski. While I didn't assign pluses or minuses to each contract, Marc-Edouard Vlasic's deal would be a slam-dunk A+ if I had. Patrick Marleau's contract is the lone D, but it is an expensive annual contract.
Wilson's Grade: B+
If taken as a grade point average, it is 3.11. This however, must be graded on a curve. After all, no general manager has only 'A' deals and most have multiple 'C' or worse deals. Wilson would be sitting on a 'A' grade for his contracts if not for the one major deal that carries a 'D' grade. That, coupled with the work Wilson needed to do in order to escape the four smaller deals I mentioned earlier pulls the overall grade down. I wavered between an A- and a B+ for Wilson's work on the contract side of the business. I'm going with the B+. Wilson has taken plenty of criticism over the years, but the way he has managed the Sharks contracts is among his strengths.
Zeke's Notes
The second part of this series took a deeper dive into three contracts; Martin Jones, Paul Martin and Joel Ward. The third part went deep into Patrick Marleau's contract, as both the player and his current contract are unique.
Sharks rookie defenseman Dylan DeMelo is trying to get his plus/minus into positive territory. In his second NHL game in October, he was minus-1. Though he never dropped below minus-4, his rating stayed negative until the March 20th game against Arizona. In that game, he finally made it into positive territory, at plus-1, for the first time in his career. The next game, he dropped back to even. The game after, he was back in the negatives again. Now with four games left, DeMelo has returned to even for the year. It would be good to see him finish the season with a positive rating.
Thursday night against Vancouver, the Sharks honored alum Scott Hannan. He was the subject of one of my favorite articles. I ran into him at a local store a while back. I asked about his prank of shooting pucks at the glass during warmups in the direction of people who weren't paying attention. You wouldn't know it from his reaction on the ice, but he said enjoyed it. On a few occasions, especially when it made a kid cry, he felt bad. Really bad. I could see it in his face when he described it. It's funny how a few small moments can stick with a person, and those apparently did. He mentioned it worked better on the road, with more unsuspecting fans. At the store, he was with his young child, who was a bit restless. I suggested giving the child two minutes in the box. He handled the situation very nicely, wisely ignoring my suggestion …
ZEKE is a native of the DC area where he witnessed the birth of the Capitals franchise. After graduating from Cornell University, which had seen hockey glory before he arrived, he moved west to San Jose. There he witnessed the birth of the Sharks franchise. His wait to witness a Championship from any of these teams finally ended in 2018.