Every General Manager signs players to contracts. Every General Manager makes mistakes. Beginning with this piece, we will look at the work of Doug Wilson, the General Manager of the San Jose Sharks, and grade him on his deals with the current roster.
This is part one of a four-part series. In the first part, we will cover the contract grades. The second piece will take a deeper look at a few particular contract situations. The third part will cover one particularly important contract. The final part will address Wilson's overall approach, ultimately resulting in a grade for him.
I will not rate the contracts of players who are on their initial NHL deals or short-term 'rentals' acquired near the trade deadline.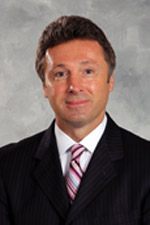 Players with initial deals are all low-cost deals in the same general salary range. At this point, a grade would be about the player and their potential, not their contract. That is a good subject, but not the subject of this piece. These initial deals include Dylan DeMelo, Matt Tennyson, Chris Tierney, Joonas Donskoi, Matt Nieto and Tomas Hertl. The recent trades acquisitions, all unrestricted free agents at year's end, are Roman Polak, James Reimer and Nick Spaling. These are the player contracts I will not be covering in this article.
As for how I grade, there are a few key factors. Performance over the expected length of the contract, with added weight for the current season, is the main factor. The reason for added weight on the current season is simple, players can be moved, which means they could finish their contract elsewhere. Players who present an atypical risk of missing time is a consideration, mostly with injuries and suspensions. Risk aversion plays a role in the grade. Smaller contracts and short-term deals can somewhat mitigate a negative situation with an underperforming player. The price needed to extract the team from a poor contract is part of the grade. The lowest grades would go to underperforming, expensive players on long-term deals with movement restrictions.
The A List
Joe Thornton, Joe Pavelski, Brent Burns, Marc-Edouard Vlasic, Martin Jones, Dainius Zubrus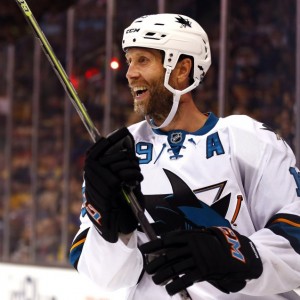 The A list was easy. All of the players blow away their deals. Joe Thornton is tops on the Sharks in terms of cap hit at $6.75 Million per season. That ranks 36th in the league overall, 25th among forwards. Thornton is top ten in points, assists and +/-. Pavelski's cap hit is a 15-way tie for 47th. He is top ten in goals scored for the third straight year.
Brent Burns is an interesting call. Offensively, one can make the case he is the best at his position in the game today. However, defensive limitations have compromised his overall results. He is a minus player for the season. He is a beast on the power play and an asset on the penalty kill. His recent improvements on defense make him a top 10 all-around defenseman. His cap hit is 73rd in the league.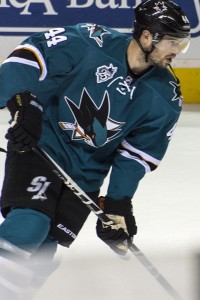 Tied for 178th in cap hit is Marc-Edouard Vlasic, the Sharks best defenseman and a player who would be in the Norris conversation every year if it wasn't so heavily weighted toward power play production. In terms of veteran deals, Vlasic's deal is as good as any in hockey and the best on the Sharks.
Dainius Zubrus is a very low-cost veteran. He has been effective on the ice and a quality mentor for young linemates. The lowest paid player on the roster has played in over half the games, is a plus player and is second in the league in penalty kill time-on-ice without giving up a goal. That is terrific value.
The last A grade goes to the contract for Martin Jones. Jones has developed into an NHL starter. He is not in elite company, but he is good. His cap hit is $3 Million. In a league with 30 teams, Jones cap hit is 29th among goalies. He is tied for third in the league in wins.
The B List
Logan Couture, Brenden Dillon, Justin Braun, Melker Karlsson, Paul Martin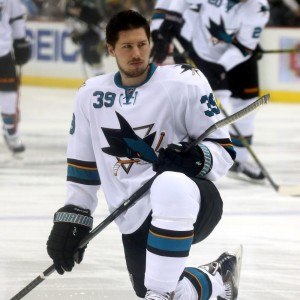 Logan Couture is a solid value at $6 Million (essentially the same deal as Pavelski). The veteran forward has three more seasons on his deal past this one, all in his prime. While Couture has not proven he can carry a team, he is usually a mismatch for other teams in a second line role. He is a three-zone player. Injuries have been an issue.
Prior to the season, if you had asked me which deal I thought most likely to get an 'F', it might well have been Brenden Dillon's deal. This season has been a complete turnaround. Dillon, in year one of a five-year deal, is solid value at just under $3.3 million per season.
Justin Braun also falls into the category of solid value. Braun has the 84th rated cap hit among the league's defenseman, suggesting he is a middle of the pack second pair player. That describes him. He has the advantage of playing with the elite Vlasic, which tends to inflate his numbers, especially his plus/minus.
Melker Karlsson is another good value. For years, Doug Wilson brought in lower line players who were not as useful as forecast. Karlsson is breaking this trend. His $1.65 Million per year deal is consistent with a productive lower line role player, which is what he is.
Paul Martin was brought here for one main reason, to help fix Brent Burns as a defenseman. Mission accomplished. Martin's deal takes him to age 38 and he isn't cheap at a bit under $5 Million per season. The odds are against him being a good value for the entire deal. He is a good value now, which should make up for diminished value later in the deal.
The C List
Joel Ward, Tommy Wingels
Joel Ward is in his first season on a deal which runs for three years, at just under $3.3 Million per season. Ward peaked in the first two months of the season with 20 points in the first 24 games, but has declined since. Ward's early contributions were important, but for much of the season, he's been relatively quiet and now sits at minus-13. With the quick start, he is poised to finish with the second highest point total of his career. Ward is 35, his contract carries the risk of a decline between now and its completion.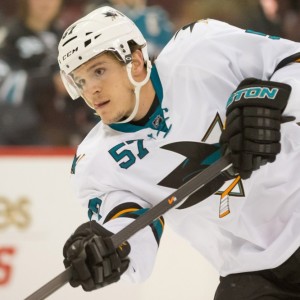 Tommy Wingels has shown promise over the years, but he has underperformed substantially this season. Wingels is a physical player, though not overly big. He routinely leads the team in hits. He also draws penalties, an asset that is not well quantified in hockey's traditional statistics. On a team with a very good power play, this matters. On the downside, his physical style has made him prone to injuries and wearing down over the course of a season. His deal is reasonable, under $2.5 Million per season, with one more season to go on it. He is expensive given what he has been able to produce this year. Wingels is just 27, so there is a good chance he bounces back.
The D List
Patrick Marleau
Patrick Marleau is a good hockey player, but he is earning elite money. His cap hit is second on the team, just slightly behind Joe Thornton, at $6.67 Million. He has one more season on his current deal. His minus-22 is worst on the team and his offensive production is down substantially from his career averages. He remains part of an effective power play. At least to my eyeballs, his play seems to be better than his minus number suggests. With Marleau disappointing, the price is wrong. Fortunately, there is only one season left on this deal.
The Failing List
There are no failing contracts. I would not be against including ones if they existed. The most likely candidates were all recently traded: Alex Stalock, Raffi Torres, Mike Brown and Ben Smith. Even in these cases, the contracts had the merit of being short and for modest money. If one looks at the cost Wilson paid to extract the Sharks from these deals, it was modest. Had there been more than one more season remaining on Marleau's deal, an F would have been a strong consideration.
In the next article, I'll look at three deals in detail: Martin Jones, Paul Martin and Joel Ward.
Zeke's Notes
All cap numbers came courtesy of CapFriendly, clicking here links to the Sharks contracts.
As I write this, seven NHL teams have clinched a playoff spot. Six of the seven are in the West, including San Jose, currently with 90 points. The Sharks clinched on Monday night when Arizona lost in regulation (though minutes later, the Sharks won their game, which would have clinched them a playoff spot even had Arizona won). In most seasons, 90 points won't get a team into the playoffs at all, let alone clinch a spot with a half dozen games left. It is an interesting year. By clinching now, it gives the Sharks some choices on how to approach the remaining games.
ZEKE is a native of the DC area where he witnessed the birth of the Capitals franchise. After graduating from Cornell University, which had seen hockey glory before he arrived, he moved west to San Jose. There he witnessed the birth of the Sharks franchise. His wait to witness a Championship from any of these teams finally ended in 2018.