For the past few years the San Jose Sharks and their general manager Doug Wilson have struggled in free agency. From 2009 through 2013, free agent names like Antti Niemi, Antero Niittymaki, Adam Burish, Brad Stuart, Brad Winchester, Jamal Mayers, Colin White, Jim Vandermeer, Michal Handzus, Manny Malhotra, Kyle Wellwood and who could forget John Scott, have been brought in to the organization. Not exactly the cream of the crop.
The last couple of seasons however, Wilson has not only made his first significant free agent splashes (Joel Ward and Paul Martin) but with help from his scouting team, he has picked up two incredibly talented and versatile European forwards in Melker Karlsson and Joonas Donskoi. The presence of these two guys has been huge over the past few games as San Jose currently rides a three-game winning streak.
Donskoi
While Donskoi was far from an unknown commodity this offseason being the MVP of the Finnish Elite League's playoffs, the former fourth-round pick of the Florida Panthers didn't have the fanfare of other European free agents joining the NHL this season. He wasn't a lock to even make the Sharks roster out of training camp but he performed well in the preseason and has been an extremely valuable contributor. For a handful of games, No. 27 in teal was gelling on the top line with Joe Thornton and Joe Pavelski and in recent games his presence on the third line with Tomas Hertl and Tommy Wingels has jump started the puck possession game of that line.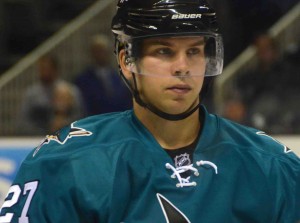 Thus far Donskoi has just four points in 13 games but his 54.1 Corsi percentage is actually slightly higher than Pavelski who leads the team in scoring. Not to mention Donskoi's goals-for percentage is currently sitting at an awesome 61.5 percent. He has one of the lowest goals-against per 60 minutes on the team due to his dedication to back checking and smart reads defensively. He has the patience to alleviate pressure rather than force clears defensively that end up in turnovers. The Finnish forward is one of the key reasons the Sharks have been a much improved five on five team this season.
Karlsson
After missing most of the season with an injury and rehabbing with the AHL Barracuda, Melker Karlsson has returned to give the Sharks a huge shot in the arm. In just four games, Karlsson has worked his way back up to the Thornton line where he spent most of last season. He already has two goals and an assist with a knack for going to the net and forechecking like his life depended on it. He is far from a big guy at just six-feet tall, 180 pounds, but he is absolutely fearless when it comes to paying the price to score garbage goals. He takes a beating but it never deters him from getting the job done.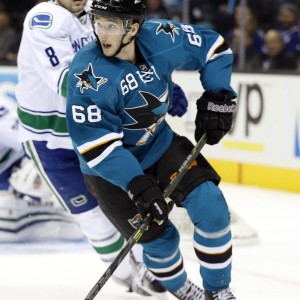 They may not be exact carbon copies but Karlsson and Donksoi are very similar in that they both have high hockey IQs. Karlsson is often in the right spot at the right time. He has already turned into a fan favorite in just 57 NHL games. The "Melk Man" or the "Swedish Pavs" as one fan likes to call him, is not going to be a huge point producer, but like the veteran Joel Ward, he fits in perfectly as a complementary player in the top-six. The only detraction in his game is if he can work on his shot to bury more of the hard crisp Thornton passes, but other than that, he is the ideal, no nonsense, hard working winger to compliment the two super stars.
Andrew has been credentialed to cover the Sharks since 2010 and the 49ers since 2012. He graduated with his BA in Broadcast Electronic Communication Arts in 2013 from San Francisco State University.