The 2015-16 NHL season is almost over as the Toronto Maple Leafs have only five games remaining. As it has been for a while, more and more thought will be put on what the Leafs are going to do in the off-season. The obvious wants from fans are the signing of Steven Stamkos and/or the drafting of Auston Matthews. However, lets talk about the most important position in hockey: goaltending.
The Maple Leafs have used three goalies this season. They are James Reimer, Jonathan Bernier and Garret Sparks. Now, on a last place team, none of the goaltenders were great, but all of them have had some pretty streaks. Reimer even had the best save percentage in the NHL for quite some time. However, he is no longer with the Leafs as he was traded to the San Jose Sharks before the trade deadline.
That just leaves Bernier and Sparks. Bernier has had one of the worst statistical seasons in the NHL this year. Of course, we all remember that it took him 12 games to record his first win of the season. Sparks had a great debut, becoming the first Leafs' goaltender to record a shutout in his first NHL game. Since then, he has built up a record of 6-6-1 in 14 games.
What Does The Future Hold?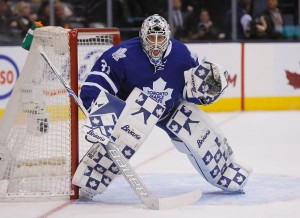 Of course, after the next five games, Sparks will be sent back to the Toronto Marlies to rejoin Antoine Bibeau on what hopefully be a long playoff run. Bibeau has seen some time with the Leafs but spent all of it on the bench. He has been backstopping the Marlies ever since Sparks has been with the Leafs, keeping the Marlies atop the AHL standings.
There is another goalie that has been added to the mix however. The recently signed Finnish goalie Kasmir Kaskisuo has joined the Marlies on an amateur tryout contract. While he might see a game or two before the playoffs, don't expect him to see any ice in the playoffs.
So where does this leave the Leafs? They have five goalies under contract, four if you take into account that Kaskisuo's deal doesn't kick in until next season. Alex Stalock was acquired in the Reimer trade, but his contract ends after this season and will not be brought back. Bernier and Bibeau's contract expire after the 2016-17 season, with Bernier becoming an unrestricted free agent and Bibeau a restricted free agent. Sparks will become a restricted free agent after this season.
So, out of all the Leafs goalies, Kaskisuo is the only one signed past next season. Obviously that means there is work to be done when it comes to their goaltending. Now, Sparks has earned a new contract and should get even more of a look next season. So that leaves Bernier and Bibeau. Like Kaskisuo, Bibeau still has some development to go through before he's ready for the NHL full-time.
With Bernier, it's a bit more complicated. Has his lackluster season changed his future with the team? If this season isn't his last as a Maple Leaf, it's doubtful he will be back after next season. With Mike Babcock using Reimer and Sparks more than Bernier, it looks like he is on borrowed time in Toronto. So if Bernier leaves, that would leave the Leafs with three goalies all under the age of 25.
Bringing In Backup?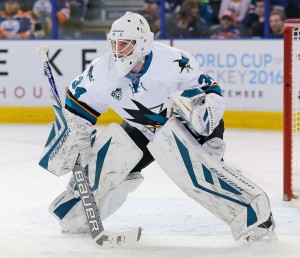 The Leafs are rebuilding, but do they want to have a young team backstopped by a young goaltender? It takes a goaltender longer to develop than any other position. It will be years before the Leafs really know what they have in any of the three young goalies. Of course, any goalie will look even better than he is if he has a really good defense in front of him. The Leafs defense is also in a stage of transition right now so that is not going to do the youngsters in net any favors.
So whose available in free agency this summer? The 2016 batch of free agent goalies doesn't look all that good with a lot of backup goalies available rather than starters. The biggest names available are Carolina's Cam Ward, Calgary's trio of Jonas Hiller, Karri Ramo and Niklas Backstrom, as well as former Leaf Reimer. 2017's group is slightly better with Vancouver's Ryan Miller, Tampa Bay's Ben Bishop, Winnipeg's Ondrej Pavelec and Philadelphia's Steve Mason as intriguing names.
The Leafs have some interesting choices to make in the coming years when it comes to the man between the goal posts. When the Leafs are back in playoff and, dare I say it, Stanley Cup contention, who will be the goalie leading them. Before they get there, lots of questions will have to be answered.