Don't expect a lot of activity on the free agent market in New Jersey on Friday afternoon when the clock strikes noon. The Devils made their big move on Wednesday when they swapped Adam Larsson for Taylor Hall — adding the top-line winger they have been desperately seeking since the departures of Zach Parise and then Ilya Kovalchuk. But filling one hole did create another hole in a different area, so New Jersey won't be silent, and GM Ray Shero has the second-most cap space in the NHL to work with as of this moment.
With this afternoon's deal, NJ now has $24 million in cap space, second-most in the NHL.

— Neal McHale (@nealmchale) June 29, 2016
Here are some of the players that could be New Jersey Devils, if the price is right, when next season begins in October.
Speed
Since his first day on the job in New Jersey, coach John Hynes has preached that the Devils will be: Fast. Attacking. Supportive. The acquisition of Hall certainly makes them faster and there are some options on the market that would upgrade the team speed even more. Signing a player like Darren Helm from the Detroit Red Wings or Michael Grabner from the Toronto Maple Leafs would give the Devs some much-needed speed in their bottom-six that they have lacked with players like Jiri Tlusty, Tuomo Ruutu, Steve Bernier, Jordin Tootoo, Michael Ryder, etc over the past few seasons.
Either Helm or Grabner could help out on the PK as well, which would free up some taxing minutes off of Travis Zajac and/or Adam Henrique's ice-time going forward, allowing them to be fresher throughout the season. Adding Hall and Beau Bennett to last year's group of returning forwards already improved the team, and we haven't hit July 1 yet.
Together again! @hallsy04 pic.twitter.com/i93uRfuOfD

— Adam Henrique (@AdamHenrique) June 29, 2016
Here's the current projection for forwards in the mix for next season:
Bennett, Blandisi, Boucher, Cammalleri, Blake Coleman, Hall, Henrique, Jacob Josefson, Sergey Kalinin, Nick Lappin, Matt Lorito, Kyle Palmieri, Devante Smith-Pelly, Blake Pietila, John Quenneville, Blake Speers, Miles Wood, Pavel Zacha, Zajac.
Defense
The trade of Larsson leaves a bit of a void on the Devils' top-pairing on defense, as he and captain Andy Greene have held that position for the better part of the past year and a half, playing nightly against the opposition's best line. For now we'll assume Damon Severson slides into Larsson's old spot, leaving John Moore on the second pair with possibly rookie Steven Santini or David Schlemko, who played and had a nice season in New Jersey during 2015-16, but is a UFA. Seth Helgeson will be on a one-way contract next season and will likely be on the team too.
Others that could be pursued on the free agent market may include Pittsburgh's Justin Schultz, Dallas' Jason Demers and Fedor Tyutin, who was just bought out by Columbus. Demers may be the best fit, but he will also have a lot of suitors and Schultz may get more than he's worth likely; he's also still somewhat of a reclamation product in some people's eyes despite his contributions on the Penguins Stanley Cup victory.
http://gty.im/542033962
Another avenue would be a trade for a top-pair defenseman, which aren't easy to get and don't grow on trees. Would Shero be able to pry Kevin Shattenkirk from St. Louis with a package that included Mike Cammalleri and Reid Boucher or Joe Blandisi? Probably a no if you are St. Louis, but that's the type of deal it will likely have to be for a player like him or Anaheim's Cam Fowler or someone else we haven't thought of.
Here's the current projection for defensemen in the mix for next season:
Yohan Auvitu, Greene, Helgeson, Joshua Jacobs, Jon Merrill, Moore, Vojtech Mozik, Santini, Reece Scarlett, Severson, Colton White.
WILD CARDS
If Shero was to pull off a deal where he trades multiple forwards for a defenseman, he would probably add at least one more free agent forward before the season starts, or maybe invite a few to camp on PTOs again. Could he snag Thomas Vanek with a 1-2 year deal? Maybe give Andrew Ladd the 6-year contract he's likely looking for? Or possibly add a gritty, sandpaper-type player like Eric Nystrom or Kris Versteeg? Could Lee Stempniak come back after performing so well for New Jersey before being shipped up to Boston on trade deadline day?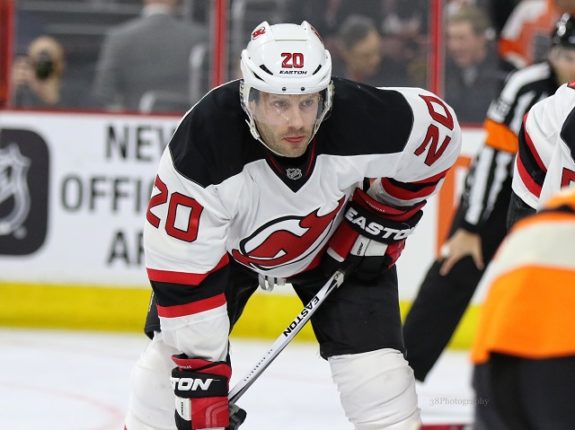 There are other options out there also like Kyle Okposo, Mikkel Boedker, Jiri Hudler or David Perron – who are all solid players in their own right, but just not seeing them as fits on the roster as of this point in time. But we all know things can change quickly sometimes in the hockey world.
This is all an inexact science and as we saw with the Hall-Larsson and Shea Weber-PK Subban trades, anything is possible…so tighten your buttcheeks and prepare for the ride starting July 1. Who do you want to see the New Jersey Devils add (realistically)? Let us know in the comments below.