As he always does when he releases his "31 Thoughts" articles, SportsNet insider Elliotte Friedman has people talking with some of his latest comments.
In today's Rumor Rundown we'll cover the struggling Edmonton Oilers and their need for offense. Will they trade a prospect they would have once deemed untouchable? We'll also look more closely at the window that is the New York Rangers and their current roster. What moves make sense or does any move at all seem like too quick a judgment on the Rangers' season?  So too, are the Florida Panthers planning a move involving Alex Petrovic?
Oilers Continue to Struggle
After another disappointing loss on Wednesday, the Edmonton Oilers are looking to make a change in a bad way. General Manager Peter Chiarelli is said to have a lot of balls in the air on the trade front but the concern is a player like Jussi Jokinen or Ryan Strome won't fetch Edmonton what it needs to all of a sudden turn this season around. Speculation is that the Oilers might consider trading forward prospect and fourth-overall draft pick Jesse Puljujarvi.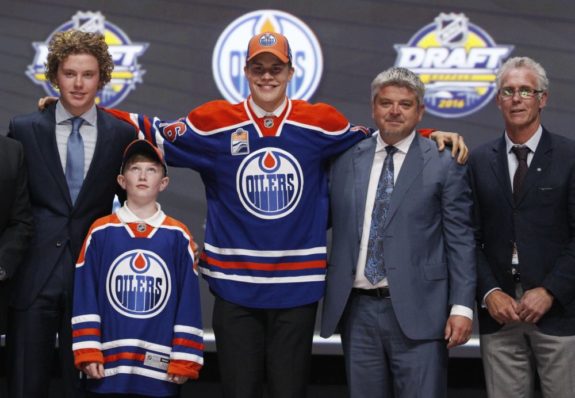 Long term, this seems like a huge gamble for the Oilers. Puljujarvi hasn't provided much offense at an NHL level and trading him might provide a quick fix but perhaps not a notable enough one. Would the Oilers really be willing to sacrifice their long-term player on the right wing?. The Oilers would both need to feel that they have no other choice and that Puljujarvi just isn't going to pan out like they'd hoped.
Related: Rumor Rundown: Golden Knights, Leafs, Sabres, Oilers
New York Rangers Window
Elliotte Friedman also notes that the New York Rangers began a process of 'out with the old and in with the new' last offseason and that the trend is expected to continue. The easiest and most notable moves will include letting go of unrestricted free agents Rick Nash and Michael Grabner. Nash would like to stay with the club but that may not be in the cards for a team that is barely hanging working toward a playoff spot at this point in the season. 
Ranking among the bottom-ten teams in the NHL this season, things have not gone according to plan. The team has played a bit better of late including a flurry of goals but if things turn south again, that might change and he also believes the Rangers might test the trade waters with players like Ryan McDonagh, Mats Zuccarello, Chris Kreider or J.T. Miller. Friedman admitted that, at this point, everything is speculative and that the Rangers may not move any of those pieces, only that if they do, people shouldn't be surprised.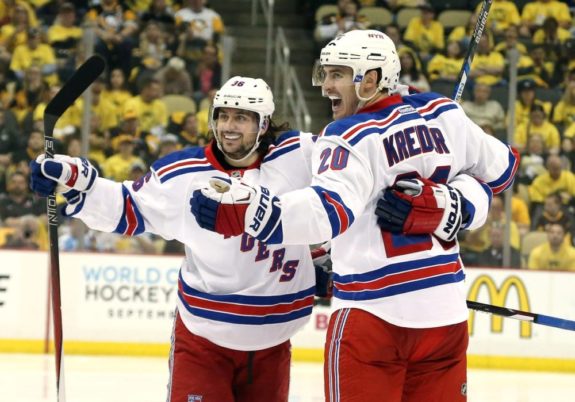 Florida Panthers Shipping Out Alex Petrovic?
Florida Panthers defenseman Alex Petrovic is a year away from free agency and his situation in Florida isn't exactly ideal. As Friedman writes,
"One situation to keep an eye on: Florida and Alex Petrovic. Injuries limited him to 49 games last season, but when he dressed he played 18:09 per night. Under new coach Bob Boughner, Petrovic's usage is down. He's had three healthy scratches. The third one came Monday against Tampa Bay after Petrovic was benched for the third period of last Saturday's overtime loss to Detroit. He's also gone from 1:18 per night on the penalty kill to under 30 seconds."
This could be an interesting development to watch as there are a number of teams who would be interested in adding a serviceable defenseman and Petrovic is definitely that. It could simply be a confidence thing with Petrovic. Both the organization and the player want things to work out and it feels like things are in a rut of sorts right now. Petrovic will get another chance as he re-enters the lineup on Thursday for the Panthers.
Bob Boughner says the #FlaPanthers need Alex Petrovic. Petrovic says he needs his confidence. "Then I can be harder on guys, be more physical, be that stud tough d-man back there that I want to be." https://t.co/Vzg8UKnHs5

— Matthew DeFranks (@MDeFranks) November 1, 2017
Related: Florida Panthers First Impressions
Notables
The backup goaltender situation around the NHL is worth watching as Chris Johnston also reported Winnipeg received calls on Michael Hutchinson. Friedman also suggests keeping an eye on Andrew Hammond out of Ottawa.
Both the Montreal Canadiens and the Toronto Maple Leafs are looking at the KHL and European free agent and trade markets. Toronto seems to be the early favorite to land defenseman Igor Ozhiganov.