It has been a busy Halloween as it pertains to rumors surrounding the Edmonton Oilers. Off to a disappointing season start, the team is not nearly as productive as they'd hoped and speculation is that general manager Peter Chiarelli is actively working the phone lines in an effort to see what's available on the trade market.
A Failed Experiment
This isn't the time to panic, but it is time to realize that the experiment that was the Oilers trying to move out a proven scorer (Jordan Eberle) and replace him with an unproven one, or some combination of depth from bottom-six guys and an 18-year-old rookie isn't working.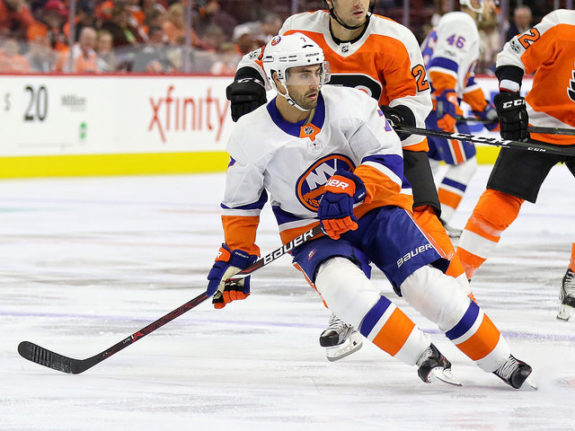 In 12 games for the New York Islanders, Eberle has nine points. He's potted two goals and seven assists and while that's not exactly killing it for the Islanders, it's a 62-point pace on the season and it's scoring the Oilers could have badly used so far this season. Meanwhile, Ryan Strome, Jussi Jokinen, Anton Slepyshev and Zack Kassian (all tasked to fill Eberle's role by committee) have a point total of six for the Oilers in 2017-18. Four guys producing less than one player deemed expendable is not a good sign.
Related: Rumor Rundown: Golden Knights, Leafs, Sabres, Oilers
The Oilers Next Move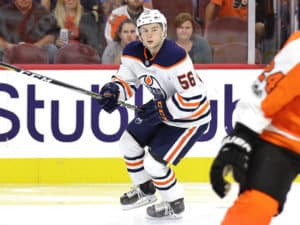 Only Kailer Yamamoto has been a pleasant surprise for the team. That said, while he looked to be poised for a breakout, even he hasn't scored a goal and his three assists aren't enough to warrant burning through a year of his entry-level contract and keeping him on the Oilers roster past the nine-game mark of his NHL debut season.
The Oilers are set to send Yamamoto back to junior and that will create another hole on the right side — a hole Leon Draisaitl is currently filling because no one else can.
Trades
With the problems that are glaringly obvious on this roster, a few NHL insiders have started speculating at the pieces the Oilers might move.
Nick Kypreos suggested Strome has disappointed to date and the Oilers are willing to move him. Chris Johnston of SportsNet recently wrote a piece suggesting the Oilers are shopping Jokinen. Others have guessed that the Oilers would be willing to trade Anton Slepyshev for a scoring right winger. The problem becomes, what is their trade value?
The Oilers have to realize that just because they'd be trick-or-treating up to other teams doors on Halloween with an open bag ready for opposing GM's to dump in candy doesn't mean they will. No team is going to give up a scoring right-winger for a depth-winger who's produced nothing of note so far this season.
The Oilers Three Alternative Options
What may be facing the Oilers now are a few tough decisions. Any team willing to part with a piece that can help the Oilers today would want something that would help them in return, namely a defenseman like a Matt Benning. Benning hasn't had the greatest season to date but he's coming on strong and teams around the NHL know there is a player there. Problem one is that Benning could fetch something in return but the Oilers don't want to move him.
The second potential problem is Edmonton brings up Jesse Puljujarvi from the AHL before he's ready. He's had some struggles adjusting to the NHL and he's not been the prospect the Oilers would have hoped for out the gate but he's got next to no help in Bakersfield where the team is struggling worse than the Oilers are.
Edmonton's AHL affiliate leading scorer is defenseman Ethan Bear and that's troubling. The Oilers might actually be looking to make a trade to bolster their AHL roster which is not the kind of trade you see every day.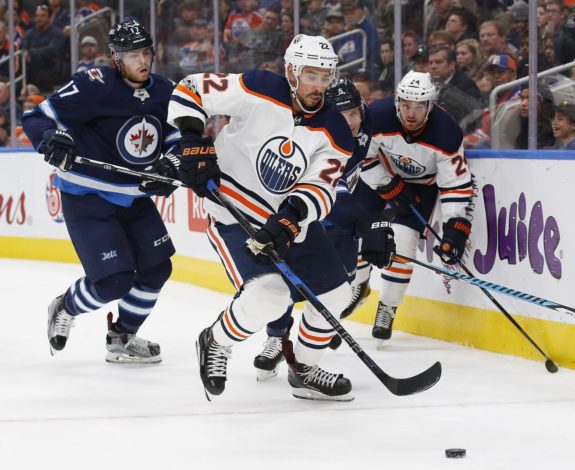 Finally, the Oilers could look to sign a player like Chris Kelly. Kelly tried out with the team on a PTO and stayed with the roster even though he wasn't offered a contract out of camp. He's a veteran who showed well enough in pre-season and while he won't add the scoring the Oilers are missing, he is a viable part that can be plugged in.
In the End…
The Edmonton Oilers are in a bit of a pickle. The only advice is to treat their situation like a kid on Halloween. Trick or treat to as many doors as possible and pray the houses you hit are generous, loading your bag as full of candy as possible.
If that doesn't work, find another kid who got the candy you like but they could live without.
In the end, when opposing GM's don't give you what you want, you can't TP their house, you just have to understand you did this to yourself and your team may have to grind their way out of the problem.