The Edmonton Oilers are about 24 hours away from kicking off the 2017-18 regular season. With fans ready for another year and the team considered a favorite by many to contend for the Stanley Cup, the Oilers have reason to be optimistic.
Is it all positive? Is there reason to worry? What can we expect from the team this year? Here are 24 quick questions, observations, and news hits to prepare you for the upcoming season.
24. Key Additions
The Edmonton Oilers lost one of their top-six forwards in Jordan Eberle, but they also made some key additions. Ryan Strome came in for the departing Eberle at right wing or center (depending on where Strome best fits), Jussi Jokinen was added as a veteran winger who can provide mentorship, put up points and kill penalties, Yohann Auvitu was added as an offensive defender for depth and Kailer Yamamoto unexpectedly made the team out of camp as the Oilers newest first-round draft selection.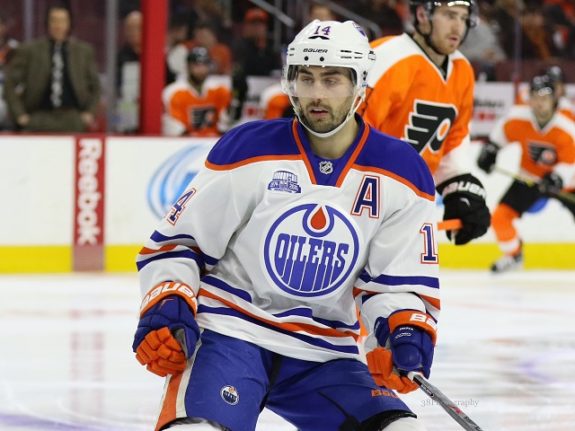 All these additions are improvements for the roster with the exception of at right wing which is still uncertain. That bodes well for the Oilers who didn't lose big names like some other teams in the NHL did. Good teams often tend to lose good players and that was not an issue for the Oilers despite paying some big money to some big names.
23. Puljujarvi Sent Down
Jesse Puljujarvi had a spot to lose on this roster and he lost it. Pegged out of camp for the second-line right wing spot, he didn't play badly, but he didn't play well enough to force the hand of the coaching staff to keep him. Instead, he'll be headed to Bakersfield to play in the AHL and get a ton of key minutes.
This is the right choice for the Oilers. If Puljujarvi isn't going to play a significant role yet, move him to a place where he will. He's still extremely young and even though he's not been the high-end draft choice people believed he might be, his ceiling is high. This move is a sign the Oilers are doing the right thing with their prospects and not rushing them.
22. Yamamoto 9 Games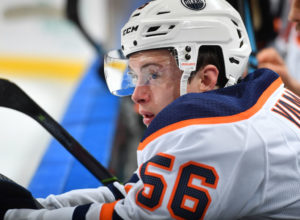 Moving Puljujarvi is the right move. If that's the case, how could then keeping Kailer Yamamoto on the team also be the right move? He's younger, he's got less experience and he wasn't really supposed to be the guy who made it.
The answer is two-fold. First, Yamamoto earned this promotion with his play. He was skilled, aggressive, forechecked, played in key situations and answered the call when asked to do things not necessarily in his playbook. Second, no other right winger played better.
21. Right Wing Still Uncertain
Because no right-winger on this team really jumped out and grabbed a spot, it forced coach Todd McClellan to play Leon Draisaitl up on the wing with Connor McDavid. Clearly, these two have great chemistry. Long term, this is a problem.
We knew that moving Eberle was going to create a hole, but the hope was that it could be filled internally. No one has really showed in preseason that it will be and it might mean the Oilers have to look around the NHL early in the season for an option if someone doesn't make an immediate impact.
20. Draisaitl / McDavid Duo
Even though the Oilers lost their final preseason game, Draisaitl and McDavid looked like they hadn't lost a step. They'll see significant playing time together on the power play all year, but this duo is better served as a one-two punch on two lines instead of a one-one punch on the top line.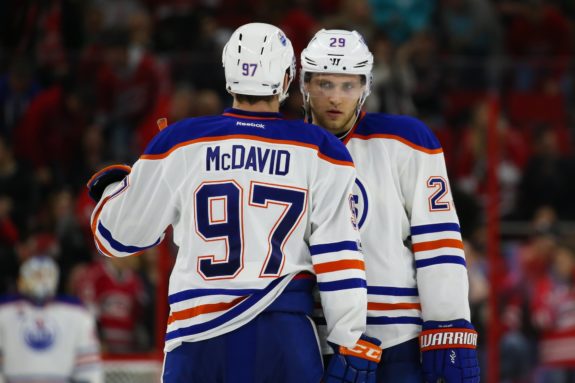 Both will get tons of points playing together but is this what fans are looking at to start the year. All of the firepower on one line? The common understanding was that the Oilers were trying to avoid that.
19. Defensive Depth
Are the Oilers strong enough on their blue line? Top-pair seems stable with Oscar Klefbom and Adam Larsson. Both will have that first year of playing with each other under their belt. They should get more and more familiar as time goes by. The second pair is a question since Benning and Nurse have shown some issues in the preseason. The third-pair will fluctuate as Eric Gryba and Yohann Auvitu swap in and out of the lineup.
This is an area that Oilers should have considered adding to and to date they really haven't addressed it. It doesn't look like they intend to right away.
18. Sekera Injury
Perhaps they know this, but the Oilers are going to miss Andrej Sekera more than it appears they realize. His absence is a big deal and the way Benning and Nurse have neglected to jump up and take his spot really emphasizes that.
Sekera was such a well-rounded defenseman that he factors into the success of 5-vs-5 play, the power play and the penalty kill. He was a huge part of the Oilers overtime wins last season and he provides experience and leadership that is going to be gone for the first few months of the season.
The Oilers really need to hope he heels faster than expected.
17. Cup Odds
The Oilers are considered one of the favorites to win the Stanley Cup this year. Among Canadian teams, they are the favorite. Will this impact their play? With such high expectations, what happens if the team comes out and doesn't win immediately? How will they respond when they know others are looking at them to be a winner?
It's a completely new mindset coming into the season and one they've yet to have to tackle.
16. Nugent-Hopkins Trade
All season, expect the Oilers trading Ryan Nugent-Hopkins to be a topic of conversation. The Oilers don't want to move him, but he's a $6 million asset that doesn't really have a solid spot on this roster. Is he a second-line center? Is he the first-line right winger? Is he a third-line guy?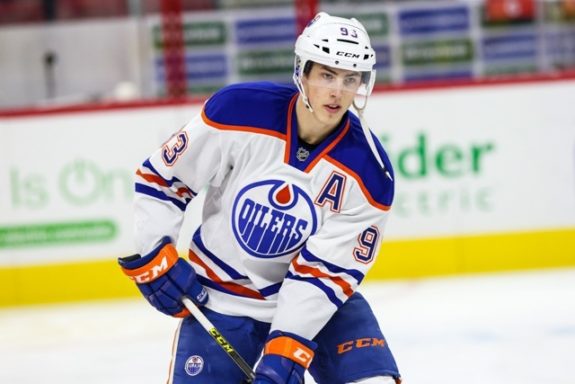 He's expensive and he needs to produce. His offense was lacking last season and his offensive numbers need to go up for people to stop talking about sending him out of town.
15. Potential Regression
One issue that seems to be getting overlooked is just how well everything went for the Oilers last season. Outside of an injury to Darnell Nurse, the team was healthy. Cam Talbot was a star and played in 73 games, McDavid had 100 points, Draisaitl had 77 and the team clicked on a number of cylinders.
When looking at this season realistically, one has to be prepared for the fact that this kind of good fortune won't continue. Someone or something from this group is going to take a step back.
14. Potential Improvement
While it is inevitable that someone will take a step backward, we can expect that others will improve. Milan Lucic can be better 5-on-5, Klefbom could take another step and Benning and Nurse could continue to develop. What if Drake Caggiula scores 20 goals or Jokinen pots 45 points?
It makes no sense to dwell on the negative when there is just as much potential for areas of the team to improve.
13. Backup Goaltending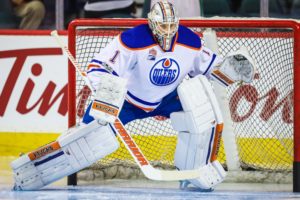 The Oilers backup situation in net last year was not good. For that reason, Talbot played all the time. The Oilers still don't have a proven backup goaltender but what we've seen from Laurent Brossoit is a guy, who in his limited time, can play a solid 20 games and keep the Oilers competitive.
If he has a good season, it will mean a ton to this team who needs the ability to give Talbot a rest if and when he struggles or feels over-worked.
12. Repeat Performance From Talbot
Can Talbot realistically do what he did last season again? He faced more shots than any other goaltender in the NHL, he played 73 out of a possible 82 games, and he led the league in minutes, saves and wins. He got robbed of more attention in the Vezina voting, but he played lights out.
The Oilers should not fool themselves if they think having a guy like McDavid means they don't need stellar goaltending. Talbot is going to need to be almost as good, if not as good as last year.
11. Nurse and Benning Good Enough?
There are big things being asked of two relatively inexperienced defenders in Nurse and Benning. Can they handle the increased responsibility?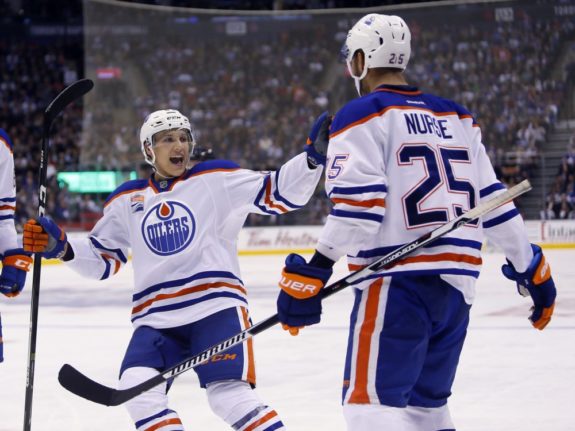 So far in preseason, the answer has been, at best, maybe. But, they've also made the coaches nervous and speculation is that the team might be looking at some outside options if the season doesn't start well for either player. Kris Russell has been good so far this year, but he'll need a solid partner to provide some offense. That needs to come from Benning or Nurse and if it doesn't the Oilers have a sizeable issue.
10. Chris Kelly
Most people didn't expect Chris Kelly to get invited to training camp. Even more, people didn't expect he'd have a chance of making this team. One happened and the other might be.
Kelly has not been officially signed by the Oilers but he's still with the team and it seems pretty clear that general manager Peter Chiarelli is considering keeping Kelly around. Call it loyalty to a guy he had in Boston or call it fear that something has the Oilers concerned, but Kelly hasn't done anything to really showcase why he deserves to be here, yet he still is.
If the Oilers are even considering Chris Kelly then it's out of sentimentality. Pakarinen and Slepyshev are better players today

— Arch (@Archaeologuy) October 3, 2017
9. Fantasy Draft Picks
If you're a fantasy hockey guy and you want to know which Oilers to take, here are a few guys to keep an eye on. Obviously, if you have the first two picks in your pool, take McDavid or Sidney Crosby. If you're drafting in the top 15, take Draisaitl between 8 and 15.
For sleepers, consider Patrick Maroon who is playing for another contract and Jokinen who might surprise people with a 40-50 point season. If Caggiula gets hot, keep an eye on him. He'll be an inexpensive daily player.
8. Patrick Maroon's Next Deal
The Oilers and Patrick Maroon are already talking new contract. Expect that to be somewhere in the neighborhood of $4 million per season over three years. If Edmonton can get it done under $4, they'll probably jump. If Maroon wants more, wait for this signing to happen in the summer.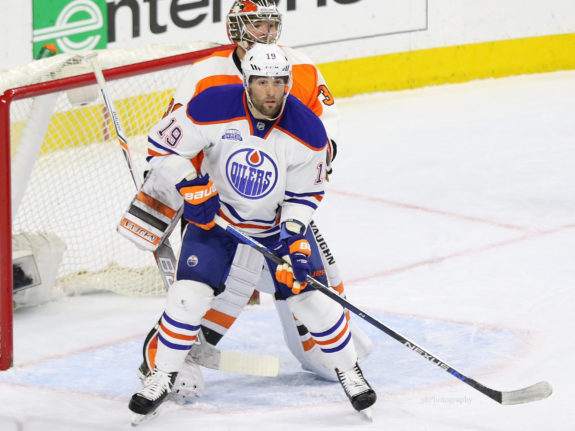 Maroon is going to get every chance to earn his next deal. He's got no real competition for that top-line left wing spot beside McDavid and it's a position he'll have to lose with poor play. He's a sure thing for 20 goals.
7. What Is Drake Caggiula?
There are some NHL insiders and those close to the team that believes this could be a breakout year for the second-year college signee. He came on strong in the playoffs last season and got some time with McDavid, which he seemed to take advantage of. Yet, in preseason, he hasn't really stood out.
Is Caggiula the 20-goal player some are projecting him to be? Or, is he depth botoom-six forward who has a ton of speed and will be the special teams' guy that teams love to have but go relatively under-appreciated.
6. Power Play Points
The key to the Oilers success this year looks like it might be the power play. With the amount of penalites called for slashing and other infractions, Edmonton could be awared more than a half-dozen power plays a game and they have the weapons to make teams pay. It is going to be aboslutely critical that the Oilers don't squander these opportunities.
5. Is Slepyshev Ready?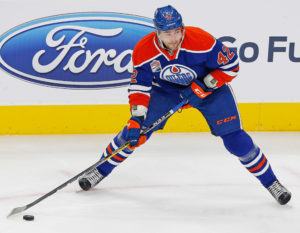 Anton Slepyshev was supposed to play in the final preseason game. He had a sore ankle and was sick so they kept him out. How long will it take for Slepyshev to get up to game speed? The Oilers are hoping he has a big year and is one of those players who takes a giant leap forward in his progression. He has a wicked shot and with Eberle gone, Edmonton will need a goal-scorer.
4. Hot Start
How quickly can the Oilers come out of the gate this year. Last season they started extemely hot and got a great lead in their division that they never really let get out of reach. Edmonton went 6-0-2 in the preseaon (not that it means a whole lot) and the team is going to want to take advantage of an October that sees them play seven very beatable team in 10 games.
They have six games at home with four of their first five in Rogers Place. They play on two games against Pacific Division rivals off the bat so points are critical in ensuring they stay near the top of their division.
3. Trade Deadline
The Oilers didn't do much this summer. That means the team is looking to keep it's deck clean for the trade deadline where it will add pieces to get farther into the playoffs. Players to watch might be James Neal, Mike Green and a faceoff specialist of some kind.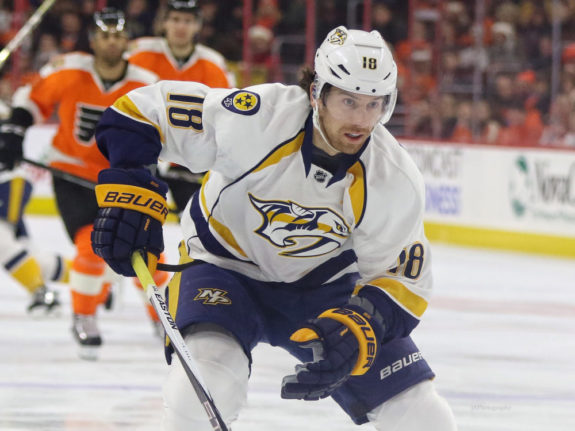 Unlike last year where the Oilers wanted to reward those guys in-house for getting them into the post-season and letting the team earn valuable playoff experience, this year, fi the Oilers are in the playoffs, they'll load up with the best possible options available.
2. The Pacific Division
The optics of the Pacific Division look a little different this year. Anaheim should still be a quality team, but San Jose might struggle. Calgary has added key pieces in an effort to be better but the division has the Golden Knights who are not expected to be strong. The Canucks are young and Los Angeles and Arizona don't look like they offer much in the way of competition.
This is a year the Oilers should take advantage of these opportunities and if they don't it has to be seen as a real disappointment.
1. More From McDavid
Can the Edmonton Oilers expect more from McDavid? Is that possible? With a 100-point season and sweeping the NHL Awards, you might not think so, but McDavid has shown nothing but brilliance in the preseason and he's got another year under his belt which at his age, simply means better results.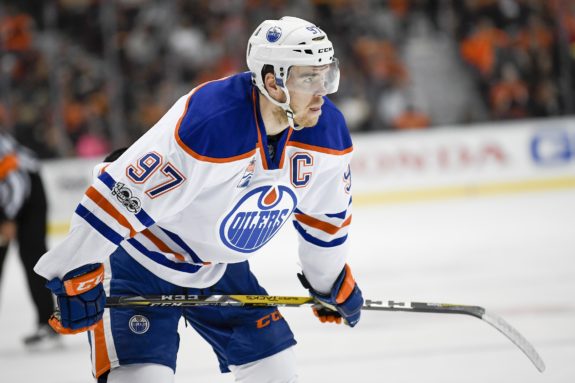 The Oilers can't really ask for more from their young captain, but don't be surprised if he delivers it. If there's an area where he can get better, it's faceoffs and goals. He's still showing a propensity to pass instead of shoot, but at some point this season, that bulb will go off and he'll explode and could get 40 goals. Expect McDavid
Being unselfish is good. Being too unselfish is not best for the team. C'mon McDavid… stop being so unselfish.
Jim Parsons is a senior THW freelance writer, part-time journalist and audio/video host who lives, eats, sleeps and breathes NHL news and rumors, while also writing features on the Edmonton Oilers. He's been a trusted source for five-plus years at The Hockey Writers, but more than that, he's on a mission to keep readers up to date with the latest NHL rumors and trade talk. Jim is a daily must for readers who want to be "in the know."
Other content contributions include: NHLtradetalk.com, The Sportster and hosting weekly video casts, THW News and Rumors Rundown, plus Oilers Overtime.
For interview requests or to provide content info, follow Jim on Twitter or his social media accounts. They appear under his photo on articles like this one.