It's one month into the 2017-18 season and the Windsor Spitfires are showing that rebuilds don't have to be painful.
Coming into the season, expectations were of a slow but steady progression. After winning the 2017 Memorial Cup, the Spitfires knew they were going to be losing some significant talents. Gone were five of their top-10 point producers. Of the five possibly remaining, none were guaranteed to return, either.
This was a new squad. A team destined for a rebuild. With plenty of new faces should come early-season struggles, right? Not necessarily.
Through the opening 15 games, the team sits at 9-5-1-0 and are coming off a big win against the powerhouse Owen Sound Attack on the road. The Spitfires hadn't won at the Bayshore since October 2013 and it was the Attack's first loss at home in regulation since December 2016.
Clearly, something is working for the Spitfires. They're finding ways to win. The question becomes – how?
One of the biggest reasons for the success is the play of the veterans on the roster. While much of 2016-17 roster is gone, the remaining players have a Memorial Cup championship under their belt. They know what it takes to win and are leading the way.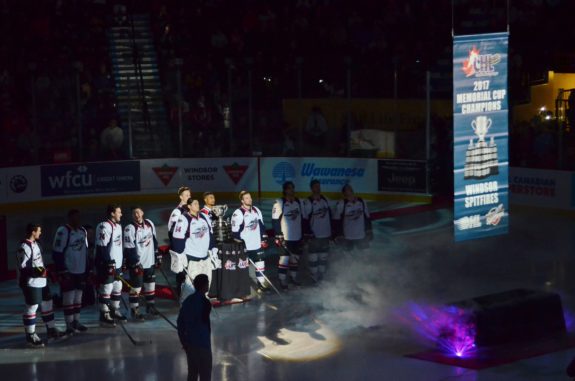 Two of those veterans and one new-comer are leading the way so far. They've proven clutch when required and have earned a three-star selection for October. Let's take a look at them now:
3rd Star: Jake Smith
The Spitfires lost several offensive weapons following their 2017 Memorial Cup win. Heavy graduation meant the team was looking for a third overage player to join forward Aaron Luchuk and defenceman Austin McEneny.
General manager Warren Rychel brought in 20-year-old free agent forward Jake Smith from Quebec in hopes that he would continue the offence he showed last year (44 points in 68 games). Smith has done just that.
Since coming to the Spitfires, Smith has become a focal point for the team's offence. In 11 games this month, he had nine points (3 goals, 6 assists) and has become a fixture with Luchuk on the powerplay.
This was from the Spitfires' Twitter during a game against Flint on Oct. 22:
1:00: 5-1 WSR
Jake Smith is starting to heat up.

— Windsor Spitfires (@SpitsHockey) October 22, 2017
The 5'10", 170lb Smith was a former 11th round pick of the Mississauga Steelheads in 2013. While he's bounced around a few teams, he's settling into Windsor quite well. He's providing speed, offence, and some grit for the Spitfires, earning a nod as the third star in October.
2nd Star: Aaron Luchuk
It's hard to imagine a Spitfires' team without Luchuk on the ice. Drafted in the fourth-round in 2013, Luchuk has worn the blue-and-red since day one. The 5'10", 184lb center is coming off back-to-back 27-plus goal seasons for the Spitfires and has been red-hot this month.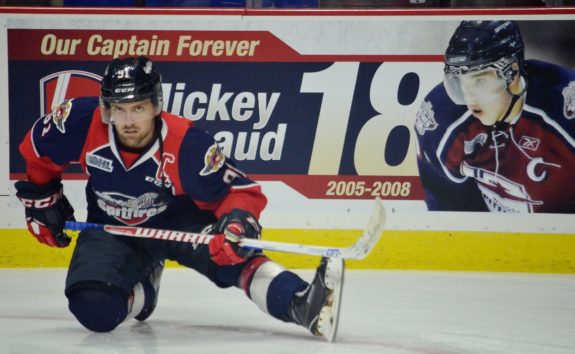 In October, there have been just two games where he didn't register a point. Through 11 games this month, he has 12 goals and nine assists for 21 points. He has also been a bit of a bull on the powerplay with 13 points this season.
Luchuk was also named the OHL Player of the Week for the week ending on Oct 29, scoring five goals and adding four assists in three games.
One of the key veterans returning from the Memorial Cup win, Luchuk was considered a leader in the preseason and was named the captain at the start of the season. His production, both offensively and defensively, has been significant as the Spitfires climb in the standings. Thus, he has been named the Spitfires' second star for October.
1st Star: Michael DiPietro
Coming into this season, there was little doubt as to what goaltender Michael DiPietro could do in the Windsor crease.
He put up franchise-record numbers in 2016-17, guided the Spitfires to the 2017 Memorial Cup, and was drafted by the Vancouver Canucks in the NHL Draft in June. He had an older defence in front of him, though.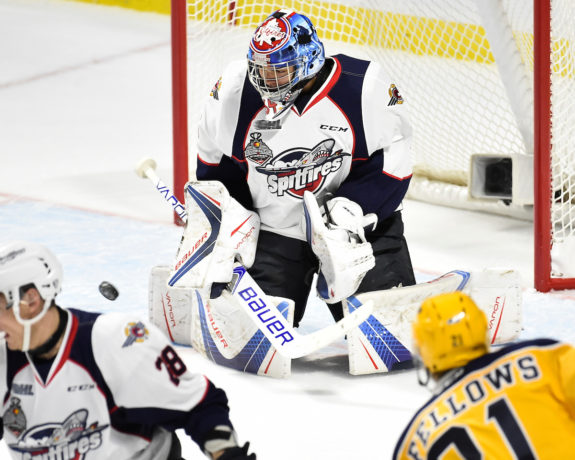 What could he do with a young, inexperienced defence in front of him? The answer – everything.
Spitfires' fans thought they had seen it all when he posted a 2.35 goals-against-average and .917 save percentage last season. Somehow, though, he's managed to one-up that performance.
This season, he has dazzled fans and his stats have been near the top of the league since day one. While he's proven to be human on occasion, his overall play has been nothing short of MVP-caliber.
Having a goaltender like this a relief for the Spitfires. They know that mistakes will happen with a young defence – that's part of the rebuild. Should they happen, though, DiPietro is there to save the day.
Hockey is a team game but DiPietro has been a key reason for the Spitfires' success to date. Without him, this season is a whole other story. DiPietro has earned the Spitfires' first star for October.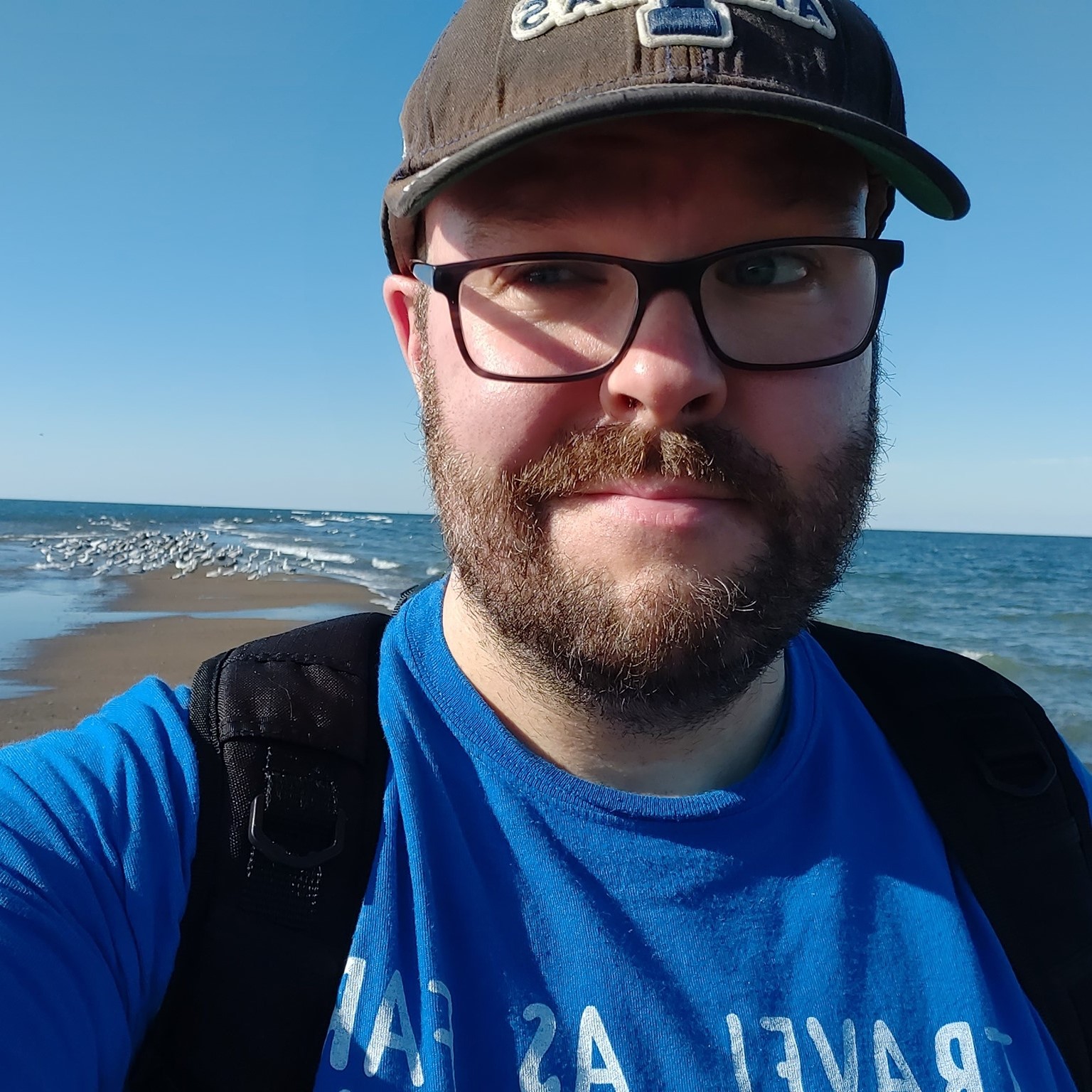 A nearly life-long resident of Windsor, ON, I graduated from St. Clair College (Journalism) and University of Windsor (Communications) and have attended Windsor Spitfires' (and OHL) games for 30-years. My areas include multimedia journalism and photography.