It's just one game. Regardless, on Saturday night the Vancouver Canucks showed they can live with the best.
The Canucks surprised the hockey world — including a lot of their fans — by beating the two-time defending Stanley Cup champion Pittsburgh Penguins. In the process, they proved they deserve to be taken seriously as playoff contenders.
Things didn't start off too well, as the Canucks fell behind just 2:53 into the game. However, they quickly recovered to score four of the next five goals and win 4-2.
Brock Boeser > Sidney Crosby
It's just one game. Regardless, how often can you say Sidney Crosby was totally outshined by an opposing player? Most NHL fans realize this is a rarity, but that is exactly what happened on Saturday night. By the end of the game, Crosby had just one assist, compared to the three goals and assist by Brock Boeser.
It marked the first hat trick of Boeser's NHL career. He also became linked indefinitely to his team president:
Brock Boeser becomes the first #Canucks player Age 20 or younger to record a Hat Trick since Trevor Linden on Dec 20, 1990

— Sportsnet Stats (@SNstats) November 5, 2017
Despite being a natural/gifted goalscorer, one of the most impressive — and mature — things about Boeser is how unselfish he is. Even though he has missed three games this season, he still leads the Canucks in assists (eight).
The 2015 first round draft pick discussed his approach, following Saturday's game. As reported by Iain MacInyre of Sportsnet, he said:
I try and take every day one day at a time and focus on each and every day for our team. I'm not worried about personal stats; I'm worried about how our team plays. We've got a really good group and I think the way we play is really successful.
We've already gone on record as saying Boeser won't keep up his current pace, but this is one of those occasions where there would be no issue with being proven wrong.
An Important Win
It's just one game. The Canucks needed this win, though, even this early in the season.
Vancouver has been impressive so far — they had only won one point from the previous two games, which included being shut out for the first time this season by the New Jersey Devils. Additionally, you might have noticed there's a bit of a logjam in the Western Conference. While the win over the Penguins kept the Canucks in a playoff spot, they are one of six teams with 16 points following Saturday's slate of games.
We still believe Vancouver will ultimately miss out on the postseason, but they'll fight all the way and earn whatever they get, which is the approach needed in the extremely competitive Western Conference. The players' mentality comes down to new Canucks head coach Travis Green. He brings a sense of urgency, regardless of the circumstances.
More evidence of this came in his comments after the Penguins game. As reported by Joshua Clipperton, via the National Post, Green said:
We were under siege. Like a championship team does, (Pittsburgh) came after us hard. When you see them live and in person you really understand how they won two Cups.
The 46-year-old should be applauded for his philosophy. It ensures the players never rest on their laurels or take anything for granted, which can only help the Canucks' ambitions to return to former glory.
Players Stepping Up
It's just one game. And yet, the first four-point game of Bo Horvat's NHL career on Saturday night came at an ideal time. In theory, such a performance shouldn't be a surprise from a player picked ninth overall in the 2013 draft. Regardless, it was still an impressive display.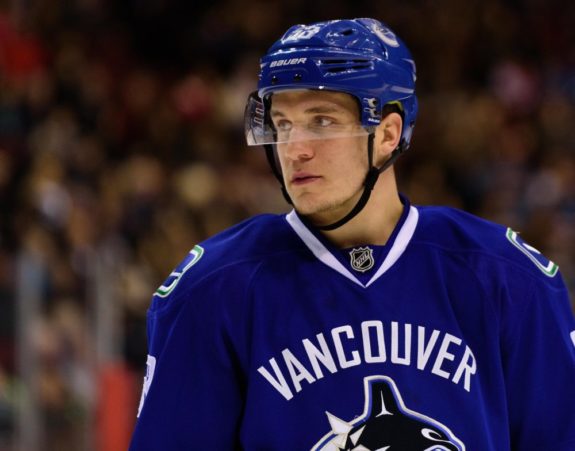 Consider that prior to the Penguins game, Horvat's previous best was three points. He achieved this last season, with a trio of assists in a 4-3 win over the Los Angeles Kings. In fairness to the 22-year-old, he was already trending in the right direction, prior to this season. His 2016-17 campaign established career highs for goals, assists, total points, plus/minus rating and average time on ice.
Horvat now appears to be taking his game to yet another level. Following his performance on Saturday night, he is now tied for second on the Canucks with 11 points (along with Sven Baertschi).
This is just another example of the positive impact Green is having on the players. It's why someone like Derek Dorsett can lead the team in goals or why goaltenders Jacob Markstrom and Anders Nilsson are both having the best statistical seasons of their career.
It's just one game. That is, until it starts happening every game.
'Armed' with a journalism degree, I have covered numerous NFL, MLB, NHL, MLS, CFL & NLL events over the years, while being fortunate enough to interview various sporting personalities one-on-one, including Roger Goodell. Throughout it all, the one message I have for anyone in this industry is to never take it for granted. You can contact me via pltindustries@hotmail.com.