Windsor Spitfires captain Aaron Luchuk is off to an incredible start this season. Saturday night in Erie, he made sure that start continued.
Luchuk scored unassisted at 2:02 of overtime to lift the Spitfires to a 4-3 win over the Erie Otters. That goal capped off a four point night for him. He factored in on every goal.
For the season, Luchuk now leads the Ontario Hockey League in goals with 18 in 17 games. He's second in the league in points just two points behind Sarnia's Jordan Kyrou.
Luchuk is the spark plug that makes the Spitfires go.
FINAL OT: @SpitsHockey (4) – @ErieOtters (3)
WSR – @aaron_luchuk_19 2G 2A
VIDEO: https://t.co/I1ZFMCL7K4 pic.twitter.com/Dpm4Gwcmxw

— OntarioHockeyLeague (@OHLHockey) November 5, 2017
Inside the Numbers
Luchuk is on pace to top 70 goals and 130 points if this keeps up. Not only can he score, he brings it at both ends of the ice. He was easily the most noticeable player on both sides in terms of his work ethic on Saturday.
And it gets better for Luchuk. He's improved his scoring output every season. Take a look at these numbers.
2014-15: 10-13-23 in 67 games.
2015-16: 27-26-53 in 68 games.
2016-17: 28-31-59 in 68 games.
2017-18: 18-15-33 in 17 games.
Luchuk is already over half of last season's point total in just a quarter of the season. Of his 18 goals, six are on the power play and two came while shorthanded.
Luchuk can also play an effective game as a two-way center or on the wing. He has a faceoff winning percentage of 59.8% this season, up from his 53.9% from 2016-17. With Logan Brown back in the lineup, Luchuk played on his wing forming one of the more formidable lines in the OHL.
All that said, Luchuk does not have an NHL contract. He was kind enough to chat with us on Saturday night to discuss the season and an eventual future in the NHL.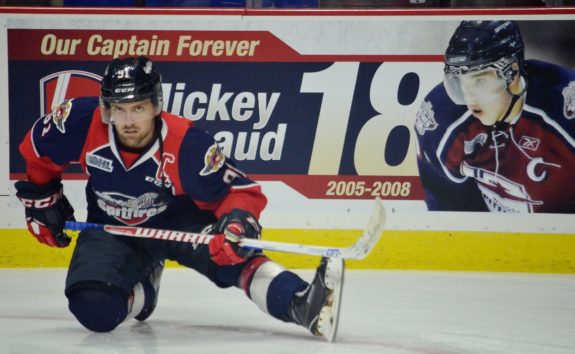 Q & A with Luchuk
The Hockey Writers: 18 goals in 17 games now, just an incredible start to the season. What's working for you?
Aaron Luchuk: Pucks are bouncing my way right now. You need a little bit of puck luck to have a streak like this. It's a lot of hard work in the summer that helps with that. I'm getting tremendous help from my wingers and the rest of the team. Our team is playing great so far this year and have surprised a lot of teams. We need to continue to do that.
THW: Overage players without an NHL team generally have a lot to prove. Do you feel like you still have a lot to prove?
AL: Absolutely! I feel like I have a chip on my shoulder for maybe not getting the recognition with a team as of now. It's up to me only to work for it and show that I belong.
THW: You spent time with the Vancouver Canucks in their camp. What takeaways did you have from your time there?
AL: They showed me what I needed to do to get to the next level and how hard that you need to work. It was an eye opener when I got there for how hard they work. It was an extreme honor to get the opportunity to play for that organization for the time I did. I learned a lot and want to put it in this year.
Now That Brown's Back
THW: What more can you say about Logan Brown and the chemistry you have with him?
AL: Yeah this is really the first time we've ever played together in a prolonged period of time. This is our fourth year together. We both have been on different lines. We were surprised when Brownie came back. We thought he'd stick with the Senators. He's obviously huge for our team when he got sent back. It's been instant chemistry since then when Leuts (coach Trevor Letowski) put us together. We hope to continue that chemistry moving forward.
THW: You guys will get Gabriel Vilardi back at some point. You have interesting pieces in place. Do you feel like your team has another run in you?
AL: That's really up to our management. We just have to focus on our day in and day out and not focus on the long-term stuff right now. We're a young team that just needs to focus on the here and now and not the future.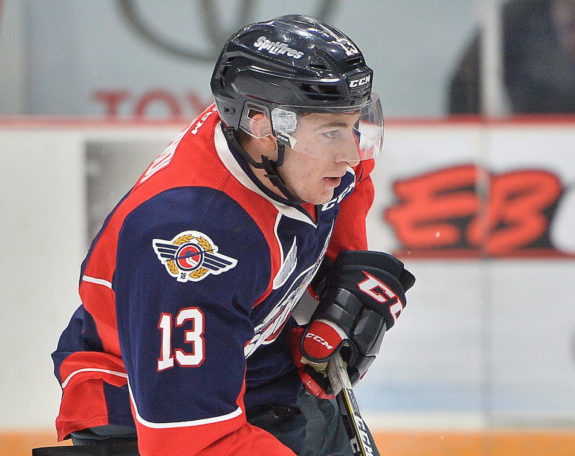 Why Should They Sign You?
THW: Why do you feel like a team should take a chance and sign you?
AL: I bring a lot more to the table than just putting up offense. Penalty killing and playing defense is something I take extreme pride in. We have one of the top penalty kills this year. We had a record-breaking penalty kill last year. I think a team who signs me they not only get a guy who can put a puck in the net but also someone who can defend his own end and shut down other team's top lines.
Seems it's just a matter of time before someone steps up and offers Luchuk a contract. We thank him and the Spitfires for the time to chat with us.