A year ago at this time, neither Los Angeles Kings forward Adrian Kempe nor his older brother, Arizona Coyotes forward Mario Kempe, were close to playing in the NHL. Mario, a then-28-year-old who hadn't played in North America since a five-game stint in the AHL during the 2008-09 season, was over in the KHL playing with his fifth European team in eight seasons, while Adrian was in the midst of recording just five points through his first 17 games with the Kings' AHL affiliate, the Ontario Reign.
Now, they're not only playing in the NHL, they're off to good starts in their rookie seasons and are both making significant impacts with their NHL clubs.
The 'Easy Way' to the NHL
The younger of the two Kempe brothers, 21-year-old Adrian, has taken Los Angeles by storm this season – he's scored 11 points in 16 games and has emerged as one of the Kings' better offensive players.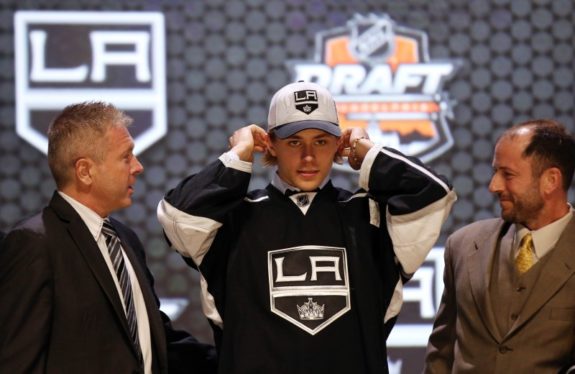 In contrast to his brother, Adrian made it to the NHL relatively quickly. After being drafted 29th overall by Los Angeles in 2014, Kempe made his professional debut with the Manchester Monarchs (the Kings' then-AHL affiliate) near the end of the 2014-15 season. He played in just three regular-season contests that year, but was a key member of Manchester's postseason roster, as he scored eight goals in 17 playoff games and helped the Monarchs capture their first Calder Cup championship.
Following their championship, the Monarchs relocated to Southern California and became the Ontario Reign. Kempe relocated along with the team, and was a solid player for Ontario over the next two seasons, as he scored 23 goals and added 25 assists in 101 AHL contests before receiving his first call to the NHL back in February.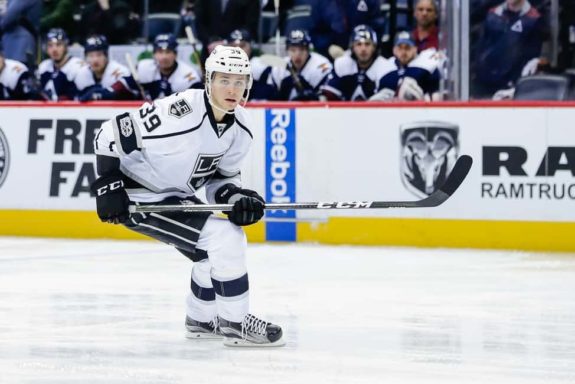 At the time, the Kings were struggling badly to generate offense in then-coach Darryl Sutter's system. As a result, they elected to bring up Kempe in an effort to inject a bit of speed and skill into the lineup. Kempe made his NHL debut against the Coyotes on Feb. 16 but didn't record his first career point until Feb. 21, when he picked up an assist on Tyler Toffoli's second-period goal against the Colorado Avalanche.
Kempe didn't score his first NHL goal until his 11th game in the league, but he made sure it was worth the wait, as it was the game-winner in a 4-2 Kings victory over the league-leading Washington Capitals on Mar. 11 at the Staples Center.
After the Kings failed to qualify for the postseason (and fired the defensive-minded Sutter), Kempe returned to the AHL for the 2017 Calder Cup playoffs, where he picked up two assists in Ontario's five-game series loss to the San Diego Gulls.
A Breakout Season
After scoring six points in 25 games with Los Angeles in 2016-17, Kempe made the Kings' opening night roster out of training camp this season. He was held pointless through the first five games of the year but broke out in a big way against the Montreal Canadiens on Oct. 18, as he recorded his first career NHL hat trick and also added an assist on the night for good measure.
Kempe stayed hot following his big night at the Staples Center – on Los Angeles' ensuing six-game road trip, the rookie recorded three goals and two assists and was a plus-six. Perhaps his most impressive moment of that trip was this absolutely filthy shootout goal on Ottawa's Mike Condon on Oct. 24 in a 3-2 Kings victory:
Adrian Kempe not even giving Mike Condon a chance. #GoKingsGo pic.twitter.com/vb3geFMVfP

— LA Kings (@LAKings) October 25, 2017
For the season, Kempe has seven goals, four assists, and is a plus-11 in 16 games played. He leads all NHL rookies in plus/minus and is tied for fifth in scoring among all Kings skaters. At just 21 years of age, Kempe has already established himself as a reliable player in John Stevens' offensive system – he's been one of the key contributors to Los Angeles' swift improvement from 24th to 11th in the league in offense.
If he continues to score at his current rate (he's on pace for 35 goals and 56 points), Kempe could very well find himself receiving votes for the Calder Trophy at year's end.
Taking the Road Less Traveled
For Adrian's 29-year-old brother Mario, the road to the NHL was significantly longer, with many more twists and turns. After being drafted in the fifth round by the Philadelphia Flyers in 2007, Mario returned to his QMJHL club – the St John's Fog Devils – in 2007-08 and averaged better than a point per game with 49 in 48 contests.
Mario then spent most of the next six seasons in his home country, playing professionally in the Swedish Hockey League (SHL), which was then known as the Elitserien (SEL). In Sweden, Kempe was never a big-time contributor on the offensive end of the ice – he broke the 20-point plateau just once and scored double-digit goals only twice.
However, this all changed when Kempe opted to take his talents to the KHL – in his first year with HC Vityaz, Kempe led his team in scoring with a career-high 32 points in 54 games. His sophomore effort in the KHL wasn't as successful – he recorded just 17 points in 56 games – but he more than made up for it in season number three, when he scored 14 goals and reached the 20-assist mark for the first time in his professional career. Kempe also managed to cut down on his penalties – he registered only 28 penalty minutes in 2016-17 after racking up 52 and 64 PIMs during his first two KHL seasons, respectively.
Kempe's performance in the KHL was good enough to attract the attention of NHL clubs over the summer, and he ultimately chose to sign a one-year, two-way contract with the Coyotes back on May 16.
"He's a dependable, two-way guy who plays with a lot of energy, plays in all situations, and is willing to be physical in a non-physical league, so he has a chance to be that depth player, an energy guy," general manager John Chayka said of Kempe in an interview with Craig Morgan of Arizona Sports back in May. "At the end of the day, it comes down to this – the two-way contract risk is limited, so you step up to the plate and take a swing. You can't be afraid of striking out. I'm tired of just watching and striking out looking."
Kempe immediately impressed Arizona's coaching staff during training camp, and nearly earned a spot on the Coyotes' opening night roster owing to his solid play in the preseason. Kempe was one of the last players cut, though, and was assigned to the Tucson Roadrunners of the AHL, where he resumed his North American career following an eight-year stint in Europe.
Right Place, Right Time
In Tucson, Kempe promptly showed that he was deserving of an NHL roster spot, as he recorded a goal and two assists in his first AHL action since 2009. Indeed, when Dylan Strome struggled with the big club and was assigned to Tucson on Oct. 9, it was Kempe who was called upon to take Strome's spot in the Coyotes' lineup.
Making his NHL debut at T-Mobile Arena on Oct. 10 in the Vegas Golden Knights' inaugural home game, Kempe did not look out of place. He fired two shots on net, blocked two shots, and recorded two hits in the game while playing 12:01. Kempe also was one of the few Coyotes skaters who weren't minus players in the team's 5-2 defeat.
In contrast to Adrian, who, as was previously mentioned, didn't score his first NHL goal until his 11th game, Mario only had to play in three games before he scored this deflection tally against the Boston Bruins on Oct. 14:
In addition to his tip-in goal against the B's, Kempe also scored against the Islanders on Oct. 24 and has added two assists as well, giving him four points in 16 games. That's a 20-point pace for a full season, which is respectable considering Kempe's rookie status, limited ice time (11:34 per game), and bottom-six role in Arizona.
Since being called up, Kempe has been a mainstay in Arizona's lineup – he's been a healthy scratch just once during his brief NHL career, suggesting that he's earned the trust of head coach Rick Tocchet. Kempe has also managed to post an even plus/minus rating this season despite the fact that Arizona has been outscored 47-31 at 5-on-5.
A Family Affair on Thanksgiving Weekend
Although Adrian and Mario faced off against each other in a preseason tilt on Sept. 28, it's likely that they've had Nov. 24 circled on their calendar for quite some time – Black Friday marks the first regular-season matchup between the Kings and Coyotes this season. Adrian and Mario played together in Sweden with MODO during the 2013-14 season, but the upcoming matchup between their two NHL clubs could potentially mark the first time the Kempe brothers will face one another as competitors in a professional regular-season game.
For the Kings and Coyotes, it's likely that a regular-season game in late November won't have much overall significance at the end of the season. However, for Adrian and Mario Kempe, the game will mark the start of the next chapter of their family hockey story that's been years in the making.