Last month our contributors helped compile the Edmonton Oilers Top 10 Prospects list. This month we'll be looking at each of those ten prospects in depth starting with the tenth ranked prospect, Stuart Skinner. Skinner, 18, was the 78th overall pick (third round) in the 2017 NHL Draft.
At 6'4″ and 205 pounds, Skinner has the ideal frame for an NHL goaltender. The question, however, is whether or not Skinner has the potential to become a starting goalie in the NHL.
Prospect

: Stuart Skinner (G)

Height

: 6'4"

Born

: November 1, 1998 (18)

Weight

: 205 lbs

Birthplace

: Edmonton, AB

Catches

: Left

Acquired

: 78th overall (3rd Round) 2017

Club

: Lethbridge Hurricanes (WHL)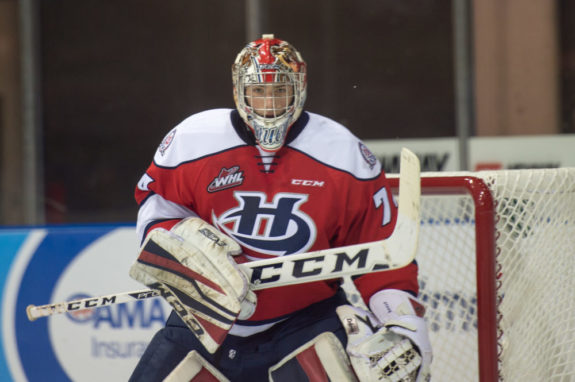 Player Profile
On draft day the Oilers moved up in the draft four spots from 82nd to get Skinner who ended up being the fifth goaltender off the board. Edmonton packaged the third and fifth round picks they acquired from the St. Louis Blues and Vancouver Canucks respectively.
If you're one of those folks that like to track trade trees, those were the picks the Oilers received in separate trades of Nail Yakupov and Philip Larsen. Since Edmonton didn't extend a qualifying offer to Zack Pochiro, the other asset acquired in the Yakupov trade, Skinner is what remains from that deal.
That said the 18-year-old is far more than a consolation prize for Edmonton. As mentioned, Skinner's a big goalie, he covers a lot of net, and could one day be a starting goalie in the NHL. There are holes in Skinner's game that he'll need to patch up to live up to those expectations.
Some feel he has poor rebound control, often finds himself out of position, and can be a little overzealous. Those are some of the weaknesses that have brought his overall upside into question with some scouts. But if you were to ask some of his teammates about how valuable Skinner was to Lethbridge this season, you'd quickly find that he was a key piece for the Hurricanes.
STUART SKINNER STATS

SEASON

TEAM
GP
GAA

SV%

2013-14

Lethbridge Hurricanes (WHL)

4

5.17

.866

2014-15

Lethbridge Hurricanes (WHL)

43

3.69

.909

2015-16

Lethbridge Hurricanes (WHL)

44

2.73

.920

2016-17

Lethbridge Hurricanes (WHL)

60

3.26

.905
Lethbridge finished with the third most points in the WHL Eastern Conference but came up shy in the Conference Final losing to the Regina Pats. Skinner was sensational with a .916 save percentage during a 20 game playoff run.
That might not be super extraordinary, but consider that those were the best numbers for a goaltender among the final four teams remaining in the WHL playoffs. As well that was the second best save percentage among WHL goaltenders that played 10 or more playoff games.
Long Term Projections
Skinner might've taken a step back during the regular season for the WHL's Lethbridge Hurricanes, but he bounced back in the playoffs. He was invited to Team Canada's 2018 WJC development camp this summer along with another Oilers goaltending prospect, Dylan Wells. The two will vie for one of two spots on Canada's team next December when the tournament kicks off.
Skinner's competition will also be Michael DiPietro (Vancouver Canucks prospect) and Carter Hart (Philadelphia Flyers prospect). Hart is the only returning member who's a goaltender and is the favorite to win the starting job.
Regardless Skinner will once again be leaned upon heavily by Lethbridge this season as they hope to make a run to the Memorial Cup. He's still got another two seasons of junior eligibility, after which he'll graduate to the Oilers pro system. In the long term, Skinner has competition with a suddenly flourishing goaltending pipeline in Edmonton.
If the youngster can show consistency on a nightly basis, it would silence a lot of his critics. It's a common issue with many young prospects, but there's plenty of time for Skinner to figure it out. The future is very bright for a guy that could be the Oilers future starting goalie in seven years.
Edmonton Oilers regular contributor providing insight on all things Oilers including club history, prospect profiles, trade breakdowns, and everything else in between. Check back regularly for new and exciting content. Follow on Twitter @SanderTHW.