Oh, they were so close! The Chicago Blackhawks almost had three wins in a row for the first time in this 2017-18 season. They shut out the Philadelphia Flyers 3-0 last Wednesday, and the Minnesota Wild 2-0 on Saturday. Sunday brought a game that remained scoreless for two periods against the Montreal Canadiens. But goals by Jonathan Drouin and then Joe Morrow, plus a lackluster third period by the Hawks, led to a 2-0 win for the Habs.
It just wasn't meant to be. A three-game win streak will come at some point this year, but for now, the Hawks settle for four points out of six in this fifth week of the season. Let's look at the good and the bad.
Winner of the Week: Corey Crawford
Crawford did everything he could to help the Hawks win three in a row. He stopped 35-of-35 shots against the Flyers, 24-of-24 shots against the Wild, and then suited up the very next night against the Canadiens to do it all over again. He nearly did, stopping nine shots in the first, and nine shots in the second, to extend his streak to eight frames of not allowing a goal.
But one slipped by him in the third period of the Montreal game. And that was mainly the fault of lazy play by defenseman Connor Murphy. Another goal late in the third was the result of a screen by former Blackhawk, Andrew Shaw. But this was after the puck was stripped along the boards from, you guessed it, Murphy.
Even with a loss, Crow stopped 33-of-35 shots on Sunday night, for a .943 save percentage. He even got some love from the NHL, as they named him First Star of the week. On Sunday, Corey needed his teammates to score for him. They didn't.
Loser of the Week: The Second Line
I thought about going with Patrick Kane here. Then I considered Nick Schmaltz. Then I checked Brandon Saad's stats. All three player evaluations leave a lot to be desired, as does their collective efforts.
In the last three games, Kane has two, one, and three shots on goal, respectively. Yes, he managed two assists, but they were both secondary assists on the power play. He looks disinterested out there, with no drive to work his magic.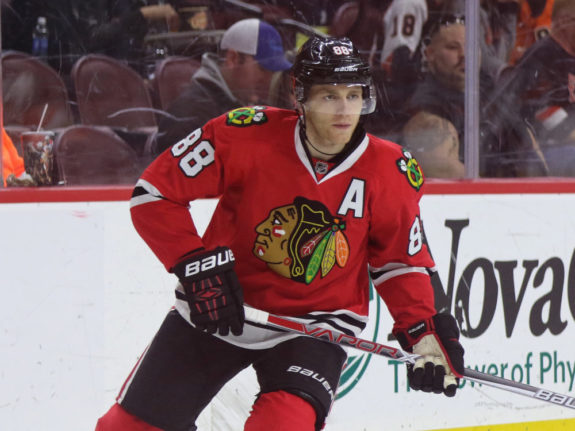 Schmaltz played well against the Wild, posting four shots on goal and 57% in the faceoff circle. But against the Flyers, he had zero shots on goal and was one-of-10 at the dot (10%). Playing against Montreal was much the same, zero shots on goal and two-of-nine at the dot (22%). Those aren't the kind of numbers the Hawks want to see from their second line center.
Saad has played on this line for the past three games, in hopes he can jump-start the other two. Although he contributed seven shots on net against Philly, it's been all downhill from there. He's managed only one and then two shots in the last two games, with no points to show for it.
This trio just isn't jelling. It seems like they have the firepower to make things happen, and perhaps they will, given more time. But Coach Q might not have the patience for that.
What Went Right
The latest defensive pairings are working quite well. With Gustav Forsling out with an upper-body injury, the coaching staff had to get creative. Cody Franson is playing alongside Duncan Keith on the top pairing. He's showing he can, and will, contribute offensively. He posted four shots on goal and an assist against Philly, and a team-high six shots on goal versus the Habs. He's also being used on the power play. But can he sustain this production in the long-run? His lack of speed and mobility has already caused some problems against the opponent's top lines.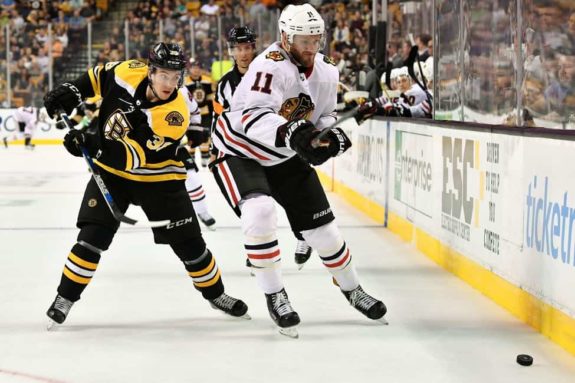 While Brent Seabrook struggles to keep his head above water every night, Jan Rutta is tasked with playing alongside him on his off side. Instead of stinking it up, Rutta's actually looked pretty solid out there.
Michal Kempny and Murphy have made up the final defensive pairing for the last three games. Both players are accustomed to bigger assignments and more minutes, so they've been taking advantage of their new role. While the Hawks hoped these two could fit in further up in the lineup, they make a solid third pairing. Until Murphy made a couple stupid mistakes in the final period of the Habs game.
It appears Forsling will return this Thursday when the Hawks take on the Flyers. This could bolster a defense that is already trending upwards. Will Murphy become the odd man out? What if Rutta moved back to the right side, and Seabrook was a scratch? Just a thought.
Related – Blackhawks in October: 5 Highlights
What Went Wrong
The Hawks can't seem to score during 5-on-5 play. This is a bit of a continuation from last week when I indicated the team can't score at all right now. They tallied three goals against the Flyers, but one was a power play goal, and another was an empty-netter. The same goes for Saturday against the Wild, a power play goal and an empty-netter. As they went goalless on Sunday, the team as a whole only scored one traditional 5-on-5 goal in the last three games.
Considering all the offensive power the Hawks bring to the table, this trend shouldn't continue. They've put up 35, 35, and 38 shots on goal in the last three games. At some point, the puck luck will come.
Food for Thought
Here we go again. Line changes are in order. One would think two wins and a loss wouldn't be that horrible, but this is Chicago. And the lack of goals is definitely a cause for concern. So what should the lineup look like on Thursday against Philadelphia?
It's already been discussed above that the second line of Saad, Schmaltz, and Kane isn't working. How about putting Saad back on the first line, and moving DeBrincat to the second? Come on, everyone wants to see Brinksy and Kaner together. Even if it's not long-term, a sneak peek of the future sure would be fun.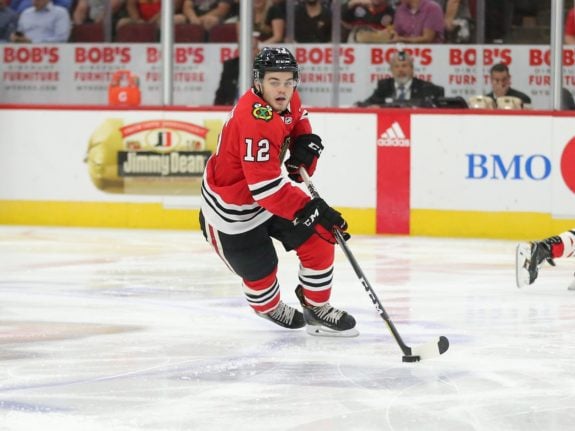 John Hayden hasn't really been lighting the world on fire with his recent promotion to the third line. Whereas Ryan Hartman has performed well on the fourth line. Swapping these two might be an option.
Or we could get crazy and think about putting Hartman on the first line. Patrick Sharp's another one that hasn't played up to par lately, but I wouldn't put it past Coach Q to do something crazy like putting him on the top line as well. Anything for a spark. You just never know, which is what makes it all so fun.
Wrapping It Up
Hang in there, Blackhawks fans! All is not lost. If the Hawks played a better third period Sunday night, they could have pulled out three wins in a row. For now, they stand at a record of 7-6-2, which is good for 16 points.
The Hawks hit the road to meet the Philadelphia Flyers on Thursday, and the Carolina Hurricanes on Saturday. They return home on Sunday to face the New Jersey Devils. All three of these teams are beatable. The Hawks will make adjustments. Some rest and relaxation should be good for the team. Carry on, my friends! There are still 67 games left.