This season, The Hockey Writers will have a recurring "Three Takeaways" feature after every Columbus Blue Jackets matchup, meant to serve as postgame quick hits.
1) Penalty Kill Problems
With Matt Calvert out for the next three or four weeks coupled with the loss of Lukas Sedlak for several weeks, too, the Columbus Blue Jackets found themselves in trouble Monday night.
The Blue Jackets' penalty kill — which was eighth in the NHL heading into the game against the New York Rangers — forfeited three third period power play goals. Before Monday, they had allowed just six power play goals in the previous 14 games combined.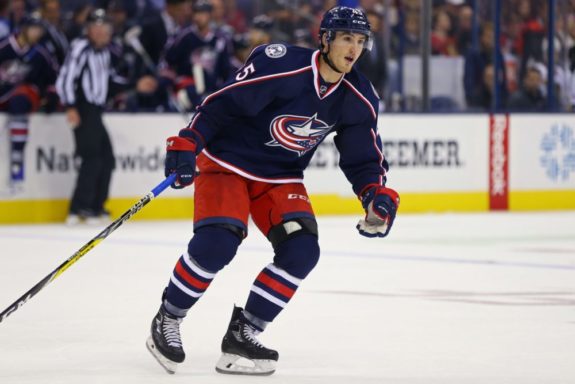 This is an area the Blue Jackets need to quickly resolve, otherwise, it will be a long three weeks (at least) without their top two penalty-killing forwards. Cam Atkinson, who is also on injured reserve, was also missed while shorthanded, but he is expected to return in the next game or two.
However, Atkinson's return will far from solve the problems. Aside from Calvert's and Sedlak's hustle, face-off losses have played a huge role in giving up power play goals. Improving there, as well as other players stepping up in a bigger way on the penalty kill, has to happen in order for the Blue Jackets to keep their heads above water. The penalty kill was the main reason the Blue Jackets missed out on two points on Monday.
Related – Blue Jackets 3 Takeaways: Points, Turnovers & Calvert Injury 
2) New-Look Power Play
Blue Jackets assistant coach Brad Larsen and Tortorella (finally!) switched up the power play units. That meant struggling forward Alexander Wennberg was taken off not only the top unit, but was entirely banished from the power play.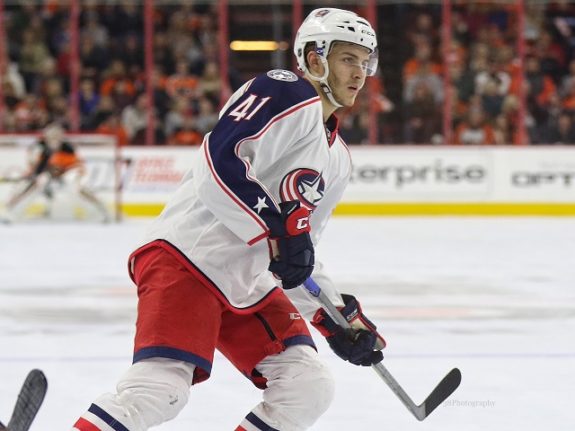 Because of that, the first power play unit saw two defensemen (Seth Jones and Zach Werenski) on the top unit for the first time in awhile, along with Nick Foligno, Artemi Panarin, and Oliver Bjorkstrand. The second unit consisted of forwards Boone Jenner, Sonny Milano, Josh Anderson and Brandon Dubinsky, quarterbacked by defenseman David Savard.
Though it did not translate to power play goals, the Blue Jackets did seem to have a jolt of energy compared to past man-advantages. Tortorella finally stuck by his Oct. 21 statement:
[miptheme_quote author="John Tortorella" style="text-center"]If they don't shoot the puck, they're not going to be there to shoot the puck. That's what you do, you just take them off it until it really hits home. It's easy to take a guy off the power play. You want to work with them, but if they get stubborn and they're simply not listening, then they're not going to be there and we're going to give someone else a try.[/miptheme_quote]
Now, it is time to wait and see if the moves pay off for both the struggling power play and the struggling Wennberg.
3) New Forward Lines
With missing forwards Calvert, Atkinson and Sedlak, the Blue Jackets had moves to make ahead of Monday's match-up. They rolled the following lines to start:
#CBJ lines at start

Panarin-Wennberg-Motte
Jenner-Dubinsky-Bjorkstrand
Dubois-Foligno-Anderson
Milano-Dalpe-Hannikainen

— Mark Scheig (@markscheig) November 7, 2017
Tortorella and his infamous line blender came out later on, but Tortorella showed that if players were playing well, they would have opportunities. It has been his philosophy all season, which is why it is not a surprise to see Tyler Motte at the top or Pierre-Luc Dubois on the third line wing.
With the poorly-timed penalty he took in the third period that led to the second Rangers power play goal, Dalpe continued his streak of not-smart penalties this season. It will be interesting to see if he is placed on waivers for the purpose of sending him to the Blue Jackets' American Hockey League (AHL) affiliate Cleveland Monsters.
If so, Dubois could slide back to center if Atkinson is ready to go for Tuesday's game against the Nashville Predators. If not, the Blue Jackets will likely dress an extra defenseman, as Scott Harrington and Gabriel Carlsson were both healthy scratches on Monday.
The forward depth is not great, but if injuries keep piling up, the Blue Jackets front office may have no choice other than to make a move or two to address the team's glaring issues.