The Chicago Blackhawks played 12 games in the month of October, finishing with a record of 5-5-2. Although they had a solid start, they began to slip as the month went on and lost the last three games of October. The Hawks had a mediocre opening month of the 2017-18 season, but there were plenty of great highlights. Here are five highlights from October for the Hawks.
1. Season Opener Against Pittsburgh
The Hawks went into their first game of the 2017-18 season with hopes of redemption after being swept by the Nashville Predators in the first round of the 2017 Stanley Cup Playoffs. They made an impressive debut in defeating the reigning Stanley Cup champion Pittsburgh Penguins 10-1—a new franchise record for season openers.
Brandon Saad became the second player in franchise history to score a hat trick on opening night. According to Eric Lear of Blackhawks TV, "Thirteen different Hawks tallied at least a point, and five had three or more, led by a five-point night for Ryan Hartman."
The season opener was significant for the Blackhawks for several reasons. It proved that they are stronger than the team that got swept during the first round of the playoffs. They proved that they could not only beat the reigning Stanley Cup champions but dominate them offensively. This game set high expectations for the rest of the season that the Hawks will work hard to live up to, making it a fascinating start to what should be an interesting season.
2. Reemergence of Brandon Saad
The Artemi Panarin-Brandon Saad trade left Hawks fans stunned and proved that change was coming to the team. The trade raised the question if Saad was what the Hawks needed. Saad quickly answered that question by leading the Hawks with six goals and three assists in 12 games.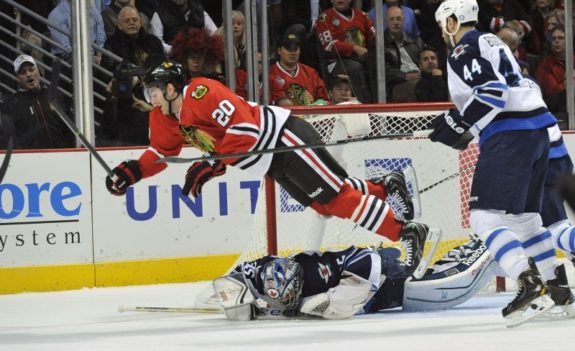 Saad was essential to the win against the Nashville Predators on Oct. 14 when he scored in overtime. The win was a surprise, as Saad told Mark Lazerus of the Chicago Sun-Times: 
"We had a lot of turnovers, and they capitalized the other way. That's what kept us in our own end, and we couldn't create offense. We did it to ourselves. But we learned from it. It was a big win, and we'll move on."
Although it is too early to decide which team won the trade, it looks like the Hawks made the right move with trading Panarin for Saad. As of Oct. 29, Saad has six goals while Panarin has one goal. Although Saad's game has cooled down recently, if he can keep on scoring goals, he can be as valuable of a goal scorer as Patrick Kane. If that happens, the Hawks will win the trade.
3. Physicality on the Fourth Line
Although head coach Joel Quenneville has made some recent changes to the offensive lines, the fourth line has mainly been Lance Bouma, John Hayden, and Tommy Wingels. These three players bring physicality to the game. The Hawks aren't known for being a physical team, which is part of the reason why they were swept by the Nashville Predators in the 2017 playoffs. Bouma, Hayden, and Wingels change that.
The three forwards are responsible for most of the hits by the Blackhawks and aren't afraid to throw down their gloves. Hayden brings the most grit and speed of the three and has tallied one goal and four assists so far this season. Wingels has tallied one goal and three assists, and Bouma has tallied one goal and two assists.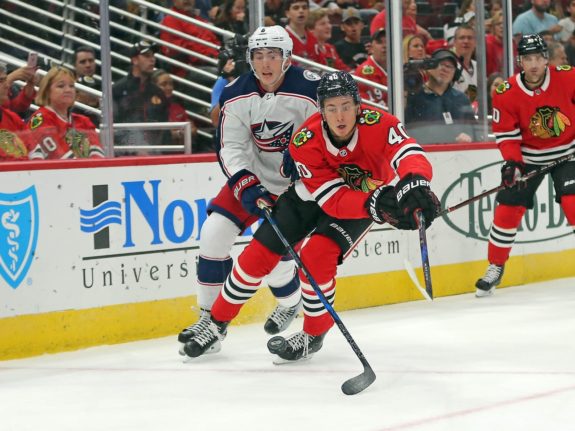 Although they aren't prolific goal scorers like Patrick Kane, the new physical presence they bring to the Hawks is noteworthy. If they keep up the physical presence they have shown in October, the Hawks will be a force to be reckoned with.
4. Alex DeBrincat's Debut
Despite only having one goal and four assists so far in the season, 19-year-old Alex DeBrincat is one of the Hawks' most promising new players. Despite his age, DeBrincat is not intimidated by his team, as he tells Mark Lazerus of the Chicago Sun-Times: ''I'm used to playing with older guys,'' DeBrincat said. ''My whole life, I've kind of played up. So not much is new there. Besides, I feel welcomed here. The guys are really nice to me, so it doesn't make it awkward.''
His smooth transition into the NHL has shown in his performance on the ice. Before he scored his first goal, the Hawks had high hopes for him. Joel Quenneville says of DeBrincat:
"Even in the games, practices, it seems like he wants the puck, finds a way to get the puck and once he has it, he does a lot of good things with it. He's absorbing our system without the puck, his movement around the rink without it. He looks like he has been around it a little bit. That's a very positive sign."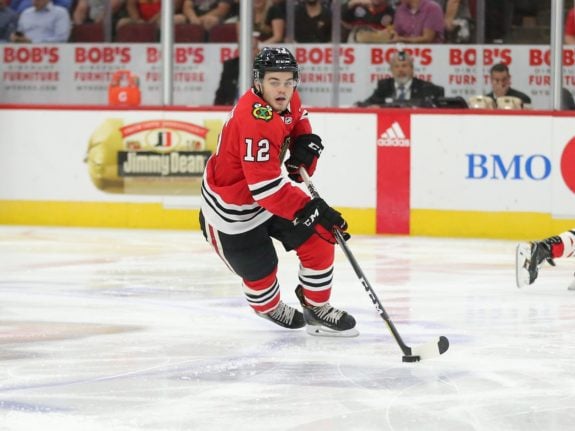 DeBrincat shows similar promise this season as Nick Schmaltz and Ryan Hartman did last season. Considering how well the two have done so far in their careers, DeBrincat is showing signs of being a promising forward on the roster.
5. Anton Forsberg Goaltending
Although he has yet to get his first win as a starting goaltender, Anton Forsberg pushed the Hawks into overtime during his first two starts against the Toronto Maple Leafs and Edmonton Oilers. He had a solid start in the preseason, as Joel Quenneville said of Forsberg in the preseason:
"A great beginning," Joel Quenneville said. "You always want to make good first impressions in your new surroundings. I think he showed a lot. Organizationally, it was nice to see him battle through a lot of traffic and action around his net. He fought through a busy game and did an outstanding job. It gives you confidence, as well, knowing you're comfortable in your new surroundings."
Despite not earning a win yet, Forsberg's ability to push the Hawks into overtime proves that he has potential to be a reliable backup goaltender. After the loss of Scott Darling to the Carolina Hurricanes, a reliable backup goaltender is exactly what the Hawks need.