The Chicago Blackhawks and the Carolina Hurricanes match up Saturday night for the first time this season at the PNC Arena. It's slated as a must-see game for Hawks fans, mostly because there's a number of ex-Blackhawks now playing for Carolina. We were fortunate enough to hook up with Mark Shiver, The Hockey Writers' contributor for the Hurricanes and he was kind enough to share his thoughts about some of our missed friends.
Gail Kauchak: The Hurricanes acquired Scott Darling this year to be their starting goaltender after he spent the last three seasons as a stellar backup to the Blackhawks' Corey Crawford. Have you been happy with Darling's performance so far? Does he have what it takes to be the No. 1 netminder for the 'Canes?
Mark Shiver: Personally,  I have not been pleased with Darling's performance so far this year. He seems sluggish and has missed goals he probably should've stopped. The jury is still out on whether or not he has what it takes to be the Canes' No. 1 netminder. If pressed for an answer at this point, I'd have to say no.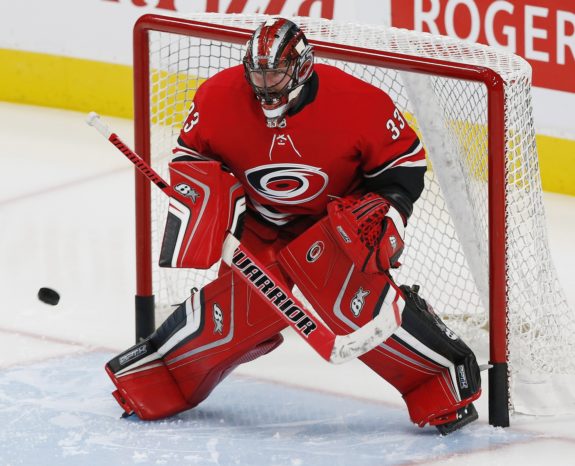 GK: When Teuvo Teravainen was with the Blackhawks, he had a hard time finding his place in head coach Joel Quenneville's system. Many thought he had the skillset of a top-six forward, yet he was mostly used in the bottom-six. In Carolina last season and this one, Teravainen has been used primarily on the second line. Has he finally found his fit?
MS: Coach Peters changes his lines a lot, however, Teravainen has been a good top-six forward in Carolina. I would say he definitely has found his fit, although the entire team is struggling mightily at this point.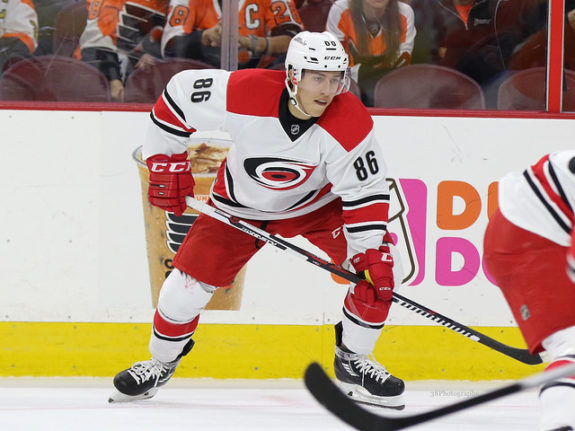 GK: Joakim Nordstrom is the ex-Blackhawk that's been with the 'Canes the longest. He was traded to the team along with Kris Versteeg as a salary cutting measure in September of 2015. Nordstrom mostly shores up the fourth line, not known for its scoring. Needless to say, in the 2015-16 season, Nordstrom tallied 24 points whereas last year he only had 12 points. Do you feel he's still productive in his role?
MS: Nordstrom had a great season two years ago when he was paired on the second line with Jordan Staal and Andrej Nestrasil. They were the "go to" line for the team for a couple of months until Nestrasil got hurt. Everyone hoped they would rekindle that magic last season but it never happened. Eventually, Nestrasil was let go and is now playing overseas.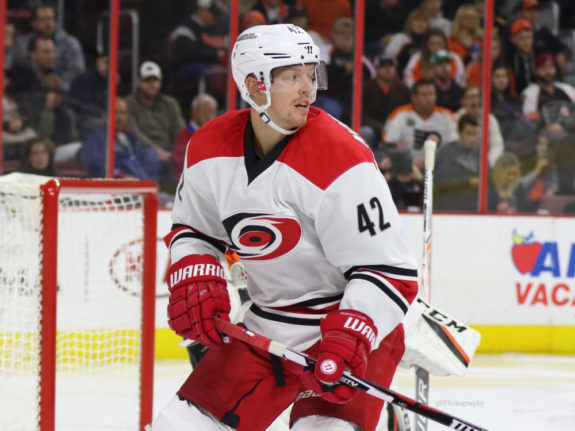 Nordstrom is a consistent player and I think he's well-suited to any role where he's part of a unit, as opposed to having the spotlight on himself.
Related: Hurricanes Too Talented for This Start
GK: Let's move on to the latest center on the team from the Hawks, Marcus Kruger. In Chicago, Krugs did a lot of little things that made a huge difference. He was notorious for starting most of his draws in the defensive zone and then tilting the ice in the offensive direction. Have you seen him do this for Carolina?
MS: For me, the verdict is still out on Kruger. Honestly, the team has been so bad it's difficult to find the nuggets you describe him bringing to the forefront in Chicago. I would depict Kruger as consistent and as someone who's not going to hurt the team.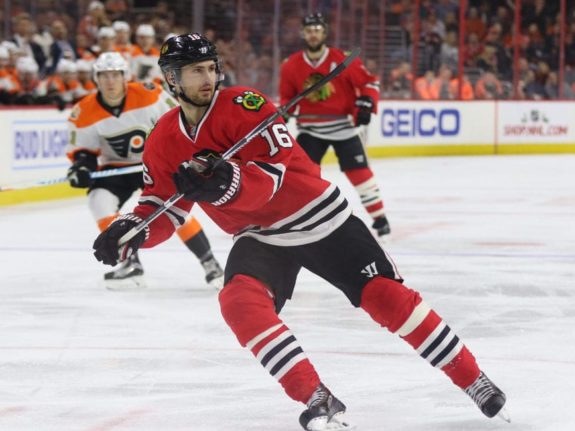 Frankly, he's been on the score sheet only once in 13 games, with an assist. I'd like to see more production from Kruger. Although he's not been one to "light it up", a season like he had in 2013-14 would really help this team. But, there are others around him who are supposed to be scoring so I'm not sure how much opportunity he will have in that department. I think if the team finds its offense, Kruger will stand out as an important part of that.
GK: Finally, the Hurricanes also picked up former Blackhawks defenseman, Trevor van Riemsdyk this season. Chicago fans always had a love-hate relationship with TVR. When he played on the first pairing with Duncan Keith, they hated him for making stupid mistakes. When he was slotted on the third defensive pairing, they loved him for being a solid defenseman with an offensive upside. What are your thoughts on TVR with the Hurricanes?
Here's a guy that missed some time with a concussion, but has played pretty well on defense for the Hurricanes. He's mostly been on the third pairing with Haydn Fleury and has been under the radar for the most part. When Brett Pesce went out, also with a concussion, TVR got to play alongside Jaccob Slavin, the team's top D-man.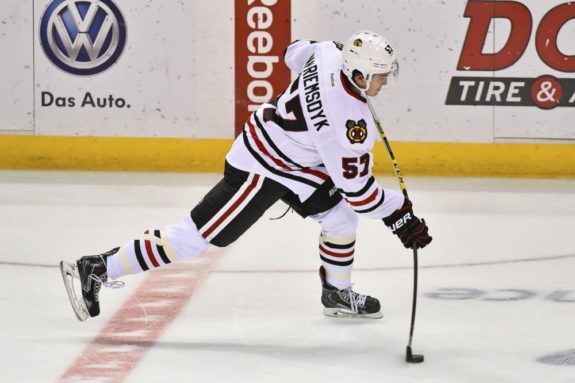 Between flying under the radar and missing some games due to injury, it's hard to get a real feel for how TVR will contribute going forward. However, I don't think he'll be prone to making a lot of mistakes in coach Bill Peters' system. If he does, he'll likely see some time on the bench.
GK: Any last words?
MS: The Hurricanes have done well to assimilate former Chicago players into their locker room and I'm hopeful that every one of them will make a big contribution to the team this year.
---
Thank you so much to Mark Shiver for his input on some of our favorite ex-Blackhawks now turned Hurricanes. If you're interested in following them and their new team in more detail, Mark's got you covered. I'd like to pose one last question to our friend in Carolina.
GK: What's your prediction for Saturday night's game?
MS: I'll say 3-2 'Canes.
---
Well, who's not going to root for their team to win?! I say the Hawks take this contest 4-2. Even though the 'Canes will be on home ice, they'll also be playing the second half of back-to-back games. The Hawks should take advantage of that. Either way, it will be fun to watch current and ex-Blackhawks square off Saturday night.