So far this season, the only line consistently producing for the Sabres has been that of Evander Kane, Jack Eichel and Jason Pominville.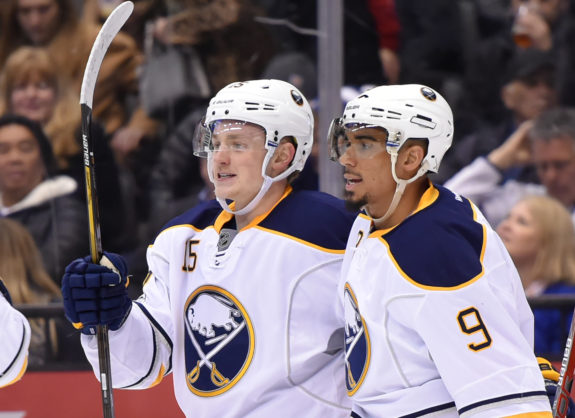 But, after a bit of shuffling by coach Phil Housley, it appears he's awakened or at last nudged the Sabres' dormant offense. The new line of Benoit Pouliot, Ryan O'Reilly, and Kyle Okposo is firing on all cylinders and hitting the stat sheet.
Lighting the Lamp
The 67-90-21 line is putting up points and making its mark. It's a welcome sight for the offense to finally see some secondary scoring. In the last four games–two wins and two losses, the line has totaled six goals and six assists for 12 points.
In Pouliot's first 11 games, he scored two goals and an assist. In his last four games, he's tallied three goals and an assist.
In O'Reilly's first 11 games, he scored three goals and four assists. In his last four games, he's tallied two goals and three assists.
In Okposo's first nine games, he was scoreless, with a single assist. In his last four games, he's tallied a goal and two assists.
Related: Sabres Waiting for Secondary Scoring
Pouliot's End-to-End Rush
Pouliot is finding the net and gaining confidence with his new linemates.
"He's taken advantage of the opportunity," said Sabres coach Phil Housley. "He's been really consistent since he's been moved there. He's scored some big goals for us."
In Tuesday's 3-1 win over the Washington Capitals, Pouliot scored a coast-to-coast, highlight-reel goal. Starting deep in his own zone, he raced up the left side of the ice, turned forward Jakub Vrana into a pretzel, then used defenseman Brooks Orpik as a screen while rifling a shot top corner past netminder Philipp Grubauer.
Game winner, thanks to Benoit Pouliot. #CheersToHockey 🏒 pic.twitter.com/eu3wVu4U7F

— Buffalo Sabres (@BuffaloSabres) November 8, 2017
"It wasn't the type of goal I usually get a chance to do," said a smirking Pouliot, "but it ended up good."
Given that the Sabres only have five wins thus far, Pouliot is making his goals count. His tally turned out to be the game-winning goal, his third of the young season. He now has five goals in his last seven games. And, in an odd stat, the Sabres are undefeated when he records a point.
Pouliot's Fresh Start
In 180 games over three seasons with the Oilers, Pouliot scored 41 goals and added 43 assists. It wasn't enough – though the team went on a nice playoff run, Pouliot felt frustrated for most of the year.
"Things weren't going good, and I was down on myself. I was hard on myself. It's frustrating playing that way and trying to get out of a slump like that," said Pouliot, who prefers to look forward than in the past.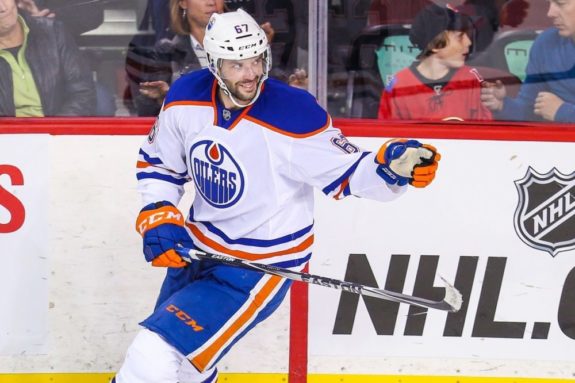 So, after failing to live up to management's expectations, the Oilers bought him out of the final two years of his five-year, $20 million contract. His stats weren't terrible on their own. But when you look at him as a fourth-overall pick way back in 2005 and consider he was putting up almost a point every other game, it didn't cut it for a $4 million man. He's yet to hit the 20-goal mark in the NHL.
As a free agent, he was excited to get a new chance to prove he can contribute. The Sabres figured a one-year, $1.15 million contract was a low risk/high reward proposition to dress the Alfred, Ontario native in Blue and Gold.
In 15 games for the Sabres, Pouliot has as many game-winning goals (three) as Zemgus Girgensons, who has played in 289 games.
Struggling Offense
While the 'POO' line has kicked in gear, the team's offense as a whole needs to wake up. A little help from the defense wouldn't hurt either – the blueliners still have zero goals to show for themselves this year.
Heading into Thursday night, the Sabres have scored 38 goals in 15 games, ranking them 28th in the league, with an average of 2.53 goals-for per game. Only Arizona (2.41), Calgary (2.40) and Edmonton (2.29) were worse at lighting the lamp. At home, the Sabres rank dead last, with 12 goals in six games. On the road, they're much more respectable, with 26 goals for in nine games. That goals per game average ranks them 14th.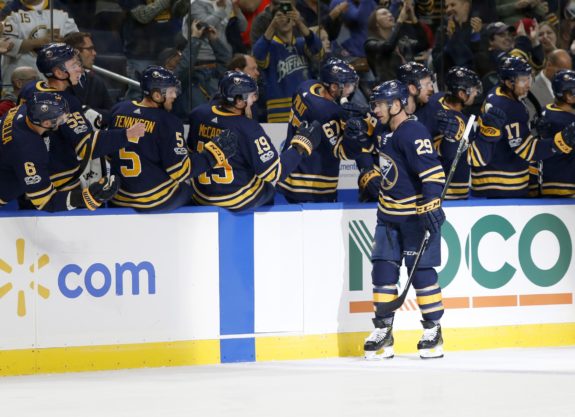 For context, the Sabres averaged 2.43 goals per game in each of the last two seasons. The last time they made the playoffs, the 2010-11 season, they averaged 2.93 goals per game.
The lowest goals per game average of any playoff team last year was the Ottawa Senators at 2.51. In 2015-16 it was the Detroit Red Wings at who averaged (2.55).
Related: Silver Linings to Sabres' Sluggish Start
Going For Two in A Row
Coming off their best all-around game of the season against the Caps, the Sabres host the Florida Panthers Friday night at KeyBank Center. The Panthers are one of only three teams below the Sabres in the standings. Stringing together a few wins now can help add to the team's confidence as well as help them forget their woeful start to the season.
Jeff has been covering the NHL for over a decade for various sites. He's been with The Hockey Writers as a lead Sabres writer three years, while also writing a satire column called "Off the Crossbar."