On paper, the Calgary Flames are a team that should be an offensive force to be reckoned with. Their lineup includes several former all-stars, many high draft selections, and an all-time legend in the form of Jaromir Jagr. Yet through the first 15 games of the 2017-18 season, they're a team that has been extremely top-heavy offensively.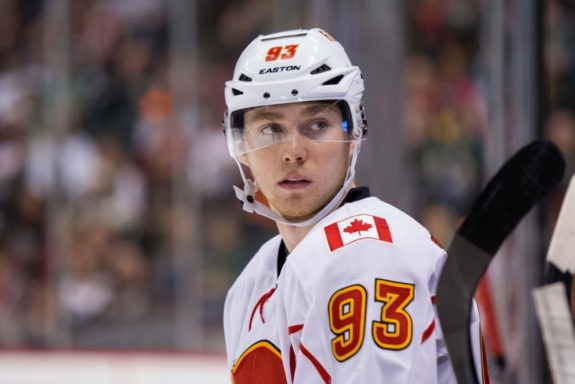 The Flames have scored just 36 goals – an average of 2.40 per game, second-lowest in the NHL. Their top line of Sean Monahan, Johnny Gaudreau and Micheal Ferland have combined for 17 goals. Their second line of Mikael Backlund, Michael Frolik and Matthew Tkachuk have combined for another 9 goals. The remainder of the roster has combined for just 10 goals.
Unbalanced Scoring
Speaking after Calgary's 5-3 loss to the Vancouver Canucks, Flames head coach Glen Gulutzan had a very blunt assessment of his team's offensive output outside of their top two lines: "They've gotta score." A secondary group that should be offensively potent, particularly given that the top two lines get most of the attention from the other team's best defensive players, have been largely absent from the scoresheet over the first 20% of the regular season.
Players with zero goals include Jaromir Jagr, Curtis Lazar, Matt Stajan, Mark Jankowski, Sam Bennett, Troy Brouwer and Tanner Glass, who's been demoted to the American Hockey League. Veteran Kris Versteeg has just two goals despite playing on the top power play unit, and has slid down the depth chart to Calgary's fourth line.
Are They Due?
Hockey is a results-based business, but sustainable success is based upon consistency and following a proper process. The theory is that if a team's generating more chances than their opponent, over time the bounces will even out and they'll have the success they should – the "you get the breaks you deserve" mentality.
Are any of the Flames players that aren't scoring "due," in the sense that the shots and scoring chances they're generating suggest they should get pucks to go in before too long? Collectively, based on Natural Stat Trick's data for their first 15 games, the Flames have had more five-on-five scoring chances than their opponents 10 times and more high-danger chances nine times.
On an individual basis, several players have a lot of shots and chances in all game situations but zero goals:
Bennett: 17 shots, 19 scoring chances and 7 high-danger chances (in 15 games)
Brouwer: 14 shots, 13 scoring chances and 8 high-danger chances (in 15 games)
Stajan: 12 shots, 14 scoring chances and 8 high-danger chances (in 12 games)
Lazar: 10 shots, 17 scoring chances and 8 high-danger chances (in 11 games)
Jagr: 9 shots, 12 scoring chances and 8 high-danger chances (in 6 games)
If these players keep generating chances at these rates, sooner or later the proverbial dam is due to burst.
Great Goaltending, No Run Support
Two of the quieter stories in the entire NHL through the first month or so of this season have been the impressive play of new Flames starting goaltender Mike Smith and the consistent contributions from Gaudreau. Smith has given the Flames superb goaltending in 12 or 13 of their first 15 games, while Gaudreau has maintained a steady point-per-game pace during that same period without having many single-game offensive outbursts. Both players have been indisputably good and borderline great through October and into November, but the Flames' inability to win games or score goals has been the overriding story.
The Flames' best players have been their best players early on, but the lack of contributions from their supporting cast has arguably wasted a lot of exceptional play from some of their key players. They're generating scoring chances but until their bottom six and blueline can figure out how to bury them and score some goals, the Flames will be leaning hard on their key players to keep them in games.