Okay, so we never expected them to challenge for the Presidents' Trophy. Even the Atlantic Division title seemed to be a two-horse race between the Tampa Bay Lightning and Toronto Maple Leafs.
But did anyone really expect the Florida Panthers to be this bad? At 4-8-2, they sit second-last in the National Hockey League, with only the inexplicably terrible Arizona Coyotes worse off.
After a season of turmoil, everyone thought the return of Dale Tallon would right the ship; a steady, experienced hand at the helm would surely vault the Cats back into contention, right?
Not so, apparently.
Panthers' Defensive Play
Despite averaging a healthy 3.43 goals per game thus far in 2017-18 (the league average is 3.07), the Panthers rank dead-last in goals against per game (yes, even worse than the Coyotes), at 4.21. As much as they struggled last year, no one could accuse them of being poor defensively, as they allowed 2.89 goals per game, tied for eighth in the NHL.
So how does a team go about adding a full goal (and a third!) to their average?
Some might say new head coach Bob Boughner's high-risk, high-reward style is the culprit. Not only is it a new system, it tends to bank on one's team having the talent and skillset to pull it off on a nightly basis. People who watched him coach in Windsor will tell you just that (along with his reluctance to deviate from said game plan, should things go south).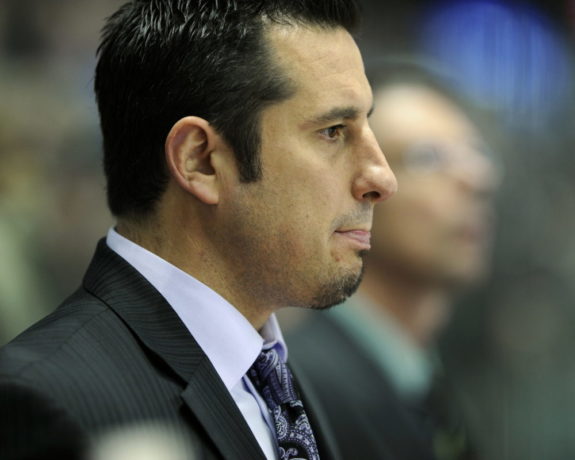 The Pittsburgh Penguins play a similar style, but have proven they have the horses to do so successfully (two consecutive Stanley Cups will do that).
The Panthers? After jettisoning several experienced pieces from their forward corps – not to mention a very solid defenseman in Jason Demers, they placed all their eggs into a basket of unknowns.
Sure, it's worked out on offense; I'd say Kontinental Hockey League gamble Evgenii Dadonov has been their best, most consistent player (at both ends of the ice, I might add).
But the defense corps? Yikes.
And before you blame it on the goalies, James Reimer, Roberto Luongo and Antti Niemi have all been fine, even if their numbers don't show it. It's hard playing when you're left all alone.
Defensemen
So, let's start with the seven defensemen the Panthers have utilised thus far this season.
The Good: Aaron Ekblad, Keith Yandle and Mark Pysyk
The top pairing of Aaron Ekblad and Keith Yandle have been good. Individually – and as a pairing, they're both over 51 percent in Corsi For (shot attempts). That's not too shabby, especially for a pairing that plays against the opposition's top units all night and starts in the defensive zone over 58 percent of the time. Oddly, they've been on the ice for over twice as many goals for as against, suggesting they're getting a bit lucky.
Their Expected Goals For and Against are about even, and their PDO (team save percentage plus team shooting percentage; "puck luck," if you will) together is nearly 107 (the average is 100), so their highly impressive numbers will likely come back down to Earth. Still, despite the two of them – Yandle especially – giving Panthers' fans heart palpitations on a nightly basis, the top pairing is not the Panthers' problem.
Mark Pysyk has been quite good, too. Playing primarily on the right side of Florida's second pairing, Pysyk quietly goes about his business being very solid defensively and posting positive possession numbers. Boughner trusts him so much that Pysyk starts a team-high 63 percent of the time in the defensive zone.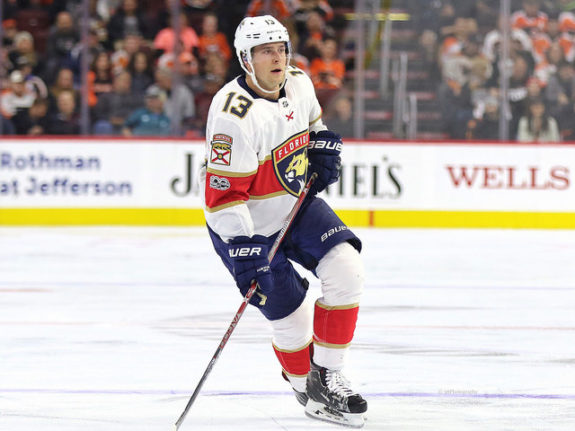 His team-worst minus-seven is certainly ugly, but the numbers suggest he's getting obscenely unlucky (94.69 percent PDO), with the Panthers only scoring 41 percent of the total goals when Pysyk's on the ice, versus an expected 59 percent. Look for that to change as the season rolls on and sample size increases.
Also, keep in mind Pysyk has managed all of this while being saddled much of the time with the incredibly frustrating Mike Matheson, who has been absolutely atrocious defensively since signing his new long-term contract.
The Bad: Mike Matheson
I wrote an article singing the praises of Matheson after he re-signed (although I did question the wisdom of such a long contract for a still-developing player). Matheson has good size, incredible skating ability and very good offensive instincts. Unfortunately, he does seem to lose track of things in his own end. Like Pysyk, Matheson has a low PDO (96.69 percent) and his Expected Goals For (47 percent) is substantially better than his actual Goals For so far (40 percent).
However, having watched the games, I can tell you that the potential defensive deficiencies that show up in Matheson's numbers are far more likely to resemble reality than those in Pysyk's. Whether it's the new system or the reality of a flawed player, there's no reason Matheson (a 46 percent Corsi For, I might add), should be starting 67 percent of the time in the defensive zone. Shelter the kid and let him properly develop. He's clearly not yet ready for the responsibility that's been thrust upon him.
The Ugly: Alex Petrovic and MacKenzie Weegar
This pains me a bit to say this, as Alex Petrovic was a player I was happy the Cats protected in the expansion draft, but there is indeed a reason Boughner has made him a healthy scratch at times thus far. Petrovic is the most sheltered defenseman on the Panthers, starting nearly 52 percent of the time in the offensive end. Despite a dead-even PDO, his Expected Goals For is a butt-clenching 42 percent (actual Goals For sits at 45 percent). Yikes.
Combined with a sub-par Corsi For mark of 47 percent and, right-hand shot or not, Petrovic is a risky play for the Cats, especially considering he doesn't bring much offense, either.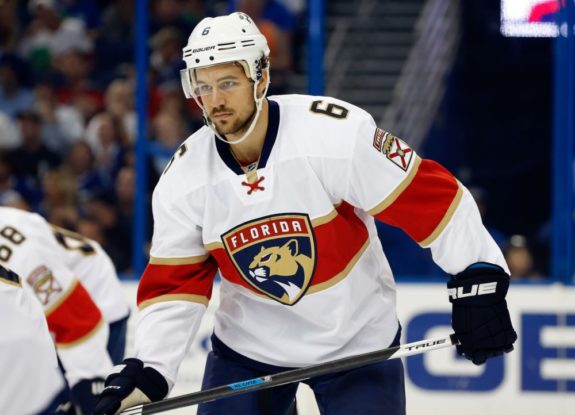 Now, if only they had a defensively sound right-handed rearguard that could play in all situations…
No, not you MacKenzie Weegar. I hesitate to jump on the guy after he's only played five games, but his Expected Goals For sits at 32 percent (a dead-even 50 percent in actual Goals For, though) and his Corsi For is at 39 percent. His PDO is over 104, suggesting that these serious deficiencies have yet to manifest themselves on the scoresheet.
Again, he's had five games worth of limited ice time, so let's acknowledge the small sample size. But if he's expected to be a regular, or even a semi-regular, it's certainly cause for concern.
The Alternative: Ian McCoshen
Ian McCoshen is an interesting one. His crushing hits are often highlight material and he's even scored a couple of goals. Yes, he's been sheltered a bit (47 percent of his starts have come in the offensive end) but, alongside a nearly normal PDO, his Expected Goals For is 55 percent. Impressive for anyone, but particularly since he's often been paired with Petrovic or Weegar.
He's also played a bit with Pysyk, and the two have looked reasonably good together. Their numbers aren't bad, either, at 53 percent Expected Goals For (though again, small sample size). Let's hope this pairing continues, not because it's brilliant or anything, but because it's the best the Cats can roll out as a second defensive unit with the personnel they have.
Plenty of Blame to go Around for Panthers
Panthers Losing as a Team
Please don't think for a minute I am singling out the Panthers' defense as the be-all and end-all of their problems. There is plenty of blame to go around. Hockey is a team sport, after all, and the forwards – and even the goaltenders, at times – have been complicit in the Cats' struggles.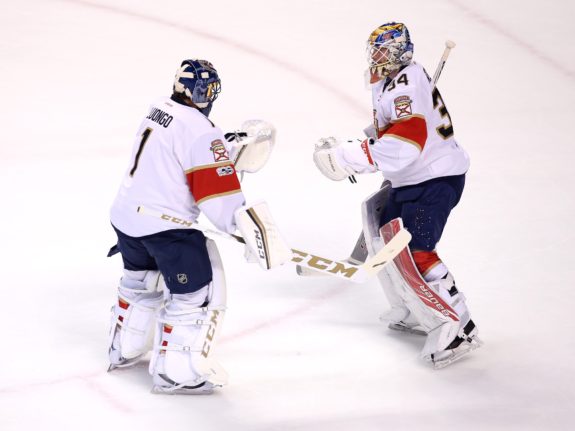 As a team, Florida sits towards the bottom of the NHL with a somewhat poor 48.54 Corsi For. After a piping-hot start, the Panthers have been getting filled in on shot attempts. Not everyone has to have perfect Corsi; there's going to be a spread on every squad. But, as a team, you should definitely aim to put more shots at the net than your opponent – and more good-quality ones, at that. That's pretty basic.
Bob Boughner's System Struggles
It is the responsibility of a coach to not only come in with a workable system, but also to tailor that system to the players given to him. It remains to be seen if Boughner's coaching style is NHL-worthy, but let's assume for a minute that it is. Can anyone say he's tailored it to his team?
Players don't need to be coddled; they're all adults, after all. I just don't think many players on the Panthers have been put in a situation to succeed.
Patience or Panic for Panthers?
So, what should the Panthers do? Well, read this article, obviously.
But after they've done that, if they really want to put themselves in the best position to succeed, they should not only have a look at the numbers, but also use them to their advantage.
Whether you call them "analytics," advanced stats" or a four-letter word I can't use on this site, they don't make up some mysterious black box of dubious efficacy dreamed up by stats geeks in their parents' basements. It's just a different way of looking at the game; a different way of describing what's already there.
In hockey, like in life, there are no guarantees. There are always exceptions to the rule – just look at the Panthers of 2015-16.
But, generally speaking, if you generate more shot attempts than your opposition, and if you put players in situations best suiting their skillsets and development, you are more likely to experience sustained success.
Barring the acquisition of a quality defenseman, the Panthers need to do a better job with their systems and their player deployment in order to maximise what they do have. It seems a shame that, after one disappointing season, the Panthers have done away with the evidence-based ideas of the (admittedly ham-fisted) "Computer Boys" and now seem to be deferring to the mysterious mojo of hockey's old guard.
(All advanced stats are thanks to Corsica. All metrics are adjusted and at five-on-five, unless otherwise specified.)
Peter Ferrell covers the Florida Panthers and Toronto Maple Leafs, with a side of jersey and logo (over)analysis, for The Hockey Writers.