This past Monday, the epic saga that is the Florida Panthers added yet another chapter. General manager and interim head coach Tom Rowe was relieved of his duties, shuffled to an advisory role in the Cats' front office. Taking his place in the GM role is president of hockey operations – and the guy who was GM in the first place, Dale Tallon. Thus ends one of the most enduring and entertaining stories of the 2016-17 National Hockey League season. Unfortunately, it will be remembered for all the wrong reasons.
Ancient History
Let's start at the beginning:
Dale Tallon was named general manager of the Panthers in the spring of 2010, shortly after yet another miserable season in South Florida. Having laid the groundwork for the soon-to-be dynastic Chicago Blackhawks, Tallon proved to be a steadying hand for the fledgling Panthers, fully committing to a rebuild, rather than dithering on the edge of the playoff bubble, as had been the team's custom.
South Florida wouldn't have much to celebrate in the near future – the lone highlight being winning a weak Southeast Division in 2011-12, before losing in the first round of the playoffs. However, Tallon slowly and methodically amassed draft picks and made good, solid selections that make up the bulk of the Panthers' current core.
Aaron Ekblad, Aleksander Barkov, Alex Petrovic, Jonathan Huberdeau, Michael Matheson, Nick Bjugstad and Vincent Trocheck are all Tallon draft choices. 2010 first-rounder Erik Gudbranson isn't bad, either, and ended up yielding highly touted centre Jared McCann in a trade with the Vancouver Canucks.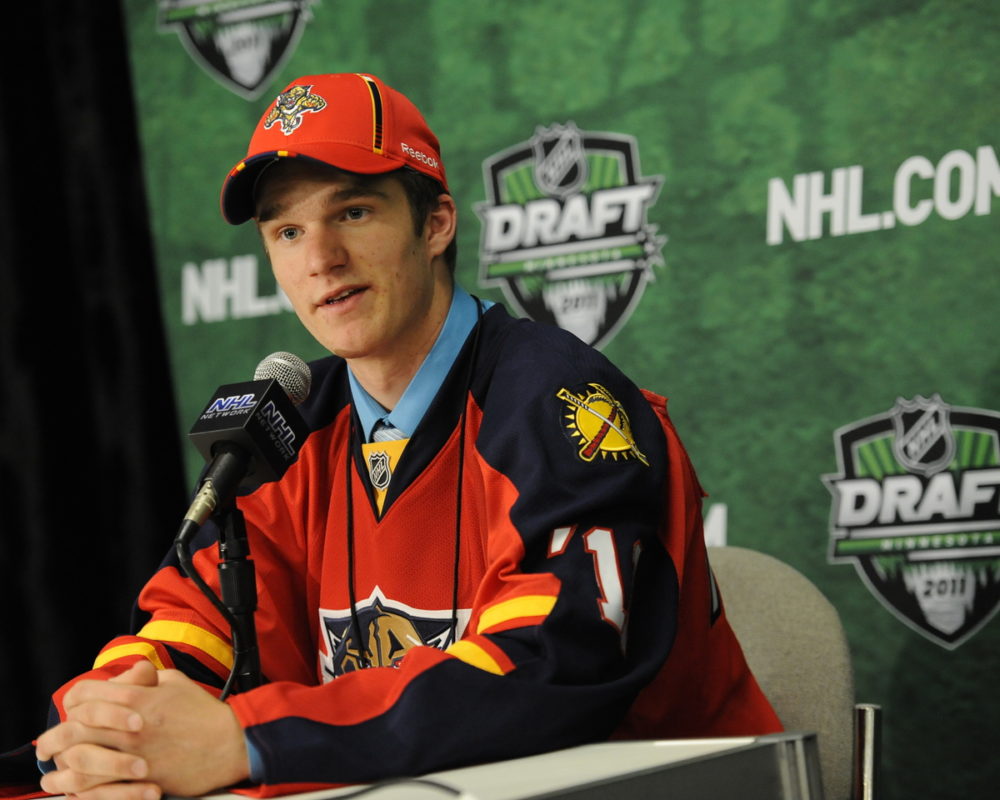 Tallon also pried scoring winger Reilly Smith away from the Boston Bruins, signed utility forward Jussi Jokinen, and reacquired Cats legend – and future Hall of Famer – Roberto Luongo, even forcing the Canucks to retain salary in the process. Tallon was not perfect (see: Bolland, Dave), but does not have a bad body of work, all things considered.
Winds of Change
Despite the Panthers' rebuild starting to bear fruit, with a 25-point improvement in 2014-15 and a 21-12-4 start to the 2015-16 season, Jan. 1, 2016 saw the beginnings of a major organisational overhaul. Tom Rowe, head coach of Florida's American Hockey League affiliate Portland Pirates, was named "associate" general manager. Whatever that is. In short, a minor-league coach, with zero background in front office work, was hired as some sort of babysitter for a veteran NHL executive.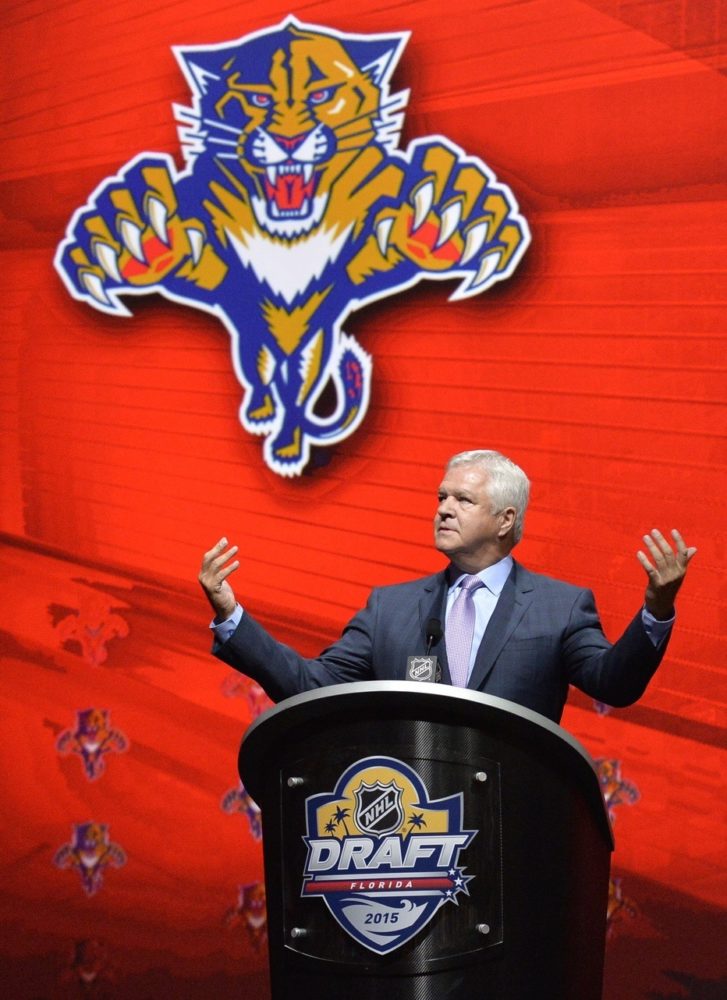 This arrangement didn't last long, as Tallon – who was actually given a contract extension on Jan. 1 – was swiftly "promoted", while Rowe took over GM duties with his new assistants Eric Joyce (Portland's general manager) and Steve Werier (a "hockey-obsessed lawyer"). Shortly afterwards, long-time Panther Scott Luce, the team's decorated director of player personnel and former chief scout, was dismissed.
Admittedly, Tallon and his crew were hired prior to current owner Vinnie Viola (and minority owner Doug Cifu) taking over ownership of Sunrise Sports and Entertainment, the Panthers' parent company, in late 2013. This new ownership group had been working hard to turn the Panthers' pathetic business model around, and it appeared as though their desire for change had simply extended to the hockey operations department.
Panthers beat writer George Richards reported at the time that the changes came about out of a desire to "incorporate more mathematical analysis when it comes to making roster decisions." While that is all true, it should also be noted that Viola filled Florida's front office with a very select group of people – a group with little hockey experience at all.
Good Business or Bad Practice?
Specifically, those chosen had either a military background (Viola's alma mater is West Point and he served in the United States Army), a history on Wall Street, and or a personal relationship with Viola himself. Cifu is a long-time friend and business partner of Viola. Werier is a personal friend of Viola's. Joyce served in the military and taught at West Point. Brian MacDonald, another West Point instructor, was hired to head up the Panthers' analytics department. Panthers president and chief executive officer (and former chief operating officer) Matthew Caldwell ticks all three boxes.
It appears, therefore, that Viola, along with Cifu, were trying to replicate their Wall Street successes (of implementing analytical techniques, like high-frequency trading) with the Panthers. However, for all the talk about the pair's business expertise, they appeared utterly tone-deaf to the business of hockey with their nepotistic changes to the Panthers' front office. Despite coming from heavily merit-based backgrounds, they had thrown out the proven brain trust of a steadily improving Panthers team and replaced it with a collection of hockey neophytes.
The closest the Panthers came to having "hockey people" in charge was Tom Rowe. A long-time AHL coach – with some experience as an assistant at the NHL level, Rowe was entrusted with the role of associate general manager, soon taking over completely after the removal of Tallon.
Musical Chairs
After winning the Atlantic Division in 2015-16 – which was followed up by a crushing defeat in an ultra-competitive, highly entertaining series with the New York Islanders, the Panthers had high hopes for the 2016-17 season. However, a middling 11-10-1 start – not helped by a rash of injuries to key pieces – resulted in the widely publicised, widely panned dismissal of Gerard Gallant (and assistant coach Mike Kelly), the coach who had guided the Panthers to a 37-point improvement over his two full seasons with the team.
Tom Rowe, the career coach, took over as interim bench boss. While maintaining his general manager title, Rowe relinquished the majority of duties to Joyce and Werier.
Later though, it emerged that then-president of hockey operations Dale Tallon was back in the mix at the management level. After Rowe posted a 24-26-10 record – and drew the ire of the Panthers faithful, he was relieved of his coaching duties, and was also told he would not return as general manager.
Banner plane flying around #FlaPanthers area: 'Rowe must go! Call him a cab!' Obvious reference to Gallant firing. Courtesy: @andyacr 1/2 pic.twitter.com/xqBNrnlL7b

— George Richards (@GeorgeRichards) April 3, 2017
Which left the door open for, who else, Dale Tallon. You know, the way it should have been in the first place. Naturally, there were suggestions that Florida should re-hire Gallant, as well. Thankfully for Gallant, but unfortunately for our entertainment, the Vegas Golden Knights chose him as their first-ever head coach.
So What Happened?
Just who – or what – is to blame for this mess? Was it a case of ownership wanting to install their own people – people who they felt, based on their past experience and successes, gave them a better chance to win? Was it a misunderstanding of the perfect storm of injuries and bad luck on the ice (dating back to the 2015-16 playoffs, when the Cats badly outplayed the Islanders for much of the series) that prompted such visceral reactions? Or was it simply political, or as the Steve Dangle Podcast described it, "like Game of Thrones"?
So What Now?
Perhaps more importantly, where do the Florida Panthers go from here? Undoubtedly, ill-timed and lengthy injuries to key components of their lineup played a significant role in the lost season that was 2016-17. So too did an abnormally low shooting percentage and resurgent Atlantic Division rivals.
But one has to wonder just how much the organisational chaos played into the team's frustrating campaign. Former captain Willie Mitchell, for one, has been especially vocal on Twitter throughout this saga about his former team and what his ex-teammates are going through.
I mean… https://t.co/InWPVfmEkZ https://t.co/oGJ2oxYeiA

— Willie Mitchell (@Willie_Mitch33) December 15, 2016
Even if current players can be placated, will free agents really want to enter into this chaos? Nice weather and a lack of state income tax can only go so far; players want to win, and such a muddy, political chain of command does not exactly inspire confidence.
The same goes for coaches; who wants to coach in Florida when the enduring memory of their last bench boss is of him loading his bags into a taxi. By himself. On the road. While the team was still at the arena. Even if a prospective coach can get over that, will they be able to get over the inevitable worries about the amount of influence various members of the Panthers' front office will have? For that matter, what about the influence of now-"special advisor" Tom Rowe?
Gerard Gallant awaits taxi outside PNC, AP photo. pic.twitter.com/pWBQvIP2SH

— Luke DeCock (@LukeDeCock) November 28, 2016
A Sorry State of Affairs
The Panthers' future looked so, so promising. A young, talented squad built for success in the modern NHL. A division championship and a splash made in free agency. An ownership team that finally had a handle on the business side of things. And yet, in a little over a year, the darlings of the NHL have sunk back down to the depths of where they started.
This is rock bottom. Fans can only hope that the Sunrise circus is over, because there's nowhere to go but up.