Another piece of the Vegas Golden Knights puzzle was revealed today. Gerard Gallant was introduced as the first head coach of the franchise at a news conference inside the T-Mobile Arena.
The hiring was first reported by SinBin.vegas late Wednesday afternoon, and later confirmed this morning by the Knights official website. The team added that a news conference was scheduled for today.
Golden Knights owner Bill Foley in a Fox Sports Radio Las Vegas interview on Wednesday night discussed what qualifications he was looking for in a head coach.
"I was looking for a guy like I found in George (McPhee) that I could work with, and that I could be honest with, " Foley said.
He added that Gallant was the type of head coach that wouldn't sulk or be offended with what was said in a face-to-face meeting. Foley was seeking to hire someone that could be flexible in their approach to the game.
"I need someone that is a player's coach, someone the players would really like and play hard for. That's the kind of guy we've identified," said Foley later in the interview.
He reiterated that the Knights would be built out from the goaltender's position, as the team's first goal is to protect the net. Foley felt the fans will need to be patient with the offense, but over time, the Golden Knights will become one of the fastest skating teams in the NHL. The owner is still confident that the Knights will become a playoff team in three years and a Stanley Cup contender in six years.
Gallant's Impressive Resume
Gallant has an impressive NHL resume, as he played 11 seasons and scored 211 goals in 615 games. That included four consecutive 30-or-more goal seasons from 1986-1990. Gallant's coaching record is 152-141-4-31 over six seasons at the helm of the Columbus Blue Jackets and the Florida Panthers. A year ago, he guided the Panthers to their best regular season (47-26-9, 103 Pts.) record in franchise history that captured an Atlantic Division title. Surprisingly, Gallant was the first coaching causality of this season.
Speculation rose that the Panthers fired him over the use of analytics in game planning. Gallant denied this accusation in an interview with ESPN's Pierre LeBrun after his firing.
"I wasn't fired because of analytics, I loved coaching the Florida Panthers, but I'm a stubborn guy at times;" said Gallant, "maybe I said too much and maybe I gave my opinion a little bit too much."
He holds no grudges as Gallant accepted his fate and is ready to move on to his next professional challenge.
Highlights from Today's Press Conference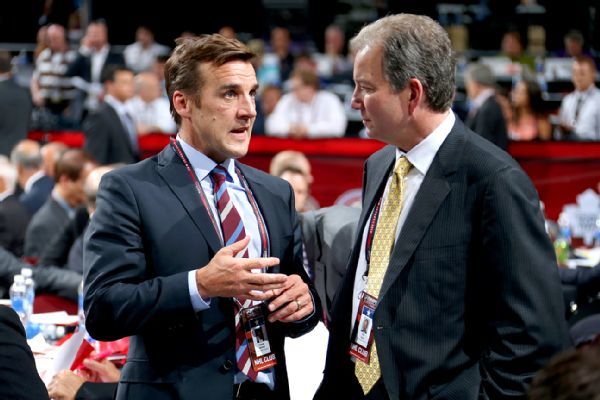 Gallant never played for a coach that he didn't respect or like being around. He hopes the Golden Knights' roster feels the same way about him.
The Gallant era will officially begin next August with the opening of training camp at their facility in Summerlin. He expects this time to be used in forging relationships with the players drafted in the expansion draft. Gallant hopes to gain good players through the draft, but understands that it will be one step at time. Hopefully, this approach will meet the owner's timetable.
"I try to communicate with my players every day because it's all about working and winning together," Gallant added at the press conference, "To win in the NHL, you have to have good young players. Teaching will be a huge part of my job moving forward."
Knights GM George McPhee added that it's easier to build and create a winning culture, than it's to change a losing environment. McPhee promises not to tell Gallant how to coach and expects his new hire will not tell him how to find players. This answer was in response to a question about Gallant's relationship with Florida Panthers forward and future Hall-of-Famer Jaromir Jagr, and the possibility of them reuniting in the desert later this summer.
Final piece of the Knights puzzle will be revealed in June at the NHL Expansion Draft.