The National Hockey League is an extremely tough place to make a living. It's a tough league to land a job in, and it's even tougher to land in as a teenager. For Calgary Flames forward Curtis Lazar, making the jump to the NHL as a teenager turned out to be a double-edged sword; on one hand he made it, on the other hand making it may have stunted his long-term development as a player.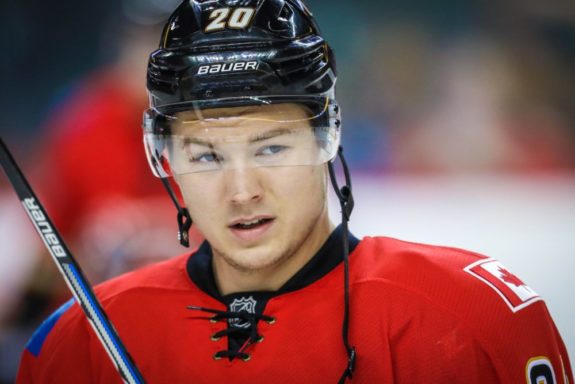 A Promising Start
Lazar was a promising junior prospect who developed into a strong 200-foot player with the Western Hockey League's Edmonton Oil Kings. In his first season of draft eligibility, Lazar scored at just under a point-per-game pace but more importantly was the responsible two-way center that anchored the Oil Kings' forward group. The Oil Kings lost in the WHL championship series to Portland that season and Lazar ended up being selected 17th overall by the Ottawa Senators in the 2013 NHL Draft. He went back to the WHL after being drafted and had an even better year. He increased his point production to over a point per game and the Oil Kings beat Portland in a WHL championship re-match and went on to win a Memorial Cup.
Lazar made the Senators out of camp in 2014-15 as a 19-year-old – he turned 20 in February – and played 67 of the team's 82 games. (He also captained Canada's World Junior entry to a gold medal.) He was 38th in the NHL in rookie scoring, but he seemed to find his stride in the second half of the season and found success playing with Erik Condra and Jean-Gabriel Pageau.
The following season saw some good and some bad for Lazar. He played 76 games, more than he had the previous season, but bounced around the lineup and never really had steady linemates all season. He generated 20 points, but struggled with consistency during the season.
Bad Luck Leads to Trouble
Two things happened over the 2016 off-season to derail Lazar's time in Ottawa – and arguably his entire NHL career. First, the Senators hired Guy Boucher as their new coach. Second, Lazar contracted mono, which effectively cut his season short and forced him to begin the year without a training camp. As a result, Boucher had no clue where he fit in and after Lazar returned from a brief AHL conditioning stint, he got into just 33 games for the Senators (and when he played it was usually on the fourth line). In addition, the process of Senators management trying to figure out where Lazar fit used up the last games of his waiver exemption – meaning he couldn't be sent to the AHL without potentially being lost to another team on the waiver wire.
In other words: because of a bout of mono and a lack of familiarity with a new coach, Lazar was stuck.
Westward Bound
Former Ottawa head coach Dave Cameron landed in Calgary as an assistant to Glen Gulutzan, bringing with him a great deal of familiarity with Lazar, while former Hockey Canada executive Brad Pascall ended up as an assistant general manager with the Flames and had experience with Lazar through the Under-18 and World Junior programs. Based on their recommendations, the Flames bought low on Lazar and acquired him at the 2017 trade deadline. (In this situation, "buying low" meant sending a second round pick to Ottawa which ended up becoming Alex Formenton.)
Curtis Lazar, Sam Bennett, Matt Stajan, Troy Brouwer … zero goals. I didn't realize how dire it was.

— Travis Yost (@travisyost) October 26, 2017
However, since Lazar's acquisition, he's still failed to play regular minutes. He dressed for just four games in 2016-17 after being acquired by the Flames with the justification that he had to get up to speed and get used to Gulutzan's systems. Through the first 11 games of 2017-18, he played in seven – primarily on the third and fourth lines. He's in a rotation of four forwards that are in and out of the lineup, despite being a fairly well-thought-of prospect that they gave up an asset to acquire.
What Is Lazar?
The most frequently used term used in descriptions of Lazar is "potential." He's a smart player with a record of junior success still in his recent past. He's a right shot forward that can play center and right wing. He's fast. There's tremendous potential there, for sure. But it's extremely difficult for those trying to judge Lazar to answer one simple question: what is Lazar at the NHL level?
Despite receiving some favourable match-ups – lots of shifts starting in the offensive zone against the other team's third and fourth lines – Lazar hasn't been able to convert those circumstances into strong possession numbers or offensive production. He's fast, but doesn't generate a lot of scoring chances. His infrequent game appearances result in infrequent puck touches for him, so timing and confidence with the puck are hard to come by.
Simply put, while Lazar still exudes potential he hasn't demonstrated enough in the past two seasons to make much of a case for himself as an everyday NHLer. The ideal solution would probably be assigning him to the AHL's Stockton Heat, but his waivers status complicates the situation. If the Flames are nervous about a waiver claim, sending him for a two-week conditioning stint to allow him to get some games in and gain some confidence – and opportunity to flex his offensive muscles – would do him a world of good. He hasn't established himself as a bonafide NHLer, but he could become one if handled properly.