Curtis Lazar THW Close-Up
Date of Birth: February 2, 1995
Place of Birth: Vernon, BC
Ht: 6'0" Wt: 198 lbs
Shoots: Right
Position: Centerman
NHL Draft Eligibility: 2013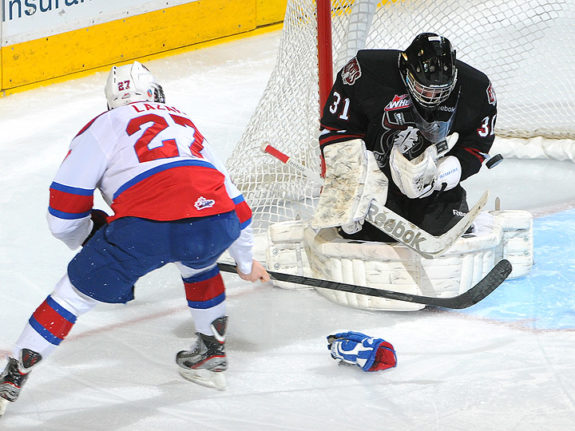 One of the toughest things to do when projecting junior-aged players to the National Hockey League level is estimating how their style of play will translate to the big leagues. It's easy to dangle the puck when you're facing under-sized teenagers from Flin Flon and Peace River. It's a lot harder when you're trying to dipsy-doodle around NHL blueliners that are 6'4″, 220 pounds and were the class of their league back when they were your age.
So, it's with a bit of curiosity that we approach Curtis Lazar of the Edmonton Oil Kings. Lazar has the benefit of playing on one of the more stacked teams in Canadian junior hockey, one that won a WHL Championship last year and went to the Memorial Cup. The Oil Kings are an older team – they have eight 19-year-old players – and one that has a high level of NHL-drafted talent. Eight current Oil Kings have been chosen in the NHL Draft.
As such, the Oil Kings can afford to use Curtis Lazar where he's most valuable to them. Lazar's not the most flashy player in junior, but he plays the kind of game that impresses scouts. He's a strong skater and has good positioning. He often players against the other team's best players, but frequently generates turnovers due to his ability to read offensive plays. His passing isn't quite elite, but it's definitely not bad by any stretch. Best of all, he has a hard, accurate shot and is able to get it off quickly. His shot may already be pro-level.
Lazar's the type of player that can be used on a team's second line, power-play and penalty kill, regardless of who else is on the team. He's not bad at anything and he's good at just about everything. He's a lunch-bucket, meat-and-potatoes kind of hockey player, but a very complete version of that style of player, with the ability to play in almost any situation and excel. He's not a highlight-reel player like the MacKinnons or Drouins of this year's draft class, but he may be the player whose style would need to change the least to translate effectively to the NHL. If he can pack on a bit of muscle without losing his speed, Lazar may be one of the best bets in this year's draft class.
Scout's Honour:
"Lazar has great quickness and outstanding acceleration.  He is able to use his quick and powerful stride to go wide on defence, and if he manages to get a step on them he puts it into another gear and drives the net hard.  His powerful skating and excellent balance make him difficult to handle down low and he cycles the puck very well.  He plays a rugged game and is willing to hit on the forecheck or battle along the boards.  Lazar also possesses an excellent shot and pro-level release which he used to score 8 goals in the WHL playoffs." – Ben Kerr, Last Word On Sports
Statistics:
Bio/Interview(s)/Link(s):
International Tournaments:
Lazar was part of Team Canada's entry at the 2012 Ivan Hlinka Tournament that won gold. He also played on Team Pacific at the 2012 World Under-17 Challenge. In addition, he was a gold medalist with Team British Columbia at the 2011 Canada Winter Games.
ETA:
2-3 years
Risk-Reward Analysis:
Risk = 1.5/5, Reward = 3.5/5
NHL Potential:
If he can continue to nurture his offensive tendencies, Lazar could easily grow into a very strong second unit center who plays at even-strength, the power-play and on the penalty kill. If he focuses more on his defensive game, he could grow into a strong bottom-six pivot.
Strengths:
Very good instincts and ability to read a game's ebbs and flows
Excellent shot
Good skater with strong acceleration
Effective passer
Flaws/Aspects He Needs To Work On:
Sometimes errs on the side of caution when seams open in opposition defenses; could easily jump into the rush a bit more and take more chances
Needs to add some size to his frame to battle NHL defenders
In relation to the last point, he'll need to maintain his speed at the same time
Fantasy Hockey Potential:
Offensive = 8.5/10, Defensive = 7.5/10
NHL Player(s) Comparison:
Best-case, he could become a Patrice Bergeron or Tyler Seguin type forward. If he projects into more of a defensive player, he could be more of a Mike Fisher.
When He'll Go In June:
Lazar will likely be chosen in the second half of the first round.
 Video(s):
Ryan Pike has covered the Calgary Flames and the NHL Draft extensively since 2010 as a Senior Writer for The Hockey Writers and Senior Contributing Editor of FlamesNation.ca. A member of the Professional Hockey Writers Association, he lives in Calgary.