Mikhail Sergachev played in his 10th game of the season on Tuesday night against the Carolina Hurricanes which means that the Tampa Bay Lightning have decided to use up the first year of the 19-year-old's entry-level contract this season. The rookie defenseman has fit in nicely on the Lightning's roster and deserves to play in the NHL.
Sergachev has improved with every game and the Lightning are pleased with his progress since the beginning of training camp. With how he's played lately, the decision to keep Sergachev longer than nine games was practically a no-brainer for the organization after the 2016 ninth overall draft choice made it clear that his mission was to stay in the NHL this season.
Lightning Easing Sergachev into NHL
The Lightning had hopes that Sergachev would be ready to help the team immediately. With their depth on defense, it's been easier for the team to give him timely minutes and situations where he can thrive. This plays into Sergachev's favour, as he won't have to face his opponents' best players every night, and won't be forced into becoming a top pairing defenseman, as happens with teams desperate for defense.
With the Lightning playing most of their games with seven defensemen, Sergachev had to earn coach Jon Cooper's confidence during his nine-game tryout. It seems he has done so, as the 6-foot-3 d-man has averaged around 15 minutes of ice-time in his last three games. Cooper praised Sergachev's game when announcing that he'd play his 10th game, saying that he has adapted to the speed and physicality of the game.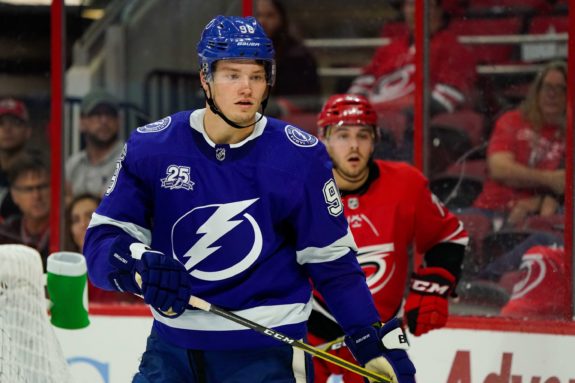 If Sergachev can continue to show that he is capable of playing at a mature level, he'll have no issue maintaining his spot on the team going forward. He has seen time on the Lightning's second powerplay unit, where he's looked comfortable getting shots to the net from the blue line. As the season progresses, we can expect Cooper to try Sergachev in various in-game situations to further his development.
Sergachev on Fire Offensively
Sergachev extended his point streak to five games after recording an assist on Steven Stamkos' powerplay goal in last game's 3-2 victory over the Detroit Red Wings. With 10 points in 11 games and a plus-4 rating, many would say that Sergachev has exceeded his early expectations. The ninth overall pick is currently tied for first with St.Louis Blues defenseman Alex Pietrangelo in goals by defensemen with four, fifth in points by defensemen, and is tied for second in rookie scoring.
While he likely won't keep up this pace for the season, there's been some encouraging signs in his offensive game – most notably his shot from the point. Sergachev has a heavy slapshot for a 19-year-old and has the fifth-most shots on the Lightning with 22. Lightning fans got a good look at what the rookie's shot can do on his first NHL goal against the Columbus Blue Jackets on October 19.
All the rookies decided to score their first NHL goal tonight. Here's Mikhail Sergachev's. pic.twitter.com/1KtUPMcgFl

— Sportsnet (@Sportsnet) October 20, 2017
Not only has Sergachev been firing the puck ruthlessly, he's also been making confident decisions in the offensive zone, which is unexpected from a rookie defenseman. The best example might be his assist on Anton Stralman's goal against the Pittsburgh Penguins on October 21, when he skated deep into the Penguins zone and spun off the defender to look for an open player to make a pass to, feeding Stralman for the goal who was coming late into the play.
Sergachev with a perfect feed and Stralman lets a beauty rip. #PITvsTBL pic.twitter.com/A7TF9oN7b9

— Tampa Bay Lightning (@TBLightning) October 22, 2017
These are just some of the good offensive plays we've seen from Sergachev so far. Last season, the Lightning's second-highest scoring defenseman was Stralman with 22 points. The Lightning are already seeing more production from their defense this season, so Sergachev could be on his way to surpassing that number in his rookie season.
Sergachev's Junior Days Are Over
As he officially enters the first year of his entry-level contract, there's still the possibility the Lightning could send Sergachev back to junior before his 40th game if they don't want to trigger the 7-year countdown to becoming an unrestricted free agent. If he plays less than 40 games with the Lightning, then the team would receive a second-round pick from the Jonathan Drouin trade with the Montreal Canadiens, but it's doubtful the team will send him down at all this season.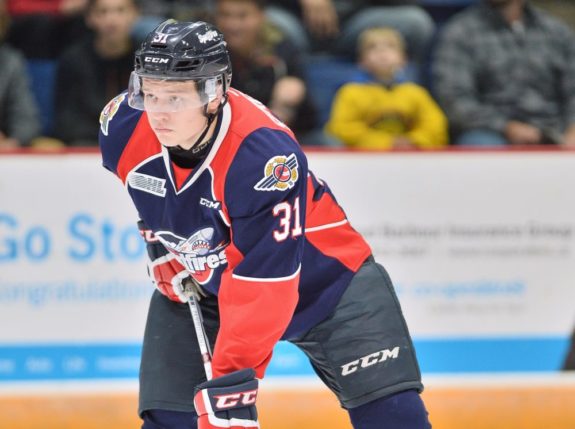 It would be a bad move for the Lightning to send him down at any point in the season, given how well he's played on the team's second defensive pairing alongside the veteran Stralman. He's becoming an important piece to the team's power play and will only grow by gaining NHL experience this season.
Although the Lightning could benefit from an extra second-round draft choice in the long-term, it wouldn't be worth losing Sergachev this season. Considering that the team can contend for a Stanley Cup, it would be smart to keep him on the team to learn from guys such as Norris nominee Hedman and be surrounded by experienced players who can guide him along the learning curve.
Tampa Bay Lightning Contributor for The Hockey Writers and Writer for TheSportster.