The 2015-16 season was a disappointing one for the Calgary Flames as a whole, as the club slid back in the National Hockey League standings and missed the post-season. However, there were several impressive individual accomplishments – most notably a 30-goal performance for Johnny Gaudreau and a 21-goal performance for Mark Giordano. Lost among the hubbub was yet another quietly effective season for Flames center Mikael Backlund, who since the 2012-13 lockout has established himself as the most consistently effective player on the team's roster.
Taking the Tough Minutes
On every team, somebody has to take the tough minutes – shifts against the other team's top guns and shifts that begin in the defensive zone. Over the past three seasons, Backlund has eaten up a lot of both. With Sean Monahan and Sam Bennett developing as rookies, Backlund's effectiveness allowed the coaching staff to bring both players along slowly and give them a chance to succeed in their first seasons.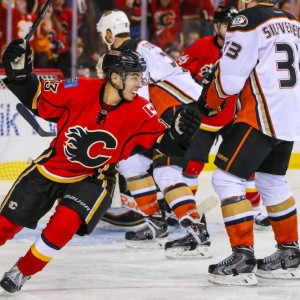 In 2013-14, Monahan's first season, Backlund faced the toughest opposition on other clubs (approximated by their time-on-ice) and had the lowest rate of offensive zone starts than any other regular center on the team. Despite all this, Backlund managed to continually move the puck up the ice, which allowed Flames coach Bob Hartley to handle Monahan with the proverbial "kid gloves." The following season, Monahan's progression – in part enabled by Backlund's performance – saw him produce more and begin to tackle some tougher deployments and ease the burden on Backlund as the team's long "tough minutes" center.
In 2015-16, Bennett's first full season, Backlund and Monahan took the lion's share of the shifts against the top-six opposition, leaving Bennett's line to take on third-and-fourth-liners, similar to Monahan's first-year situations. Backlund and Matt Stajan took the majority of the defensive-zone draws, allowing Monahan's top line and Bennett's line to get the offensive zone "high ground."
If you look at Backlund's career to-date on a player usage chart – with tough match-ups and situations at top-left and easier ones at bottom-right – his progression into his "tough minutes" maturity has made it easier for the club to develop forwards alongside him, like Monahan, that can take on some of that burden.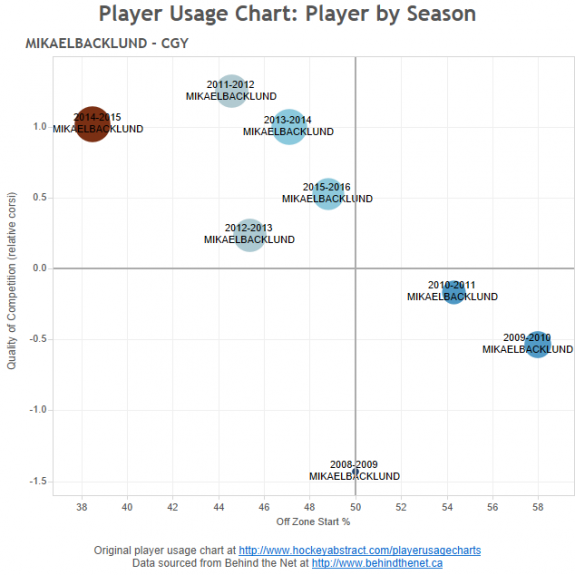 An Underrated Scorer
After a player's first few seasons, typically you can use their career shooting percentage as a predictor of how dangerous they are offensively. But for Backlund, he's actually beaten his previous career shooting percentage in each of the last four seasons – dating back to the 2012-13 lockout, when he returned from his hometown team in Vasteras with a new-found offensive swagger. That confidence has seen him drive the net more often and get high-quality chances than earlier in his career.
As a result, Backlund's been in double-digits in goals in each of the last three seasons – even during his injury-shortened 2014-15 campaign. He broke the 20-goal plateau in 2015-16, powered by an impressive last six weeks of the season that saw him net 10 goals in the final 20 games of the season.
He capped the season off with a hat-trick against the Vancouver Canucks in Calgary's final home game of the regular season.
Making His Teammates Better
In addition to his ability to eat up tough minutes and put up offense, Backlund is a player that makes his teammates better – something affectionately referred to in the Flames blogosphere as "the Backlund Bump."
Since the 2012-13 lockout, the 10 players that Backlund has played with the most often are (in descending order):
T.J. Brodie
Mark Giordano
Kris Russell
Dennis Wideman
Jiri Hudler
Lance Bouma
David Jones
Michael Frolik
Deryk Engelland
Mike Cammalleri
Everybody save for Frolik had considerably better puck possession statistics playing with Backlund than away from him, and that's with the proviso that playing with Backlund usually means playing against top competition. (Frolik's possession numbers got slightly worse with Backlund, but both men still had strong numbers overall.) Playing a regular shift with Backlund is typically good for a 5% Corsi For increase, which often transforms a middling player into a fairly impressive one and often results in more scoring opportunities for everyone involved.
As an added bonus, Backlund's offensive production doesn't seem to waver very much based on who he's playing with. At even-strength, he's averaging 1.5 points per 60 minutes of ice-time overall. His production wobbles only slightly, between 1.2 and 1.9 points per 60 minutes, among his 10 most common linemates.
The Ideal Depth Center
Is Backlund a high-octane NHL center? Goodness, no. But even after several years in the bigs, he still has found ways to improve. And moreover, on a team with a really raw, young forward group, Backlund has provided remarkable stability and versatility. You always know what you're going to get from him, which makes him incredibly valuable for a coaching staff that's trying to bring along the team's youngsters (and for a management group that's trying to help transform the team into a regular playoff contender).
Gaudreau and Monahan may get the headlines and the accolades, but Backlund is an incredibly useful, valuable player for the Flames.