After a disappointing camp from some of their younger players, the Calgary Flames made waves when the regular season began by signing hockey legend Jaromir Jagr. Rather than shoe-horn in a untested prospect into their top nine forward ranks, or promote a fourth liner over their head, general manager Brad Treliving opted to recruit Jagr and give his team more depth.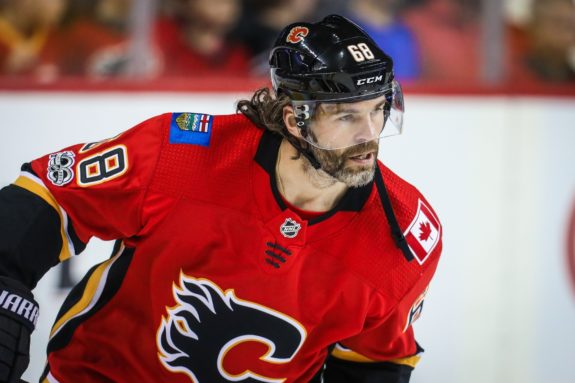 The addition of Jagr provides the team with a lot of versatility in a way they didn't have before and, if things work out, should make the Flames a tougher team to play against.
Jagr, The Mentor
At the press conference announcing his signing, Jagr joked that everyone's a younger player at his age. As the oldest active player in the NHL, Jagr has exclusively played with "younger players" for the past several seasons. During his time in Florida, he played extensively with the team's up-and-coming players – such as Jonathan Huberdeau, Sasha Barkov, Jonathan Marchessault, Nick Bjugstad, Seth Griffith, Vincent Trocheck – continuing a trend from New Jersey (where he played alongside players like Travis Zajac and Adam Henrique).
In addition to that, Jagr's developed a reputation since his return from the Kontinental Hockey League as a tireless off-ice worker – Flames head coach Glen Gulutzan recalled times in Dallas when Jagr would be in the weight room at all hours – that could rub off on Calgary's young group of forwards. He's frequently been a positive on-ice influence during his time in Calgary, already seen during practices and on the bench during games tutoring teammates.
Related: Flames Addition of Jagr Changes the Team Narrative
The Missing Ingredient
Wherever Jagr plays, he'll be counted upon to elevate the game of the young players he's win; either trying to jump-start Sam Bennett's game by playing on his wing, or trying to unlock further offensive product in Sean Monahan and Johnny Gaudreau. While Jagr's settled on the top line with Monahan and Gaudreau for now, using him on the third line could potentially give the Flames three scoring lines.
Gaudreau, Monahan and Micheal Ferland (or Curtis Lazar)
Matthew Tkachuk, Mikael Backlund and Michael Frolik
Kris Versteeg, Bennett and Jagr
In a league full of deep teams, developing three scoring lines would allow the Flames some interesting options in terms of their line-matching.
Line Matching at a Glance
With three scoring lines, it would be a lot easier for Gulutzan to deploy his lines in a way that does some damage to the opposition. At home, with last change, the Backlund line is matched against the other team's top scoring line in order to shut them down. The Monahan and Bennett lines would rotate against the other team's second and third lines – figuring out ideal match-ups and then attempting to exploit them – while the fourth line would get the other team's fourth line occasionally to spell off the scoring lines, though at times one of the scoring lines would get match-ups against the fourth line.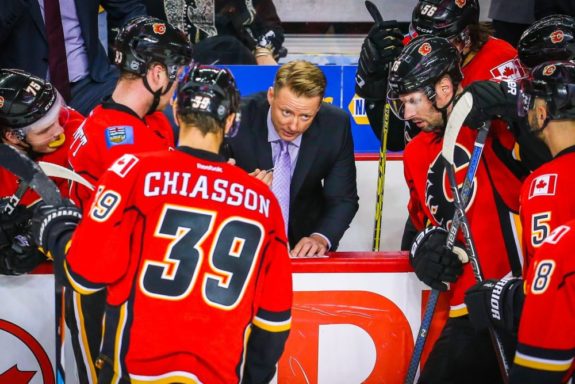 On the road, the newfound line depth really helps the Flames. If you're the opposition, which line do you put your shutdown line against? The most common coaching move has usually been attempting to isolate the Gaudreau line with a shutdown line and trying to score against the fourth line as much as possible with the other top six line, but then that creates a question of how well Backlund and the Bennett lines can do against your bottom six. Unless your team has a strong bottom six that can out-gun the Flames' middle six, suddenly there's the potential for the Flames' depth to pose big problems.
The players still need to do the work, but the potential for the Flames to suddenly have strong scoring depth is there for the first time in years – all thanks to management's willingness to roll the dice and sign an ageless 45-year-old to a contract.