The Bakersfield Condors are off to a 1-2-0 start to their 2017-18 AHL season. After losing their opener, the Condors have split their last two games against divisional opponents. On paper, the Condors are supposed to be a much stronger team than the one that finished sixth in the Pacific Division in 2016-17. A couple of additions this summer have already proven to make a difference in Bakersfield's lineup, but the team is still searching for an identity this year.
The Condors had their home opener last weekend with 5,078 fans in attendance but lost to the Tucson Roadrunners 4-0. The Arizona Coyotes farm team took it to the Edmonton Oilers affiliate. Bakersfield started the game strong, but only managed 11 shots in the final two frames. Dylan Strome had three points, Nick Merkley had a goal and an assist, and Adin Hill recorded a 22 save shutout.
The Condors special teams underperformed. Bakersfield's power play went scoreless through three opportunities, and the penalty kill was three-for-five. Braden Christoffer, Evan Polei, Grayson Downing, Mark Fayne, and Keegan Lowe were scratched.
Condors Need Better Goaltending
One of the early storylines for the Oilers farm affiliate is that their goaltending just hasn't been great. In fact, the organization from top to bottom is having a terrible start to the year in net. Cam Talbot, Edmonton's starting goalie, has struggled through the first four games of the 2017-18 season. Talbot is 1-3-0 to start the year accompanied by a 3.96 goals-against average (GAA) and a .880 save percentage (SV%). Talbot's allowed three or more goals in three of the four games he's played. He's also been pulled twice in those games.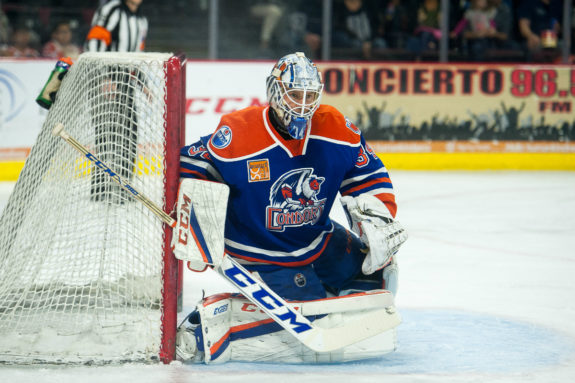 In regards to Bakersfield directly, Nick Ellis and Ed Pasquale have combined for 11 goals against in three games. Ellis, 23, emerged as the Condors starter last year after Laurent Brossoit was promoted to the NHL. He carried a .918 SV% through 34 games in 2016-17 but didn't look spectacular in the one game he played this year. Ellis stopped just 16 of 19 shots against the Stockton Heat in the season opener. Mark Jankowski was a man on a mission that game scoring twice on Ellis.
BAKERSFIELD CONDORS GOALTENDING

#
GOALIES
GP
MINS
W
L
SOL
SO
GA
GAA
SVS
SV%

34

Nick Ellis

1

57:50

0

1

0

0

3

3.11

19

0.864

40

Eddie Pasquale

2

120:00

1

1

0

0

8

4.00

41

0.837

Totals

3

180:00

1

2

0

0

12

4.00

60

0.833
Pasquale, 26, has allowed four goals in each of his two starts and has stopped just 33 of 41 shots. For a team that's shown to have challenges offensively, scoring just six goals so far, the goaltending needs to be better. Bakersfield's goalies know they have the abilities to be better as well. We mentioned Ellis' success last year, and Pasquale was the backup for the Grand Rapids Griffins who won the Calder Cup last season.
Either way you slice it, goaltending has been an early struggle for the Oilers and their affiliates in the early parts of October.
Related – Condors Report: Oilers' Farm Team Looks to Rebound in 2017-18
Condors Quick Hits
Jesse Puljujarvi – The Oilers fourth overall pick from 2016 has two assists to start the season, and is averaging two shots per game. His defensive game is still a work in progress. When Peter Chiarelli mentioned there were areas in Puljujarvi's game he needed to clean up, there was a prime example of that in their game against the San Antonio Rampage last week.
Puljujarvi was a little too cute with the puck and had a neutral zone turnover, followed by a poor backcheck that led to San Antonio's first goal. Those are things that need to change.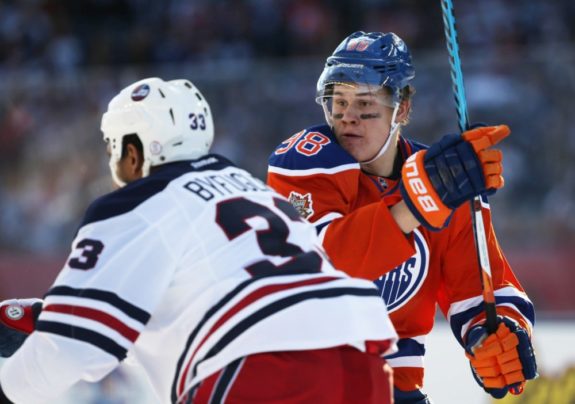 Brad Malone – Edmonton recalled Malone this week after placing Drake Caggiula and Leon Draisaitl on injured reserve. Malone, 28, was one of the Oilers offseason acquisitions aimed to help Bakersfield. He's had a solid start to the year with two goals and three points in just as many games. He's also had an impressive nine shots on goal so far.
Malone's the type of guy that plays a rough and tumble game and goes to the net hard. That's something the Oilers are hoping helps their lineup that needs a kick start in effort. While in Bakersfield, Malone was centering the Condors top line with Joey Laleggia and Puljujarvi.
Tonight's @3WayChevyCad Lineup rolling out the red carpet against Tucson. #Condors20 pic.twitter.com/GPlgggYBM9

— Bakersfield Condors (@Condors) October 14, 2017
Related: Don't Hit the Panic Button Yet Oilers Fans
David Gust – Along with Evan Polei and Chad Butcher, Gust signed an AHL deal this spring. He had a stellar debut with two goals against San Antonio. He's currently playing on the Condors third-line that could turn out to be a solid offensive unit. Mitch Callahan and Butcher are his linemates right now, and that line can move the puck around. Gust has some promise, and he scored 18 goals and 41 points at Ohio State (NCAA) last season.
Patrick Russell – Russell didn't have the offensive year he probably wished for in 2016-17. It was his rookie year, and he only managed eight goals and 17 points in 68 games. This season it looks like he's trying to change that and will himself onto the scoresheet. Russell currently leads the Condors in shots with 13 in three games.
He blasted eight shots on goal against San Antonio last week. Russell finished third on Bakersfield with 150 shots last season, but right now he's a man on a mission, he's just waiting for results. Playing on the second-line with Ty Rattie and Josh Currie should help.
Edmonton Oilers regular contributor providing insight on all things Oilers including club history, prospect profiles, trade breakdowns, and everything else in between. Check back regularly for new and exciting content. Follow on Twitter @SanderTHW.