Hockey is finally here! The Edmonton Oilers opened training camp with seven goaltenders on the roster. The situation is pretty clear, and there's not a whole lot of jockeying for position on the depth chart this season. Cam Talbot, who was arguably the Oilers most valuable player not named Connor McDavid in 2016-17, is the returning starter. Laurent Brossoit is expected to play his first full season in the NHL as Talbot's backup.
The additions of Ed Pasquale and Shane Starrett, both of whom were free agent signings will bolster the organization's pro depth. Pasquale has been an AHL journeyman for several seasons now and will compete with Starrett, a college free agent signing, for the backup job on the Bakersfield Condors. The winner of that battle will play behind last year's Condors starting goalie Nick Ellis.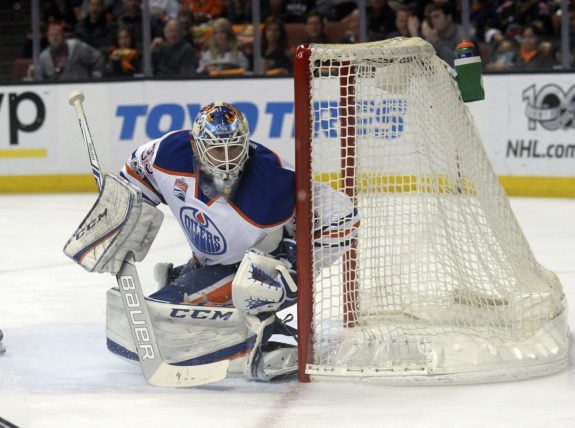 From there Edmonton has two goalies in the system that will be returning to junior in Dylan Wells and Stuart Skinner. Both goalies took their respective teams to the Conference Finals in their leagues and are competing for spots on Team Canada's World Junior Championship roster.
So what are the expectations for these goalies in 2017-18?
Laurent Brossoit
Age: 24 | 2016-17 Club: Bakersfield Condors (AHL) & Edmonton Oilers
2016-17 Stats: 21 GP – 2.67 GAA – .908 SV% (AHL)
2016-17 Stats: 8 GP – 1.99 GAA – .928 SV% (NHL)
Brossoit started last season as the Condors starting goalie and kept a team with an anemic offense in more games than they should've been in. When Jonas Gustavsson showed to be too inconsistent for McLellan's liking, Brossoit got the promotion in January.
Because of Todd McLellan's lack of faith in any goalie not named 'Cam Talbot', Brossoit barely played. When he did play he'd sometimes go a month between starts. Brossoit finished 2016-17 with a 1.99 goals-against average and a .928 save percentage in eight games.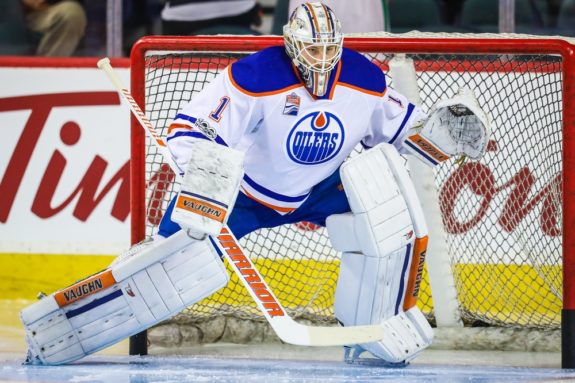 Expectations: Reasonable expectations would be to see Brossoit play approximately 15 games next season behind Talbot. It's his first full season in the NHL and he's got some names behind him breathing down his neck on the depth chart.
The job is simple; play meaningful minutes and show the coaching staff they have the luxury of giving Talbot the occasional night off. Talbot doesn't need to play every night, but if Brossoit falters, he just might have to play 73 games again.
Nick Ellis
Age: 23 | 2016-17 Club: Bakersfield Condors (AHL)
2016-17 Stats: 34 GP – 2.69 GAA – .918 SV%
When Brossoit was promoted to the main club Ellis took over the starting duties for the Condors. He had an impressive rookie season as a pro posting a .918 save percentage in 34 games. This season Ellis will likely split the games with AHL veteran Ed Pasquale. He's currently the number three goalie on the organization's depth chart.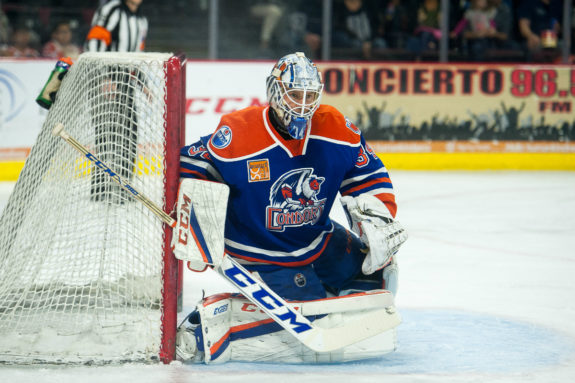 Expectations: The Condors added some offensive depth, and there's been a change over on defense. This should be a much better team than the one Ellis had to backstop in 2016-17. That said it's likely going to be young and inexperienced at the pro level. Ellis took major strides in his first pro season, and if the Condors are going to compete for a playoff spot he'll need to avoid a sophomore slump.
It's reasonable to expect Ellis to see an increase in games and really take a hold of the net. Pasquale was brought in as a veteran safety net behind him, but this is Ellis' net to lose. Expect him to start over 40 games for the Condors in 2017-18.
Ed Pasquale
Age: 26 | 2016-17 Club: Grand Rapids Griffins (AHL)
2016-17 Stats: 29 GP – 2.43 GAA – .919 SV%
An AHL veteran, Pasquale has bounced around between several NHL organizations since being drafted in 2009. He was steadily improving as a prospect until he missed the entire 2014-15 season with hip surgery. He's become a bit of a journeyman and will likely backup Ellis with the Condors.
A free agent signing this summer, Pasquale had a 2.43 goals-against average and a .919 save percentage in 29 games last season.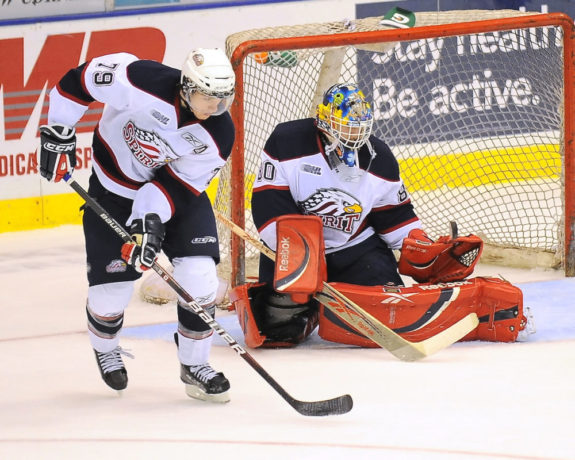 Expectation: As mentioned above, this is Ellis' net to lose, but don't count Pasquale out. He's got a lot to prove and at 26-years-old, Pasquale still hasn't played an NHL game. He's steadily seen himself pushed into a 1B role at the AHL level, but he played well for Grand Rapids last season. He'll push Ellis for minutes and might be a great complimentary piece in goal.
If the two goalies split the starts with Ellis getting a few more games, this could be a solid goaltending tandem for the Condors. Remember goaltending isn't the problem for the Condors, it's a lack of offense and defensive lapses. Pasquale backed up Detroit Red Wings prospect and Grand Rapids starter Jared Coreau en route to the 2017 Calder Cup.
Stuart Skinner
Age: 18 | 2016-17 Club: Lethbridge Hurricanes (WHL)
2016-17 Stats: 60 GP – 3.26 GAA – .905 SV%
Skinner's had a busy summer since being drafted by the Oilers in the third round in June. He's got starter potential in the future but had a mediocre year with the WHL's Lethbridge Hurricanes. It's his combination of size and athleticism that makes him an enticing prospect for Edmonton.
He's already participated in Team Canada's development camp for the World Juniors, played in Oilers development camp and looked solid at rookie camp. He'll get a short look but will be reassigned to the WHL and will compete for a spot on Team Canada.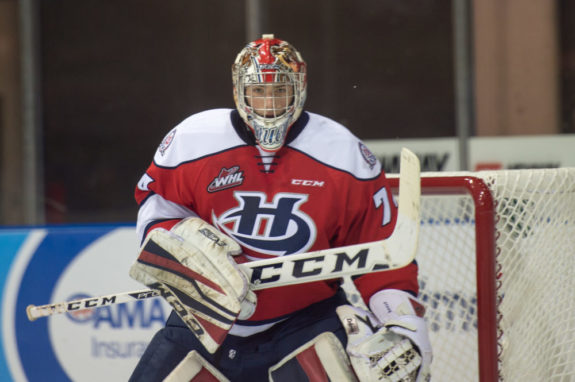 Expectation: Lethbridge had a surprising season in 2016-17 and if you ask the players, Skinner was a huge reason for their success. He'll have to show he can be more consistent on a night to night basis with the Hurricanes, especially considering how much he plays.
A good year for Skinner would be earning a spot on Team Canada's World Junior roster. If he can carry Lethbridge on another deep playoff run that would be an absolute bonus.
Shane Starrett
Age: 23 | 2016-17 Club: Air Force Academy (NCAA)
2016-17 Stats: 37 GP – 1.99 GAA – .925 SV%
A late bloomer and one of the top goaltenders in the NCAA last season, Starrett will turn pro this season. A college free agent signing this spring, he posted a 1.99 goals against average, and a .925 save percentage in 37 games with Air Force Academy. Like Skinner, Starrett has a combination of size and athleticism that's quite intriguing.
Expectation: Expect Starrett to get the occasional look in the AHL but probably spend the year with Edmonton's ECHL affiliate, the Tulsa Oilers. Edmonton will be sharing that affiliate with the St. Louis Blues so both organizations will want their goalies to get meaningful minutes.
Blues prospect Jake Opilka is out until December recovering from hip surgery. Jake Hildebrand and Tyler Parks will compete with Starrett for minutes, but it's the Oilers goalie who'll likely get a chance to run with the number one job. Starrett also looked great in Oilers rookie camp.
Cam Talbot
Age: 30 | 2016-17 Club: Edmonton Oilers (NHL)
2016-17 Stats: 73 GP – 2.39 GAA – .919 SV%
Arguably Edmonton's most valuable player not named Connor McDavid in 2016-17. Talbot played a mindboggling 73 games and emerged as one of the league's best goalies. He kept the Oilers in games they had no business being in and was a huge reason Edmonton went as far as they did.
The consensus opinion is that he should play a little less and rest this season. That said, he was remarkably consistent on a night to night basis and got better as the year went on when he should have (typically) regressed.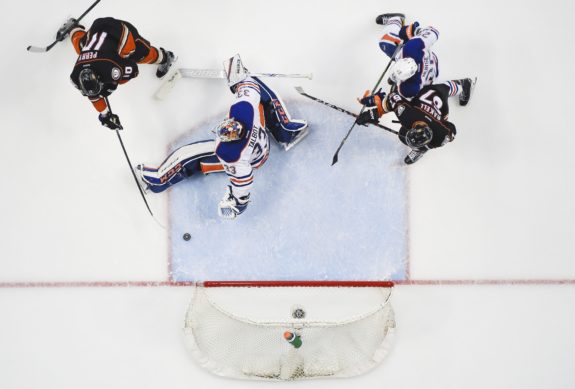 Expectation: Talbot just needs to do what he did last year — give the Oilers a chance to win every night. There was a lot of concern late in the season if the Oilers were running their starter into the ground. He finished the final ten games of the season 7-3-0 with a 2.20 goals against average and a .917 save percentage. He allowed two or fewer goals in seven of those games including two shutouts.
When the playoffs came around he put up two shutouts and a .922 save percentage in 13 games. What's more important though is through all those games he only had three games where he had a save percentage below .900. Talk about being consistent. If he can put in another effort like that this year, the Oilers will surely be in for a deep playoff run.
Dylan Wells
Age: 19 | 2016-17 Club: Peterborough Petes (OHL)
2016-17 Stats: 52 GP – 3.07 GAA – .916 SV%
Similar to Skinner, Wells has also had a busy summer and is competing for a spot on Team Canada's roster for the World Juniors. Carter Hart is the defacto starter it seems, but between the two Oiler goaltenders and Michael DiPietro (Vancouver prospect), there's a good chance Wells makes the team.He'll need to have a strong season as he didn't look great at Canada's camp.
To be honest, Wells didn't look bad in Oilers rookie camp, but he didn't look spectacular either. He was beaten clean twice in the one game he played against the Calgary Flames rookie squad. That being said, both those goals were scored by the Flames best prospects in the tournament, Mark Jankowski and Juuso Valimaki.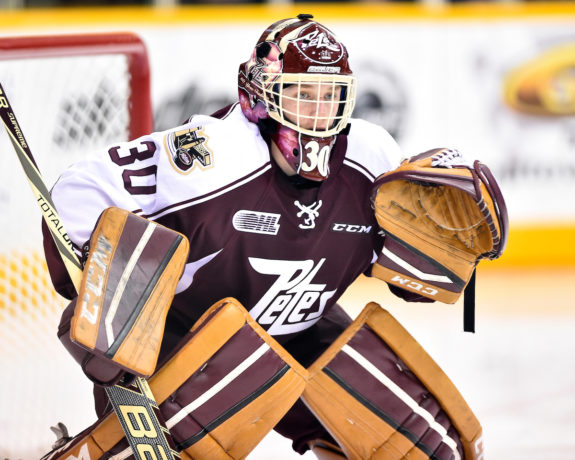 Expectation: He's expected to help the Peterborough Petes make a deep playoff run and possibly qualify for the Memorial Cup tournament. With Canada, he'll have his work cut out for him. Getting off to a solid start to the year will help his case.
It's worth noting he was one of the best goalies in the OHL last season. If the Petes have another strong year, Wells could earn consideration for the CHL Goaltender of the Year.
Edmonton Oilers regular contributor providing insight on all things Oilers including club history, prospect profiles, trade breakdowns, and everything else in between. Check back regularly for new and exciting content. Follow on Twitter @SanderTHW.