The Edmonton Oilers officially announced their roster for the 2017 Young Stars Classic this weekend. The tournament takes place in Penticton, British Columbia from September 8-11. If you're unfamiliar with the Young Stars Classic, it's a four-team tournament annually hosted by the Vancouver Canucks organization. This is the seventh year the competition takes place. Teams will play out of the South Okanagan Events Centre.
Along with the Canucks and Oilers, the Calgary Flames and Winnipeg Jets will comprise the four teams. When the tournament concludes, the Oilers will wrap up their rookie camp with a game against the MacEwan-NAIT All-Star Team back at Rogers Place in Edmonton.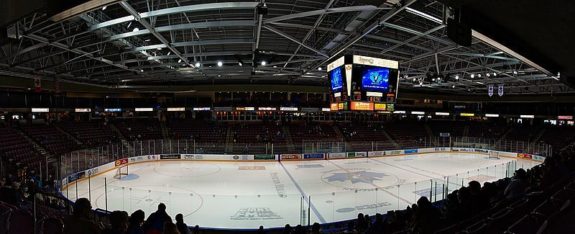 2017 Young Stars Classic Schedule
Here's the quick schedule for the week's events related to the Oilers:
Thursday, September 7 – Medicals and fitness testing (Rogers Place)
Friday, September 8 – Edmonton vs. Calgary 4:00 PM
Saturday, September 9 – Winnipeg vs. Edmonton 7:30 PM
Monday, September 11 – Vancouver vs. Edmonton 2:00 PM
Wednesday, September 13 – Rookie Camp Game against the MacEwan-NAIT All-Star Team (Rogers Place) at 7:00 PM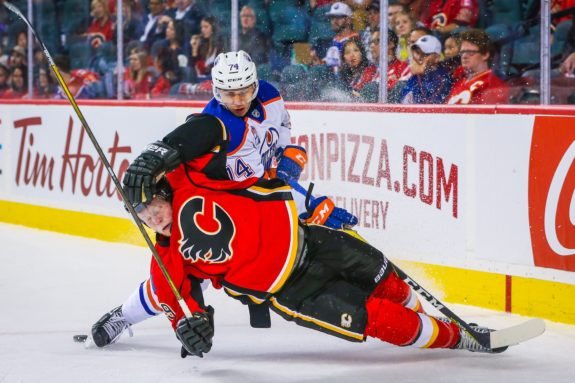 Tickets can be purchased for through Ticketmaster, SOEC and Valley First Tix. Fans can also watch all the Oiler games on the team's official website.
Oilers 2017 Young Stars Classic Roster
The Oilers roster for the tournament has a total of 28 players attending camp. The breakdown of that is three goaltenders, nine defensemen and 16 forwards. The notable names are Kailer Yamamoto, Ethan Bear, Caleb Jones, Ryan Mantha, Dylan Wells and Stuart Skinner.
Fans will also be able to see five of the team's seven picks from the 2017 NHL Draft. Skyler Brind'Amour and Philip Kemp will not be in attendance, and both are preparing for their upcoming NCAA seasons.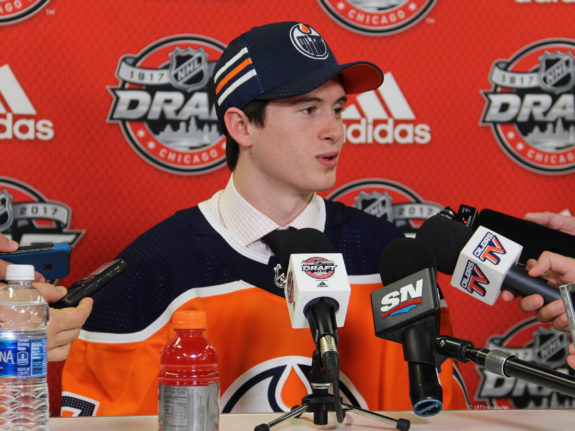 Edmonton has a total of 12 invitees highlighted by Sahvan Khaira, Jujhar Khaira's younger brother. The younger Khaira also attended Oilers development camp back in July. There's a notable Albertan flair to the rest of the invitees as five of them are from the province, and some playing for the WHL's Edmonton Oil Kings.
Goaltenders
Edmonton will take three goaltenders to the tournament in Wells, Skinner, and college free agent signing Shane Starrett. Wells and Skinner have both already had a busy summer skating in Oilers development camp, Team Canada's camp for the upcoming World Junior Championship tournament and now the rest of camp. Both players are expected to return to their respective junior teams this season.
Goaltenders (3)
Player (Age)
HT
WT
2016-17 Club
Status

Stuart Skinner (18)

6'4"

209

Lethbridge (WHL)

2017 3rd Round

Shane Starrett (23)

6'5"

194

Air Force (NCAA)

FA Signing (2017)

Dylan Wells (19)

6'2"

182

Peterborough (OHL)

2016 5th Round
Wells, 19, is the starting goalie for a deep Peterborough Petes team that advanced to the OHL Eastern Conference Final last year. Wells could very well lead the Petes to the Memorial Cup Championship this year. Skinner, 19, was the Oilers third-round pick this summer and also led his team to the Conference Final last year. Both goalies have bright futures and could develop into viable NHL goaltenders down the road.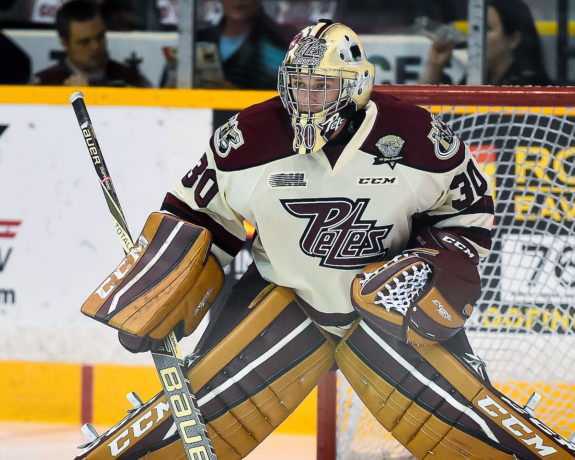 Then there's Starrett, 23, who just wrapped up a stellar NCAA career is ready to turn pro. With sophomore Nick Ellis and free agent signing Ed Pasquale as Edmonton's AHL tandem in Bakersfield (Condors), Starrett will likely play with the ECHL's Wichita Thunder.
At 6'5″ and nearly 200-pounds, Starrett is relatively underrated upside as a pro goaltender. Ellis adjusted well to the AHL last year, Starrett will look to do the same this year.
Defensemen
There's a lot of excitement about a handful of blueliners in the Oilers pipeline. Ethan Bear, Caleb Jones and Ryan Mantha all look to factor into the AHL Condors roster. Add in a seventh round pick from 2015 that's making a lot of noise, Ziyat Paigin, and you've got a logjam of defensemen in the system. Don't get this wrong — it's a welcomed logjam!
William Lagesson will also make an appearance at camp. The 21-year-old just wrapped up three seasons in North America playing in the USHL and NCAA. Lagesson will suit up for Djurgardens in Sweden this season. He signed a three-year entry level contract this April, and his arrival to the Oilers pro system is imminent.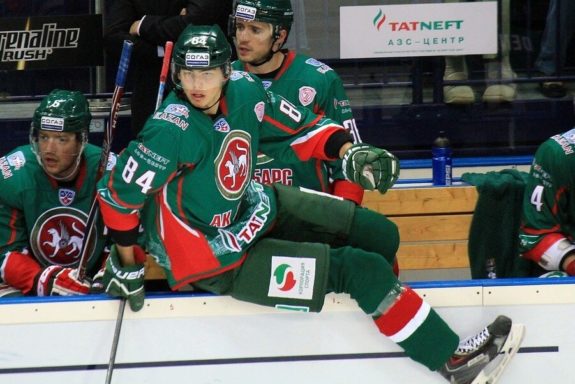 Paigin is an absolute wildcard. He could end up as a No. 4 defenseman at the NHL level or be a depth player at his peak. He's big, he can skate, and he can hammer the puck. Condors head coach Gerry Fleming has to be salivating at the talent he has at his disposal this season.
Defensemen (9)
Player (Age)
HT
WT
2016-17 Club
Status

Ethan Bear (20)

5'11"

198

Seattle (WHL)

2015 5th Round

Caleb Jones (20)

6'1"

192

Portland (WHL)

2015 4th Round

Sahvan Khaira (19)

6'3"

218

Swift Current (WHL)

Invite

William Lagesson (21)

6'3"

197

UMass Amherst (NCAA)

2014 4th Round

Ryan Mantha (21)

6'5"

225

Niagara (OHL)

FA Signing (2017)

Ziyat Paigin (22)

6'6"

209

Ak Bars Kazan (KHL)

2015 7th Round

Dmitri Samorukov (18)

6'2"

180

Guelph (OHL)

2017 3rd Round

Liam Schioler (19)

6'3"

201

Regina (WHL)

Invite

Austin Strand (20)

6'2"

159

Seattle (WHL)

Invite
When it comes to the invitees, all three of Khaira, Liam Schioler and Austin Strand have limited upside. Strand, who split the season between the Red Deer Rebels and Seattle Thunderbirds, has had the most offensive success. However he needs to put on some size if he's ever going to have any success as a pro.
Edmonton management seems to like something about Khaira as he's spent his summer development training with the Oilers. He'll be someone interesting to watch.
Forwards
Hands down, the best prospect at this camp, and arguably in the tournament is Kailer Yamamoto. The Oilers 2017 first round pick has an outside shot at making Edmonton's opening night roster as Lowetide has mentioned all summer. Then there's Tyler Benson who's had an injury plagued few seasons.
Benson, 19, has been limited to just 63 games over the past two seasons but is hoping to be ready in time for the Vancouver Giants season-opener. If healthy he could also make Team Canada for the 2018 WJC. Benson's inability to stay healthy and truly showcase himself hurt his chances last year.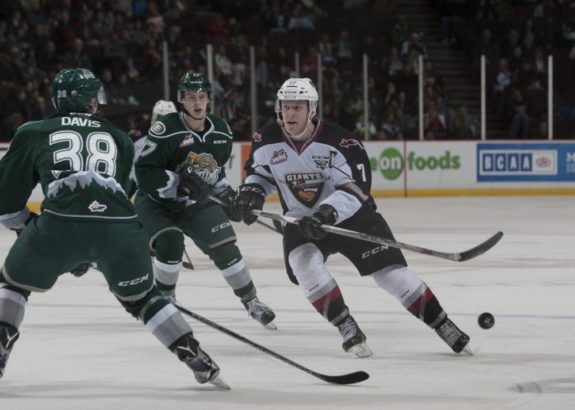 Ostap Safin and Kirill Maksimov will showcase their talents for Oiler fans during this camp as well. Both had solid offensive years with their respective junior clubs and were fourth and fifth round picks in the 2017 NHL Draft. Another intriguing name is Joe Gambardella who was a college free agent signing and will factor into the Condors top six this season.
Gambardella, 24, is one of the oldest players in camp but is coming off scoring 52 points in 41 games in the the NCAA. He made his pro debut with Bakersfield at the end of last season scoring three points in six games. He's a smaller pivot, but he's got a strong frame and could be a significant factor in the Condors success in 2017-18.
Forwards (16)
Player (Age)
HT
WT
2016-17 Club
Status

Lane Bauer (21)

5'11"

192

Kamloops (WHL)

Invite

Tyler Benson (19)

5'11"

197

Vancouver (WHL)

2016 2nd Round

Chad Butcher (21)

5'10"

165

Medicine That (WHL)

AHL Contract

Luke Coleman (19)

6'2"

198

Calgary (WHL)

Invite

Trey Fix-Wolansky (18)

5'8"

165

Edmonton (WHL)

Invite

Joe Gambardella (24)

5'10"

201

UMass-Lowell (NCAA)

FA Signing (2017)

Austin Glover (18)

6'2"

187

Red Deer (WHL)

Invite

Davis Koch (19)

6'0"

165

Edmonton (WHL)

Invite

Kirill Maksimov (18)

6'2"

192

Niagara (OHL)

2017 5th Round

Steven Owre (21)

5'11"

176

Medicine Hat (WHL)

Invite

Grayson  Pawlenchuk (20)

5'11"

185

Red Deer (WHL)

Invite

Evan Polei (21)

6'2"

227

Red Deer (WHL)

AHL Contract

Ostap Safin (18)

6'5"

191

Sparta Praha (CZE)

2017 4th  Round

Brandon Saigeon (19)

6'2"

201

Hamilton (OHL)

Invite

Ethan Szypula (20)

5'11"

170

Owen Sound (OHL)

Invite

Kailer Yamamoto (18)

5'8"

153

Spokane (WHL)

2017 1st Round
There's a duo of Oil Kings that were invited to camp as well. Trey Fix-Wolansky and Davis Koch are both undrafted prospects but saw their stock rise last season. Fix-Wolansky put up 20 goals and 54 points in the WHL, while Koch scored 21 goals and 70 points.
It'll be interesting to see how both prospects play this season as both of them have just one decent offensive year to their name. If either can make massive forward strides maybe they'll pull a Braden Christoffer and end up earning a contract during the season?
However way you slice it, there's tons to keep yourself entertained with Oilers main camp around the corner. The rookies will be a blast to watch, and Yamamoto will be every bit worth the price of admission. If you can't be there, be sure to stream the tournament on the Oilers official website.
Hockey fans the season is fast approaching!