The Edmonton Oilers did quite well at the 2016 NHL Entry Draft a year ago. Edmonton added two potential top six forwards, an intriguing goaltending prospect, and several long-term projects. Jesse Puljujarvi (fourth), Tyler Benson (32nd) and Dylan Wells (123rd) look like the strongest picks of their class for Edmonton.
Puljujarvi played professionally as an 18-year-old splitting the year between the Oilers and their American Hockey League affiliate, the Bakersfield Condors. Benson had the best points-per-game amongst his WHL team, the Vancouver Giants. Meanwhile, Wells had the third best save percentage among OHL goaltenders that played at least 40 games.
Puljujarvi was the lone player to spend time with the main club in 2016-17. He had three points in his first ten games, and after scoring a goal in his the season opener, Puljujarvi didn't score again. It took until January 5th for the Oilers to send him down to the AHL. Up to that point, Puljujarvi had played in just 28 of 40 games and was a healthy scratch 12 times. When he did play, he played sparingly and averaged just 11:15 in ice-time.
One of the early surprises though has been the sixth-round pick (153rd overall) Aapeli Rasanen. He had 25 points in 38 games playing for Sioux City in the USHL.
EDMONTON OILERS 2016 DRAFT PICKS

PICK
PLAYER
2016-17 CLUB
GP

GP

G

W

A

L

PTS

T

P/GP

GAA

PIM

SV%

1-4

RW Puljujarvi

Bakersfield – AHL

39

12

16

28

0.72

10

2-32

LW Benson

Vancouver – WHL

33

11

31

42

1.27

31

3-63

D Niemelainen

Saginaw – OHL

59

3

6

9

0.15

40

3-84

D Cairns

Powell River – BCHL

18

2

14

16

0.88

26

3-91

D Berglund

Skelleftea – SHL

47

0

9

9

0.18

10

5-123

G Wells

Peterborough – OHL

52

33

15

2

3.07

.916

5-149

LW McPhee

Boston College – HE

39

2

8

10

0.26

42

6-153

C Rasanen

Sioux City – USHL

38

7

18

25

0.66

30

7-183

D Desharnais

Providence – HE

32

2

1

3

0.09

22
Jesse Puljujarvi
Right Wing | 1st Round (4th) | Draft  Stock: ▼
After the Oilers had sent Puljujarvi down to the AHL, he became a bit of a project for Condors head coach Gerry Fleming. Fleming emphasized that learning to play a full 200-foot game would significantly improve Puljujarvi's game. He scored 28 points in 39 games with Bakersfield and played a top-six role on an offensively challenged Condors team.
It was an up and down year, and he may not have had the year Auston Matthews (first) or Patrik Laine (second) might've had, but he wasn't the only other top five pick that took a step back. Pierre-Luc Dubois (third) scored 55 points in 48 QMJHL games, and saw his points-per-game drop from 1.60 in his draft year, to 1.15. Expect Puljujarvi to bounce back, even if that means another full season in the AHL.
Tyler Benson
Left Wing | 2nd Round (32nd) | Draft  Stock: ▼
The Oilers signed Benson to a three-year entry level contract (ELC) this season and have high hopes for him. The early results are frustrating even for Benson who admits himself he needs to stay healthy. In the last two seasons, he's played just 63 of 144 WHL games with the Vancouver Giants and has missed 81 games. This season he was plagued with a groin injury and missed 39 games.
Despite that, he's been a better points-per-game player and improved from 0.93 in his draft year to 1.29 this season. So the real question with Benson is if he can stay healthy in the long-term. Injuries have been an issue for years, it was a reason that factored into him losing his "exceptional status" with the CHL as a 15-year-old, and a reason he fell from being projected as a can't miss mid-first round pick at one point.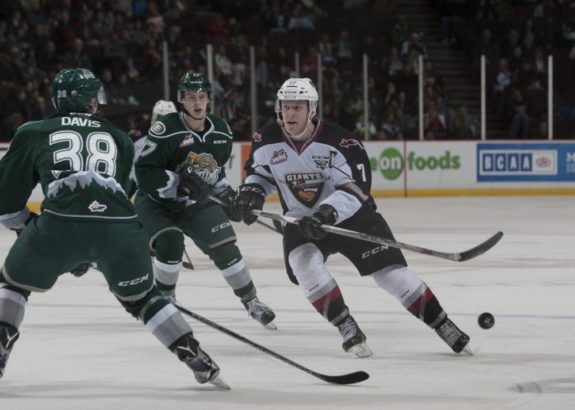 Markus Niemelainen
Defense | 3rd Round (63rd) | Draft  Stock: ▼
The first thing that stands out about Niemelainen is just how big this guy is. He's listed at 6'5″, 200 pounds and was seen as a real value pick by Peter Chiarelli and the scouting staff. He's projected as a defensive defenseman with some limited offensive defenseman. Niemelainen's a good skater for someone of his size, shoots the puck well and is very active in his defensive end.
In a year where you'd expect to have seen Niemelainen take another step forward in developing his offensive game, he fell backward. He scored 27 points in 65 games last year, but only put up nine in 59 games this season. That said Saginaw was one of the worst teams in the OHL, and their offense ranked within the bottom five of the league. On a positive note, he represented Finland at the 2017 World Junior Championships. He'll return to HPK (Liiga) next season and has signed a two-year contract.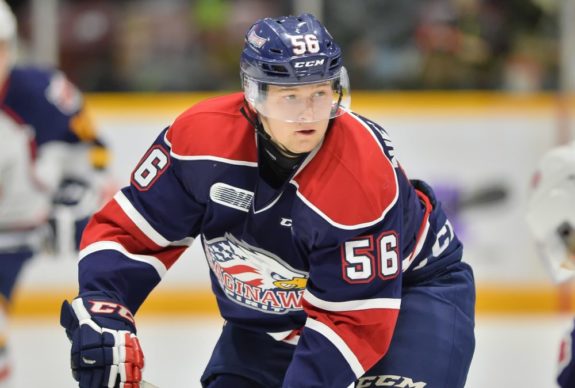 Matt Cairns
Defense | 3rd Round (84th) | Draft Stock: ▲
Cairns started the year with Fargo Force (USHL) before joining the Powell River Kings (BCHL). Cairns showed a bit of an offensive flair this year. He scored 16 points in 18 games while playing top-pairing minutes for the Kings. With coach Kent Lewis, the goal was to simplify Cairns' game and build upon his excellent skating and puck-moving abilities.
At 6'2″ and 205 pounds, he's got a decent size for an NHL defenseman. He's committed to Cornell University (NCAA) for next season, so he's another two-three years from joining the professional ranks. If for some reason he decides to leave college hockey and play in the CHL, his rights belong to the Peterborough Petes (OHL).
Filip Berglund
Defense | 3rd Round (91st) | Draft  Stock: ▲
The last of the Oilers three defensemen taking in the third round was Berglund. After being eligible for the 2015 NHL Draft, Berglund jumped from 11 points to 41 the following year. The early indications suggest that Berglund was one of the biggest steals of the 2016 Draft. At 6'3″ and 209 pounds, he's a big two-way defenseman. He's got good mobility, but his hockey sense might be his greatest attribute. He played his first full year in the SHL with Skelleftea AIK.
He's reported entering the final year of his contract with Skelleftea. So if you're expecting his arrival in North America, wait another year. If you're worried about the decline in offensive production, don't be. Plenty of young defensemen in Sweden aren't overly productive. Even Adam Larsson and Oscar Klefbom had low scoring numbers before coming to North America. Berglund could be an absolute stud.
https://www.youtube.com/watch?v=r2W86grAfJ4&t=69s
Dylan Wells
Left Wing | 5th Round (123rd) | Draft Stock: ▲
When NHL Central Scouting released their final rankings for the 2016 NHL Draft, Wells ranked tenth amongst North American goaltenders. Fast forward a year where Wells is now a starter, he's looking like one of the best goaltenders of his draft class. Some would even go as far as saying the Peterborough Petes goalie is one of the best in the OHL. Wells' .916 save percentage ranked fifth best in the OHL among goalies that played a minimal of 30 games.
At 6'2″ and 185 pounds, he's got the right size for a future NHL goaltender, and some are suggesting he's the Oilers' future starter. He's a very calm, collected goalie and rarely overreacts in the net. Wells was a key reason the Petes marched all the way to the OHL Eastern Conference Final. We could be looking at another long playoff run next spring for the Petes as well, so Wells will get a fair share of attention next season. Edmonton has signed him to a three-year entry-level contract as well, making him the third player from this draft class to earn a contract.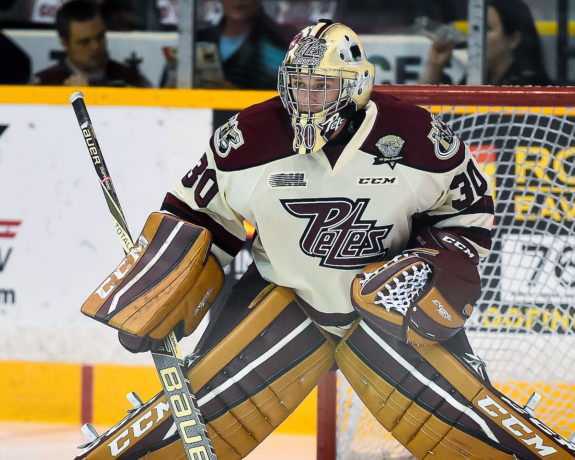 Graham McPhee
Left Wing | 5th Round (149th) | Draft Stock: ▲
McPhee was graded as a "C" level prospect by Central Scouting and projected as the 110th best North American skater. After being drafted last year, he left the US National Development Program and joined Boston College (NCAA). In his freshman year, he scored ten points in 39 games for the Eagles. McPhee grew two inches and is now listed at 6'1″ and 174 pounds.
The scouting report on McPhee says that his great attribute might be his compete level. He's great on the forecheck, battles hard, has great control of the puck down low, keeps his feet moving and can be frustrating to deal with for opposing defenders. His two-way game is quite strong, and he likely projects as a future depth player for the Oilers. It's unconfirmed, but the belief is he'll play his sophomore season at Boston College.
Aapeli Rasanen
Center | 6th Round (153rd) | Draft Stock: ▲
Rasanen and his team, the Sioux City Musketeers, lost in the USHL finals. Rasanen played in their top six alongside Eeli Tolvanen who's projected to go in the first round of the 2017 NHL Draft and scored 25 points in 38 games. He seems quite committed to making the most of his opportunity in North America after spending his entire career so far playing for Tappara in Finland. After his season in the USHL, Rasanen will play alongside McPhee for Boston College (NCAA) next season.
He's been a pleasant surprise and a player that looks like an actual value pick for the Oilers. He scored a point per game in six games at the World Junior Championship this season and was named one of Finlands top three players for the tournament. He's a solid two-way player, and he's been utilized on both special teams for Finland and with his club team. It's also been said he's great on faceoffs and handles a lot of tough assignments defensively. Rasanen could turn out to be a valuable two-way player for the Oilers, especially if their faceoff woes continue into the future.
Vincent Desharnais
Defense | 7th Round (183rd) | Draft  Stock: ▼
With their final pick, the Oilers selected a towering and imposing defenseman in Desharnais. At 6'6″ and 210 pounds Desharnais is a prototypical defensive defenseman. There's virtually no offensive end to his game. The hope is that he develops into a shutdown blueliner, however, his skating has been a significant question mark. It might be one of the reasons he's taking slower to develop.
Think of the Desharnais pick as the Oilers taking a flyer on the kid, with a lower probability of him turning into a valuable asset down the road. He was passed over twice in the draft, and the now 21-year-old will return to Providence College (NCAA) for another season. In 51 career games, he's scored just five points but put up 30 penalty minutes.