This article was originally posted in June, 2016.
With all the trade talk and hype surrounding draft prospects and established NHL players alike entering draft weekend, the two-day affair went down surprisingly timidly. The Toronto Maple Leafs, as expected, used their first top draft selection since 1985 to select blue-chip centre Auston Matthews. The Winnipeg Jets, winners of the second draft lottery slot, used their second overall pick to take breathtaking Finnish sniper Patrik Laine.
Players long rumoured to be on the move traded in their sweaters, from Andrew Shaw to Lars Eller, and even the now-retired Pavel Datsyuk. There was a fair amount of movement within the draft order itself, and it resulted in several clubs emerging from the annual draft with a better outlook on their respective futures. Here are the winners and losers of the 2016 NHL Draft weekend.
2016 NHL Draft Winner: Toronto Maple Leafs
After Toronto's first last-place finish since 1985, you'd think that fans of the hapless Leafs would have a gloomier outlook on the future. That's not the case, as the first overall pick awarded to the Maple Leafs was used to select American sniper Auston Matthews.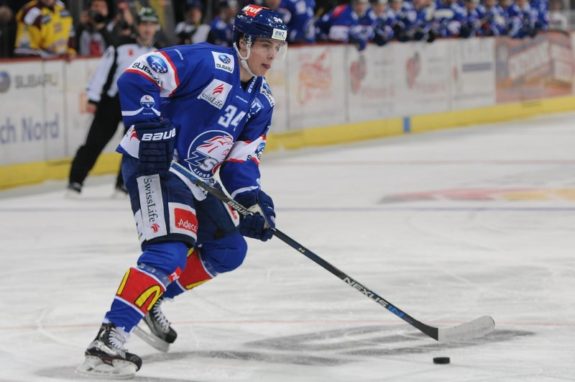 It's tough to declare the Leafs anything but a winner after landing (arguably) the top player in the draft, but the good times didn't stop there for GM Lou Lamoriello and his braintrust of big name hockey executives.
Toronto also selected an additional 10 prospects throughout Day 2 of the draft, adding WHL scoring champion Adam Brooks and a pair of World Under-18 bronze medalists in Joseph Woll and James Greenway.
Their biggest coup of the day, however, came in a trade with the Columbus Blue Jackets mere hours after the draft had concluded.
Toronto dealt Scott Harrington, a depth defenseman acquired in the Phil Kessel trade, to the Blue Jackets in exchange for former first rounder and top prospect Kerby Rychel. While it was no secret that Rychel was unhappy with his role in Columbus, he is a perfect fit for the Maple Leafs, both in terms of his skill set and his relatively young age.
Toronto left the draft in Buffalo with myriad prospects and a couple players ready to step into the lineup immediately — a great weekend for Lamoriello and Maple Leafs president Brendan Shanahan.
2016 NHL Draft Loser: Columbus Blue Jackets
On the other side of the table, the Blue Jackets were a team that made a number of head-scratching moves during draft weekend.
For months leading up to the draft most were speculating that the top three selections were all but set in stone, with TSN's Bob McKenzie going as far as to say that no scouts he surveyed had anyone other than Matthews, Laine and Puljujarvi in their top three rankings.
However, Columbus was dead-set in their quest for a potential top line centre, as they bypassed the sky-high ceiling of Jesse Puljujarvi for Cape Breton forward Pierre-Luc Dubois.
While Dubois is a fine young forward with the potential to develop into a top-tier centre down the line, Puljujarvi's fantastic season in which he captured World Junior Championship MVP and a gold medal and a bronze medal in the SM-liiga has him primed to make a more substantial impact in the NHL as soon as next season.
The Blue Jackets were also without their picks in the fourth and fifth rounds, leaving them with just five picks in 2016.
They look to have picked up a steal with diminutive Russian winger Vitaly Abramov with the 65th pick, as the QMJHL standout racked up 93 points in his rookie season with the Gatineau Olympiques. However, they used their lone second round selection to draft Andrew Peeke, a towering defenseman who was projected to go much later than the Blue Jackets' slot at 34th overall.
Compounding their problems was waiting until after the draft concluded to move Rychel, arguably their most valuable trade chip, and missing out on acquiring an additional draft pick in 2016.
2016 NHL Draft Winner: Arizona Coyotes
The Coyotes made arguably their biggest splash of their offseason before the draft even started, as they hired the youngest general manager in league history in 27 year old Canadian John Chayka.
The young GM was immediately faced with the spotlight, as trade rumours surrounding Auston Matthews and his hometown Coyotes immediately surfaced (the rumours were later shot down by Chayka). Conner Bleackley, whom the Coyotes had landed in a trade deadline deal for Mikkel Boedker, wasn't signed by Chayka in the offseason, and Arizona was awarded a compensatory selection in the second round in exchange for allowing Bleackley to re-enter the draft.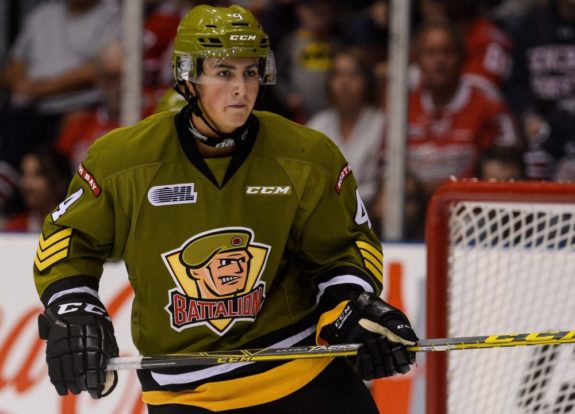 The Coyotes immediately made the most of their limited picks in 2016, taking super-skilled centre Clayton Keller with the seventh overall selection, and adding yet another dynamic offensive threat to their stacked young forward corps.
With highly-touted defender Jakob Chychrun surprisingly sliding out of the top ten and all the way to the Detroit Red Wings at 16th overall, Chayka pulled the trigger on a deal. Capitalizing on an abundance of cap space, the Coyotes agreed to take on the big salary cap hit of the retiring Pavel Datsyuk in exchange for trading up four draft slots for the privilege of taking the beleaguered blueliner.
The good fortune didn't stop there, however, as the Coyotes were able to address their lack of young blueliners again, dealing their 37th overall pick to the Tampa Bay Lightning for recent first rounder Anthony DeAngelo, the OHL's Most Outstanding Defenseman in 2015. They were also able to snag a prospect who made the OHL's First All-Star Team in his rookie season, tagging Cam Dineen with the 68th overall pick.
John Chayka was able to seriously address the most glaring organizational weakness by adding three quality young defenders, as well as grabbing a prospect with one of the highest ceilings in the entire draft.
2016 NHL Draft Loser: St. Louis Blues
Coming off of their deepest playoff run since 2001, the St. Louis Blues and retiring head coach Ken Hitchcock are in win-now mode. With starting goalie tandem Brian Elliott and Jake Allen, the Blues came within one win of a berth in the Stanley Cup Finals.
With a deep group of forwards and defenders, the Blues look to be an early contender for the Stanley Cup next season. However, they dealt Elliott, the NHL's save percentage leader in 2015-16, to the Flames for the 35th selection in 2016.
https://twitter.com/davelozo/status/746498050303098882
Considering that the early second round prospect the Blues acquired in return for Elliott might not be an impact player in St. Louis for three or more seasons (if ever), this move, that leaves the Blues much weaker in net, is a questionable decision at this stage of St. Louis' window of contention.
With the playoffs proving how important goaltender depth is to successful teams, going into the season with Jake Allen and an unproven or cheap backup isn't ideal for a team with Cup aspirations.
The Blues also packaged a third round pick in a trade with the Washington Capitals to move up two spots in order to select towering centre Tage Thompson.
Thompson was one of the youngest players in NCAA hockey last season, and his raw skill set may still be two to three years away from making an impact with the Blues. In that time, the Blues could see Kevin Shattenkirk, David Backes, Alexander Steen, and Paul Stastny depart in unrestricted free agency.
While Thompson could prove to be a rare commodity as a big, strong, skilled centre, the Blues would've been better suited selecting a player that could help their championship aspirations sooner rather than later.
2016 NHL Draft Winner: Edmonton Oilers
The Blue Jackets' loss is the Oilers' gain, as near-consensus top three prospect Jesse Puljujarvi fell to the fourth overall slot with Columbus selecting Pierre-Luc Dubois in the third slot.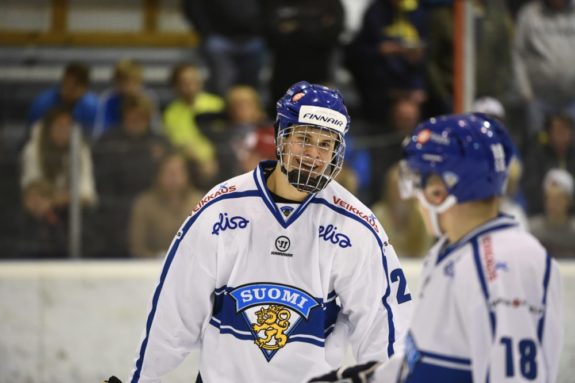 When the Oilers fell out of the top three draft lottery slots, Oilers fans began debating whether Matthew Tkachuk or Dubois was a better fit with their current forward group. Some even suggested the Oilers reach for one of the top defenders in Olli Juolevi or Jakob Chychrun. However, that all went out the window when one of the most highly-regarded Finnish prospects in history fell into the lap of general manager Peter Chiarelli.
Puljujarvi will make for a deadly combo with franchise centerpiece Connor McDavid, as the big, all-around winger is the perfect two-way complement to the cast of offensive stars the Oilers have assembled. As Sportsnet's Jonathan Willis points out, Puljujarvi's puck possession game is perfect for the modern NHL and is the antidote for a major area of weakness in Edmonton.
Jesse Puljujarvi led all Karpat forwards with a 57.5% Corsi rating last season. https://t.co/q3wkyM5khl

— Jonathan Willis (@JonathanWillis) June 24, 2016
The Oilers also made some savvy additions in the later rounds, adding former WHL 1st overall pick Tyler Benson, towering Finnish defender Markus Niemelainen, and some depth to the goaltending pool with Peterborough netminder Dylan Wells.
For a team that failed to live up to expectations in 2015-16, Peter Chiarelli was able to address a couple areas of weakness in his prospect pool and add a much-needed elite two-way forward to his club.