Considering the rich history of hockey in Laval, it is a bit of a surprise that only 18 National Hockey League players call it home, and only six of these players were worthy for our starting lineup including three forwards, two defensemen and a goalie.
The original goal was to put together an "All-Star team" of Laval-born NHL players but you'd have a hard time picturing guys like Daniel Laperriere, J.F. Fortin and Maxime Macenauer as "All-Stars" considering they have a combined 16 NHL points in 148 games.
Because the list is restricted to Laval-born players, Mario Lemieux is not on it. He played junior hockey in Laval but grew up in Ville-Emard. There's no Mike Bossy, either, despite that the local junior team offered to pay half of his family's living expenses if he moved there. The goal-scoring forward grew up in Ahuntsic.
Forward: Martin St. Louis
Stats: 1,134 GP, 391 G, 642 A, 1,033 PTS
Notable honours: Stanley Cup champion (2004), Olympic gold medallist (Sochi 2014)
Martin St. Louis is far and away the best Laval-born player the city has to offer. The diminutive yet skilled speedster is the only player with over 1,000 points on the list and is the most decorated. He is a Stanley Cup Champion, Olympic gold medallist, five-time NHL All-Star, Hart and Lester B. Pearson (now the Ted Lindsay Award) award winner, a two-time Art Ross winner and three-time Lady Byng Trophy winner.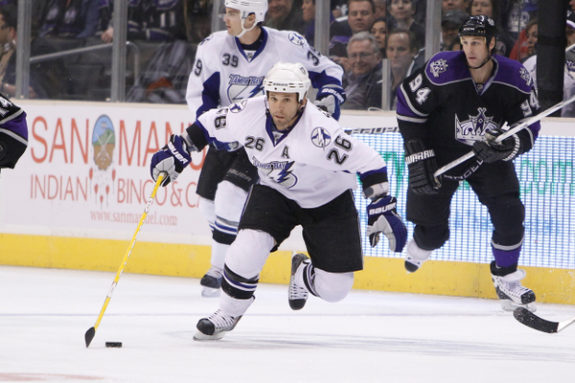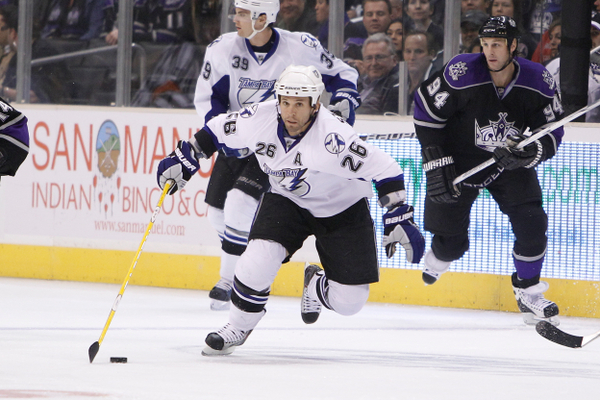 That's not bad for a 5-foot-8 undrafted forward who may go down as the greatest waiver wire pickup ever.
Forward: Pascal Dupuis
Stats: 871 GP, 190 G, 219 A, 409 PTS
Notable honours: Stanley Cup champion (2009, 2016*)
Dupuis bounced around from Minnesota to the New York Rangers and Atlanta before winning a Stanley Cup as a member of the Pittsburgh Penguins in 2009. The second Stanley Cup champion on our list, Dupuis was helpful in a secondary role for most of his career. The Laval-born forward suffered from blood clots which derailed his final season in 2015-16, and forced him to retire. Doctors reportedly told Dupuis that playing through the clots could kill him.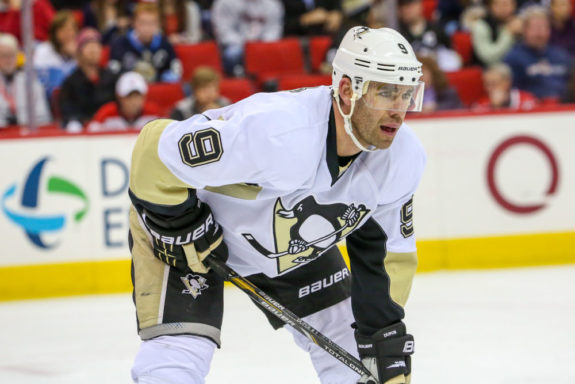 *The Penguins won the Cup at the end of the 2015-16 season and shortly after Sidney Crosby and Trevor Daley had their turn lifting the trophy, Dupuis was handed the Cup.
Forward: Donald Audette
Stats: 735 GP, 260 G, 249 A, 509 PTS
Notable honours: NHL All-Star (2001)
Donald Audette burst onto the scene with 31 goals in his first full NHL season with the Buffalo Sabres in the 90s. Following a decade spent mostly in upstate New York, Audette played for the Los Angeles Kings and the Atlanta Thrashers. It was in Atlanta where he earned an All-Star nomination during the 2000-01 season.
Audette was traded back to the Sabres later that year before moving on to the Dallas Stars, Montreal Canadiens and the Florida Panthers.
Defenseman: Steven Finn
Stats: 725 GP, 34 G, 78 A, 112 PTS, 1724 PIM
Notable honours: Drafted 57th overall by the Quebec Nordiques (1984)
Steven Finn is arguably the toughest skater of the five listed. Undoubtedly, he's our biggest bruiser. The 13-season veteran amassed over 1,700 penalty minutes as a 6-foot-1 defenseman who didn't hesitate to drop the gloves. He spent most of his career with the Quebec Nordiques, even sharing the captaincy with Joe Sakic during the 1990-91 campaign.
Finn spent the last few years of his career with the Tampa Bay Lightning and the Los Angeles Kings before hanging up his skates with the Long Beach Ice Dogs of the International Hockey League.
Defenseman: Simon Després
Stats: 193 GP, 6 G, 37 A, 43 PTS
Notable honours: Memorial Cup Champion (2011)
The young d-man was a highly-rated Quebec Major Junior Hockey League prospect prior to being selected 30th overall by the Penguins in 2009. He was on the verge of becoming a mainstay in the NHL before a concussion sidelined him for half of the 2015-16 season.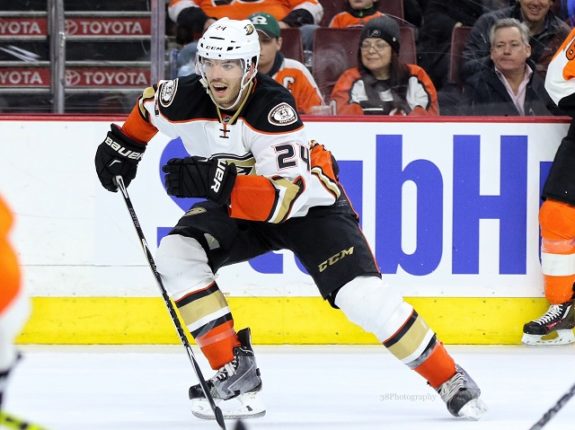 The Anaheim Ducks bought him out this past June, but he's since resurfaced with HC Slovan Bratislava of the Kontentinal Hockey League.
Goalie: José Théodore
Stats: 648 GP, 286 W, 253 L, 69 T, 2.68 GAA, .909 S%
Notable honours: Hart Trophy and Vézina Trophy winner (2002), NHL All-Star (2004)
Theodore earned his place on this team simply by making one of the greatest saves ever made.
Not that he needed the save to make the list. A former Hab, Washington Capital, Colorado Avalanche, and Florida Panther, the netminder has statistics that make him the best choice for the starting goaltender of our Laval team.
Theodore has the lengthiest NHL career of any Laval goaltender in consideration amassing over 280 wins and 33 shutouts in his career. He also had an NHL All-Star appearance in 2004 and we can't forget about his 2001-02 season when he received both the Vézina and Hart Trophies.
Journalist. Broadcaster. Podcaster.
Contributor to The Hockey Writers.