This is the second installment of my three-part series on the Vancouver Canucks' 'X' factors for the coming, 2017-18 season. Erik Gudbranson takes the spotlight for this edition and will hopefully take some spotlight with him on to the ice when hockey returns.
Gudbranson is a towering defenceman, standing at 6-foot-5 and around 220 pounds, and presents a physical presence that has been lacking with the Canucks for far too long. Being the third overall selection in the 2010 entry draft, Gudbranson has a lot of expectation on him to blossom into a premier shutdown defender — something the Canucks need in their top four.
After a five-season ride with his draft team, the Florida Panthers, the big blueliner was shipped off to the Canucks due to cap trouble and surplus on defence, but he quickly ran into serious wrist troubles and required surgery. He is now ready to bounce back and pick up where he left off in Florida.
Canucks' Gudbranson aims to bounce back after poor season, wrist injury https://t.co/dk10dyvFYf pic.twitter.com/WCj9lNFUxO

— Province Sports (@provincesports) September 14, 2017
What to Know
As previously mentioned, Gudbranson is a third overall pick and an asset to any blue line. His monstrous size and physicality make him a tough opponent to battle with in the corners and in front of the net and it's those qualities that will earn him penalty-kill minutes as well as lots of time against opposing star players.
Gudbranson's play in his rookie season helped lead the Panthers to their first playoff birth in 11 years — he contributed two goals and eight points during the season but he's known for tallying other kinds of statistics that are just as important but not as publicised. In five seasons with the Cats of Florida, the big man logged 754 hits, got in front of 344 shots and averaged 17:46 of ice time per game.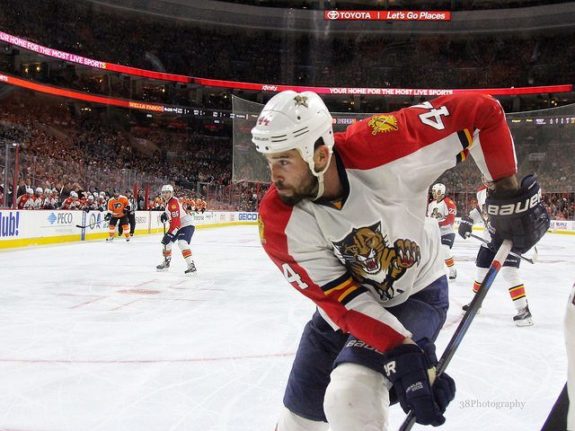 Gudbranson played only 30 games in a Canucks sweater before being plagued with a season-ending injury, but he notched one goal and five helpers, putting him on pace for his best statistical season yet — his best was 13 points in 76 games with the 2014-15 Panthers. Despite his low professional point totals, Gudbranson has proven an ability to find the score sheet during his days in the OHL with the Kingston Frontenacs that saw him tally 79 points in 148 games.
What to Expect
A lot has changed on the Canucks' back end since Gudrbanson was sidelined, and his role will have certainly changed or become more specified, if you will. With the addition of Michael Del Zotto and the offensive development of Ben Hutton and Troy Stecher, Gudbranson's role will be highly defensively focused and he will likely not see too much offensive zone time.
Gudbranson will probably be a first-unit fixture on the penalty kill and match up, as often as possible, against opposing teams' first lines. He will be a defensive pillar and be expected to present a physical force that is very difficult to play against.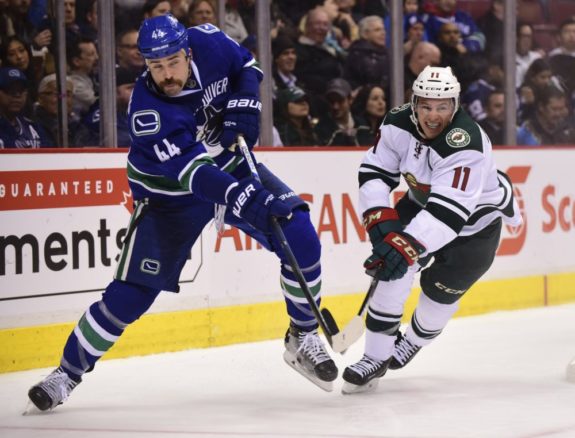 After a rusty start to this coming 2017-18 season, I expect Gudbranson to play his best hockey to date. Being only 25, he still has room for growth and still has potential to be one of the better shutdown defenders in the league, but of course nothing is certain and one can only be hopeful.
If Gudbranson can remain healthy, put up 20 or more points and log heavy shutdown minutes this season, he can be an 'X' factor the Canucks need to make a push for one of the last playoff spots out of the Western Conference. We will need to see how he bounces back from his wrist surgery in a game situation but so far in training camp, he has been all smiles and seems ready to get back to business.
Matt is a longtime fan, player and student of the game of hockey. Broadcast and Online Journalism student at the British Columbia Institute of Technology.