Goaltending was a frequent topic of conversation last season and not in the way Winnipeg Jets management or fans anticipated.
Connor Hellebuyck performed admirably for a young netminder, earning 26 victories in 56 starts. Michael Hutchinson was between the pipes for the majority of the remainder of games but appears a likely candidate to be dealt.
Whether the inconsistent goaltending was a shortage of talent or lack of experience, it plain wasn't good enough. Picking up Steve Mason was of utmost importance. The veteran will help transition Hellebuyck in a steadier manner rather than throwing him right in the fire.
Mason will be battling Hellebuyck for the number-one job but is aware his secondary duty is bringing the youngster along. "We're both in a position where we want to play, want to get better. I see a lot of potential in him and hopefully, I can help him realize that potential as well," said Mason.
Though adding another goaltender to the mix was crucial, there's a defenceman that is going to be playing in front of him that isn't only the Jets' tallest addition heading into this season but also the most impactful.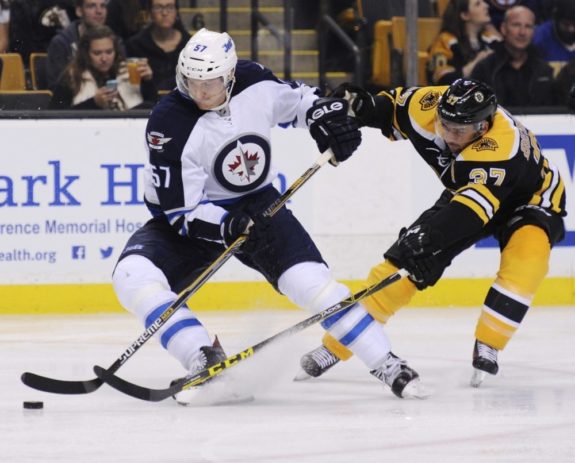 Minute-Munching Myers
Need a cycle-stopping, body banging, two-way defender with an active stick? Call Tyler Myers.
Hip and groin issues limited Myers to just 11 games last season but he still chipped in an impressive five points in his restricted action. The Texas-born 27-year-old was on pace for 37 points, which would have tied his second-best statistical campaign.
The 2009-10 Calder Trophy recipient doesn't only produce offensively but excels at the finer details as well. Averaging the 21st-most time on ice per game (TOI/G) among defencemen over the last three seasons is a start.
"We are hoping a healthy Tyler (Myers) and the addition of Kulikov will allow Buff (Bygulien) to play fewer minutes." Cheveldayoff #WJets

— Jason Gregor (@JasonGregor) September 13, 2017
Myers' size is also invaluable in the Western Conference grind. He stands at 6-foot-8 and clocks in at 229 pounds. Besides Toby Enstrom, the Jets dress an extremely lean group of defenders.
This bulky blue line is chalked full of fleet-footed puck movers. If given the privilege of health, this talented bunch can compete with the best of them. They will limit chances on Hellebuyck and Mason, which could be essential if the goaltending proves to be average again.
Tyler the Creator
Myers in the lineup for a full season will benefit and compliment the Jets' overabundance of young talent. Possessing the ability of a quick first pass out of the defensive zone cannot be overlooked, nor should his ability to set up a one-timer for a player like Patrik Laine.
It is expected that Myers will start the season on a pairing with the newly acquired Dmitry Kulikov. Their styles should balance each other out with Kulikov playing a defensive game, giving Myers the go-ahead to jump up on the rush.
Look for head coach Paul Maurice to dress the 2008 12th overall pick in exhibition games early and often. The key for Myers will be getting back into game shape, which is much different than offseason training.
While lower-body injuries prevented Myers from finding his rhythm this season, he also dealt with a deeply personal issue off the ice which required a leave of absence from the team. His son, Tristan, was born five weeks premature.
Thankfully, Tristan is healthy at home with his new parents and things are looking up. "Growing like a weed," said Myers. Well, if he's anything like his dad, maybe growing like a tree would be more appropriate.