Tampa Bay Lightning captain Steven Stamkos will be looking to bounce back this season after tearing his lateral meniscus in a game against the Detroit Red Wings last November. This was a detrimental loss for the Bolts, as it became the third time in his career that the captain suffered a long-term injury. Stamkos missed the rest of the season and the Lightning missed the playoffs in what was a season both sides would like to forget.
On Thursday, the Lightning had to take part in medical tests and a media day, which of course meant answering a lot of questions about Stamkos's health. Coach Jon Cooper had a notable quote that summed up the captain's presence, saying, "He's walking around like a man on a mission." This is something Lightning fans should be excited to hear.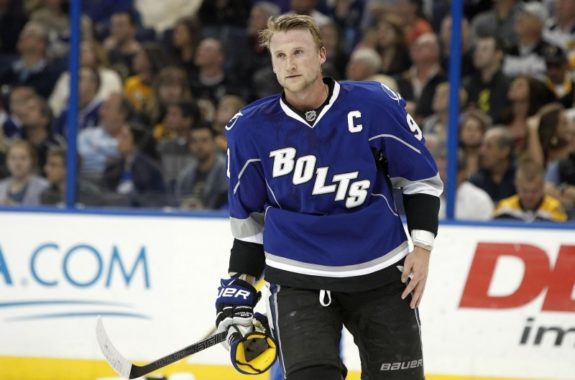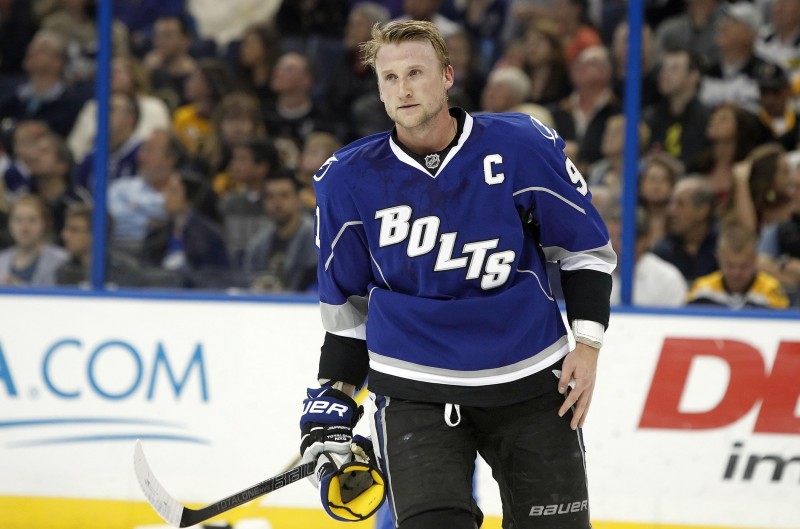 With training camp opening on Friday, Stamkos made his first appearance in a full team practice since tearing his meniscus. The main focus for the Lightning captain during this camp is to make sure he's comfortable being on the ice at high intensity and ready to go when the regular season begins.
Stamkos Starting the Season Healthy
Stamkos is going to start this season healthy, which is great news for the Lightning and their fans. However, it remains an uncertainty whether the Lightning captain is 100 percent given that he is yet to see any action since his injury. Despite needing to play in a few preseason games before he can consider himself game-ready, Stamkos admitted he's in the best shape since his surgery. He participated in the team's first practice at the Ice Sports Forum in Brandon on Friday.
#tblightning @RealStamkos91 vs @86Kucherov. Stamkos has looked good so far in a first practice filled w net battle drills/contact pic.twitter.com/8EifgFaKbN

— Joe Smith (@JoeSmithTB) September 15, 2017
Although Stamkos hasn't played in nearly a year, he seems fully confident that he can come back into the lineup the same player he was before his injury. Being able to fully participate in the team's practice drills is an encouraging sign for the Lightning and their fans. It's likely that we see the Lightning captain play in more games than usual this preseason to make sure he's in full form. Stamkos will play in his first game on Tuesday when the Lightning kick off their preseason against the Carolina Hurricanes.
Reunited With Old Lightning Linemates
Stamkos reunited with his previous linemates Vladislav Namestnikov and Nikita Kucherov at Friday's practice. The trio played together for a short period last season until Stamkos suffered his injury.
Finding someone to play with Stamkos since the departure of Martin St. Louis has been a challenge for the Lightning, but they may have found one in Kucherov. Both Stamkos and Kucherov developed a noticeable chemistry last season. It comes as no surprise to see them reunited in training camp in hopes of reigniting that chemistry. With an elite player like Kucherov on his wing, Stamkos shouldn't have any trouble scoring at his expected rate.
There's no guarantee that Stamkos will finish the season with the same linemates that he starts with. Nonetheless, this line could turn out to be one of the most dangerous in the league. Having Stamkos return with linemates that he's comfortable with is a smart decision, and the trio will be looking to pick up from where they left off last season.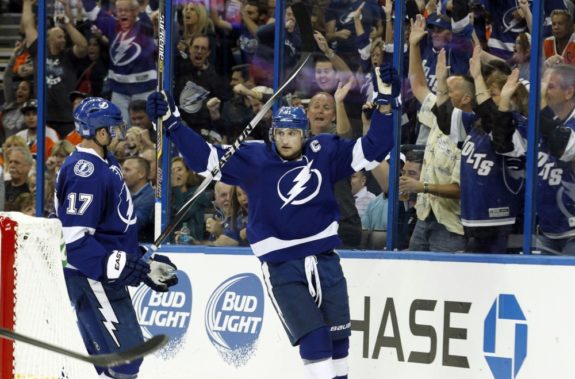 Focusing on Expectations
Following a disappointing 2016-17 season, it's now time for Stamkos to focus on meeting his expectations. Having missed 65 games last season, the two-time Rocket Richard Trophy winner is as hungry as he's ever been to get back on the ice. The biggest goal for the Lightning this season is to get back into the playoffs and contend for a Stanley Cup. In order for Stamkos to play a role in that, he'll need to get back to leading the Bolts offensively and through his leadership on and off the ice.
After all that he's been through this past year, it's safe to say that Stamkos is one motivated hockey player heading into the 2017-18 season. At the moment, it's a step-by-step process for the Lightning captain to make sure he reaches full strength in time for the start of the regular season. Assuming he has a healthy season, Stamkos will be looking to have a big comeback and return to being one of the league's most prolific goal scorers.
Tampa Bay Lightning Contributor for The Hockey Writers and Writer for TheSportster.