The Tampa Bay Lightning will be without forward Steven Stamkos for at least four months after he undergoes surgery on his torn right lateral meniscus, according to a report by TSN's Bob McKenzie.
Can confirm @TSNBobMcKenzie report on Steven Stamkos surgery. Safe estimate is four month recovery time #tblightning

— Joe Smith (@JoeSmithTB) November 17, 2016
McKenzie reported that Stamkos is headed to Vail, Colorado, to undergo arthroscopic surgery with Dr. Robert LaPrade and a precise return time for the Lightning captain is not yet known. McKenzie added that typical recovery time falls within four to six months for this procedure.
While TB lists Stamkos as out indefinitely, it's believed best-case recovery timeline for this procedure is four months, possibly longer.

— Bob McKenzie (@TSNBobMcKenzie) November 17, 2016
The news is a major loss for a Lightning team that will play their third game in a five-game road trip against the Buffalo Sabres on Thursday. The Lightning started off the season by going 5-1, but battled through a stretch of just one win in five games before winning four of their last six contests.
Stamkos currently leads the Lightning with nine goals and is second on the team in scoring with 20 points. He was playing some of the best hockey of his career before being injured midway through the first period in Tuesday night's 4-3 win over the Detroit Red Wings. The injury occurred just after Stamkos leaned into Red Wings forward Gustav Nyquist who was carrying the puck along the boards at the time. After falling onto the ice and rolling, Stamkos got back up momentarily before turning his body and immediately grabbing at his right knee area in noticeable pain. He left the game and did not return, and was considered out "indefinitely" as of Wednesday.
Stamkos has been centering the first line with wingers Nikita Kucherov and Vladislav Namestnikov in what has been the team's most productive unit in 2016-17. Kucherov leads the team with 21 points in 16 games and has been very productive in the month of November, with 13 points in just eight games, including four multi-point outings.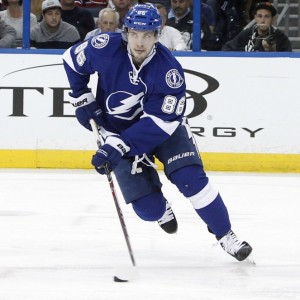 The loss of Stamkos will be a significant test for the Lightning early in the season, but one that they have faced before. The Lightning were lost Stamkos to a blood clot injury at the tail end of the 2015-16 regular season, but earned a trip to the 2016 Eastern Conference Final. In that series, the Lightning came within one win of a return trip to the Stanley Cup Final and Stamkos played limited time in his return to the team in the decisive Game 7. They also played the series without starting goaltender Ben Bishop, who lost to injury in Game 1.
The Lightning relied heavily upon the play of Nikita Kucherov and Tyler Johnson during the team's 2016 playoff run and look for much of the same this time around. Kucherov is off to a hot start this season, while Johnson has been slow out of the gate with just nine points in 17 games. Johnson battled a lingering wrist injury through the first half of last season, but once healed, had a strong end to 2015-16 and posted seven goals and 10 assists in 17 playoff games.
Lot of calm, confidence in #tblightning room. Determined to get into playoffs so they can welcome Stamkos back. Been there kind of attitude

— Joe Smith (@JoeSmithTB) November 17, 2016
While the Lightning will be without Stamkos for the long-term, the team does expect Jonathan Drouin to return to the lineup on Thursday. Drouin has been out since Nov. 1 with what was being called an upper-body injury and had registered five points in 10 games. He was benefiting from his role as a top-six forward with the team and was also settling into playing the point on the power play. He will take on an increasingly more important role for the Lightning in his return, given Stamkos' injury.
#tblightning Cooper said @jodrouin27 is coming back, which should provide a boost

— Joe Smith (@JoeSmithTB) November 17, 2016
On Thursday morning, defenseman Anton Stralman did some skating after practice, but there has been no update on his return according to head coach Jon Cooper. Stralman suffered an upper-body injury during Saturday's 3-1 loss to the San Jose Sharks and is expected to miss at least three games.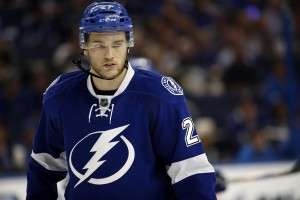 The Lightning are experiencing injuries to key players just as some other teams are across the league at this early point in the season. On Wednesday, New Jersey Devils forward Taylor Hall underwent surgery to repair a meniscus tear in his left knee and is expected to miss three to four weeks and Calgary Flames forward Johnny Gaudreau underwent surgery to repair a broken finger and will be out an uncertain amount of time. The NHL season is an 82-game marathon and some teams are facing injury challenges earlier than others.
The Lightning should have a better idea on how long Stamkos will be out once his surgery is complete and he is able to begin the healing and rehabilitation process that follows.